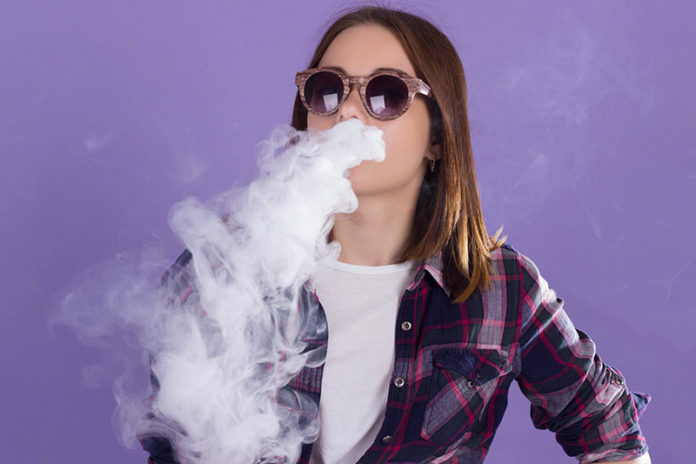 For much of 2018, the U.S. Food and Drug Administration (FDA) has taken up issue with e-cigarettes and the role they play in the lives of America's youth. After issuing a series of warning letters and citations to retailers over youth accessibility to e-cigarettes and calling on manufacturers like JUUL to submit plans to address this growing 'epidemic' [read more here], the FDA now has launched a new campaign to curb e-cigarette use in the form of a new prevention campaign it is calling "The Real Cost".
This new campaign was designed to target nearly 10.7 million at-risk youth, aged 12-17, through digital platforms, social media and in-school ads nationwide. This campaign targets youth who are open to trying e-cigarettes. This cigar has the support of the U.S. Health & Human Services agency led by Alex Azar, who commented: "HHS is committed to comprehensive efforts to protect America's youth from the dangers of using any tobacco or nicotine-containing products. We congratulate the FDA on the launch of this new, hard-hitting campaign about the risk of addiction and other health consequences that can result from youth using e-cigarettes."
"Know the Real Cost of Vaping" will be a campaign that will run on age-verified digital platforms like YouTube, Facebook, Instagram, Spotify and Pandora. There will be posters placed in over 10,000 high school bathrooms and materials distributed for students and educators in collaboration with the Scholastic and Students Against Destructive Decisions (SADD). The campaign aims to educate teens that e-cigarette use comes with the risk of nicotine addiction, just as they would experience with using traditional cigarettes. It also will educate teens on the harmful chemicals found in e-cigarettes like formaldehyde, acrolein, and toxic metal particles chromium, lead and nickel.
FDA Commissioner Scott Gottlieb, M.D., released his own statement about the new campaign but more telling was some of the language used, indicating the FDA may be preparing to take a harder stance on e-cigarettes with some business-killing measures.
"E-cigarettes have become an almost ubiquitous – and dangerous – trend among youth that we believe has reached epidemic proportions," said Gottlieb. "This troubling reality is prompting us to take even more forceful actions to stem this dangerous trend, including revisiting our compliance policy that extended the compliance dates for manufacturers of certain e-cigarettes, including flavored e-cigarettes, to submit applications for premarket authorization. Based on our evidence, we believe the presence of flavors is one component making these products especially attractive to kids. The mandate to reverse this trend in youth addiction to nicotine is one of my highest priorities. I'm employing every tool at my disposal in these efforts."
Gottlieb went on to explain the goal of the new campaign and that it is meant to convey that e-cigarette use comes with a price and its own set of dangers, many of which youth tend to ignore. In addition to running the campaign on popular online platforms that youth typically use, Gottlieb revealed that the campaign will also be in school bathrooms, a place where he says many teens are using e-cigarettes or are being pressured to by their peers. Gottlieb again voice support for reduce harm products but says the FDA will not allow youth to become addicted to nicotine in the process. He ends his statement by stating that the FDA will be taking more aggressive steps to address the issue of youth e-cigarette use and will continue to hold e-cigarette retailers and manufacturers accountable for their role in the youth access to these products "including new actions in the coming weeks and months."
The FDA recently gave five major e-cigarette manufacturers–JUUL, Vuse, blu e-cigs, Logic, and MarkTen–60 days to submit plans describing how they will help deal with the issue of youth access to e-cigarette products. The FDA is also reviewing comments submitted to its Advanced Notice of Proposed Rulemaking (ANPRM) issued earlier this year for flavored tobacco products and nicotine levels in tobacco products. In recent weeks, Gottlieb and the FDA have stated that they would be willing to remove products from the market and restrict flavor use if this issue of youth e-cigarette use continued to grow out of control, even if it meant limiting access to adults.
You can read the full press release regarding the new FDA prevention campaign here. For all the latest legislation and FDA news impacting the tobacco industry, click here.