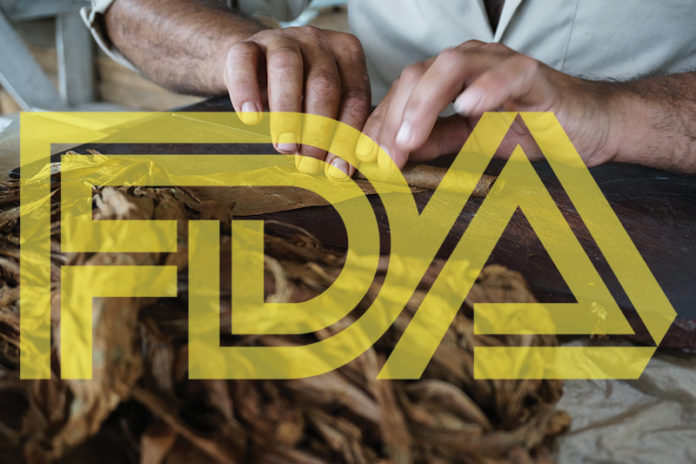 The U.S. Food and Drug Administration (FDA) has extended the Harmful and Potentially Harmful Constituents (HPHCs) reporting compliance date. The deadline for this testing was set for Nov. 8, 2019. The new deadline is now six months for large manufacturers, and nine months for smaller manufacturers, after the FDA releases guidance for how the testing will be conducted. As it has been in the past few years, there's no indication when this guidance will be released. With the coming departure of FDA commissioner Scott Gottlieb [read more here], this guidance may not come in 2019, thus the HPHC requirement's actual implementation remains in question.
This requirement, which is part of the 2016 Deeming Rule, has been a hot button issue since the FDA's regulations went into place due to the lack of guidance or direction from the agency. This testing requirement impacts covered tobacco products, including premium cigars. The problem? There's no technology currently on the market that easily and efficiently tests premium cigars for said harmful and potentially harmful constituents. The mere costs associated with this testing also places a heavy financial burden on manufacturers, especially those smaller companies. The industry has several trade groups to thank for this latest development, including Cigar Rights of America (CRA) and the International Premium Cigar & Pipe Retailers Association (IPCPR), who have continued to fight against the regulations and some of the compliance requirements like the HPHC since the 2016 announcement of the Deeming Rule.
"Today's significant action by the FDA in extending the deadline for HPHC reporting, for the time being, removes a cloud lingering over the premium cigar industry. It is a testament to the efforts of our CRA and IPCPR litigation team for reaching this agreement," commented Glynn Loope, executive director of the CRA.
"IPCPR is pleased that we now have some clarity and the uncertainty for this looming deadline has been addressed. Our retail members can now operate their businesses with more confidence about the future," said Scott Pearce, executive director of the IPCPR, in a press release.
Premium cigar manufacturer J.C. Newman Cigar Company released the following statement:
"Today's announcement is a huge relief for the premium cigar industry. Because there are no standards for testing premium cigars, there was no way that our four generation, 124-year-old family business could meet FDA's rapidly approaching November testing deadline. FDA's decision to extend the HPHC testing deadline until after the agency first issues guidance is eminently reasonable.
"Although we will await FDA's guidance, I remain very skeptical about whether it is possible to reliably test premium cigars because making premium cigars is an inherently unscientific process. Because premium cigars are handcrafted, they are subject to great natural variation. We know that the amount of sunlight, rain, and wind affects the characteristics of premium cigar tobacco just as the size of tobacco leaves and where they are grown on a plant does as well. As cigar makers, we harness this natural variation to create unique and interesting blends. A recent study that tested showed how great this natural variation can be. In it, researchers tested the same premium cigar brand in two different years and found variances upwards of 50%.
"Moreover, the cost of testing is also likely to be enormous. A lab that proposed testing premium cigars like cigarettes recently quoted $18,000 just to test a single cigar. This huge sum works for a product like cigarettes that are mass produced but not for premium cigars that are hand rolled in small batches. As there are tens of thousands of different premium cigars sold in the USA today, the total cost for testing them could be in the hundreds of millions of dollars."
"We are very grateful to Cigar Rights of America, the International Premium Cigar and Pipe Retailers Association, and the Cigar Association of America for their continued leadership and efforts to seek much needed relief for the premium cigar industry."
The delay follows several presentations to the United States District Court for the District of Columbia on behalf of the CRA and IPCPR on the unfair nature of the required testing in the absence of guidance and rules on how it would actually be carried out. Both cigar trade groups would have moved for an injunction to prevent the Nov. 8, 2019 compliance date from going forward had it not been delayed.
Here's is the official announcement from the Center For Tobacco Products (CTP):
Today, FDA has revised the "Extension of Certain Tobacco Product Compliance Deadlines Related to the Final Deeming Rule" guidance and the related Small Entity Compliance Guide, "FDA Deems Certain Tobacco Products Subject to FDA Authority, Sales and Distribution Restrictions, and Health Warning Requirements for Packages and Advertisements." This revision extends the Harmful and Potentially Harmful Constituents (HPHCs) reporting compliance date to a date that is six months after the publication date of a final guidance regarding HPHC reporting under section 904(a)(3) and nine months after that publication date for small tobacco product manufacturers. For products entering the market after the publication date of the final guidance regarding HPHC reporting under section 904(a)(3), manufacturers must report on HPHCs 90 days prior to marketing the products.
In the preamble to the final deeming rule, FDA indicated that it intends to issue guidance regarding HPHC reporting (and later a testing and reporting regulation under section 915) with enough time for manufacturers to report, given the three-year compliance period. At this time, FDA has not published a final HPHC reporting guidance and as a result, we are providing a revised compliance date based on when a final HPHC reporting guidance is issued.
You can read the revised compliance document here. For all the latest legislation and FDA news impacting the tobacco industry, click here.