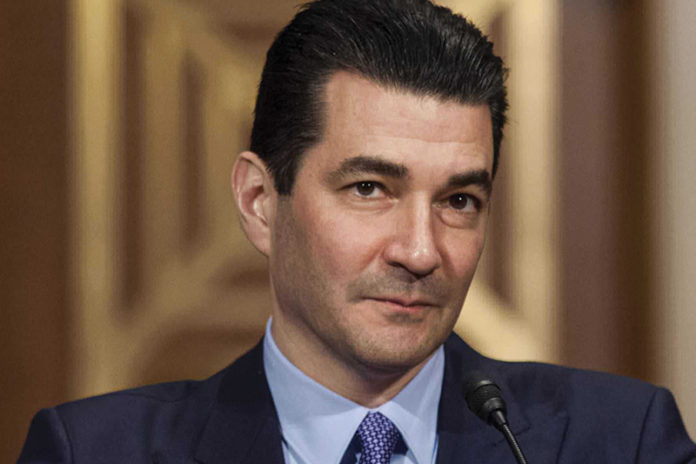 Dr. Scott Gottlieb, the commissioner of the U.S. Food and Drug Administration (FDA), has resigned from his post. Gottlieb has been commissioner of the FDA since he was sworn in on May 11, 2017. In his short time at the agency, Gottlieb has led many initiatives, including a war on what he has termed an "epidemic" involving teenagers in the U.S. and their addiction to nicotine and use of vaping and e-cigarette devices. He will be vacating his position in about a month, according to The Washington Post.
Gottlieb has cited family as the primary reason behind his resignation. He has been commuting weekly between his home state of Connecticut and Washington, D.C., leaving him little time to spend with his wife and children.
"I'm leaving because I need to spend time with my family. I get home late Friday, work on weekends and come back to Washington on Sunday. I did the job 100 percent," he revealed in a recent interview.
Alex Azar, secretary of the Department of Health and Human Services, had this to say about Gottlieb and his time at the FDA: "All of us at HHS are proud of the remarkable work Commissioner Gottlieb has done at the FDA. He has been an exemplary public health leader, aggressive advocate for American patients, and passionate promoter of innovation. I will personally miss working with Scott on the important goals we share, and I know that is true for so many other members of the HHS family."
In a tweet sent on March 5, 2019, President Donald Trump commented on Gottlieb's departure and his contributions as FDA commissioner: " …. Scott has helped us to lower drug prices, get a record number of generic drugs approved and onto the market, and so many other things. He and his talents will be greatly missed!"
Gottlieb's Impact on Tobacco
As FDA Commissioner, Gottlieb has had an impact on the tobacco industry, with mostly a heavy hand in terms of action and regulation. While he has re-opened the possibility of re-evaluating the regulation of premium cigars, Gottlieb has also led an aggressive assault on flavors in tobacco products and has proposed banning menthol and and other flavors from being used in any tobacco products [read more here]. This would have a negative impact for many manufacturers and has emboldened many local and state governments to introduce–and in some cases, pass–legislation that would restrict the availability and sale of any flavored tobacco product.
In what was a surprise to many, while Gottlieb at one point indicated support of e-cigarettes and vaping as a possible alternative to combustible tobacco products, he led an all-out attack on the e-cigarette category. Under his direction, the FDA has inspected, cited, and fined e-cigarette manufacturers and retailers. Gottlieb has used the term "epidemic" to describe teen's use of e-cigarettes and has gone after companies like JUUL, leading it and other manufacturers to change how they market their products and in some cases, pull their products from the market all together. With his declaration at the end of 2018 that he was willing to pull all e-cigarette and vapor products from the market to stop teen addiction and use [read more here], his departure may bring some temporary relief to the tobacco and vapor industries.
Lasting Impact
Despite Gottlieb's resignation, his impact on policy and tense relationship with tobacco and vaping will be long lasting. Before he came on board, the FDA used the excuse that their lack of a director prevented them from properly addressing guidance and handling lawsuits concerning the 2016 Deeming Rule which placed the tobacco and vapor industries under the regulatory discretion of the agency. With Gottlieb's departure, the agency will once again be in between leadership and in flux until a permanent replacement can be found and confirmed. This individual will be coming into an administration "already in progress", putting his or her true influence and overall impact in question as the U.S. enters into yet another presidential election cycle.
It would be naive to believe, in any case, that Gottlieb's replacement would view vaping, tobacco and smoking any better than Gottlieb did. One also cannot predict what will come in terms of policy as the FDA continues to evaluate the Advanced Notices of Proposed Rulemaking (ANPRMs) that were issued in 2018 on nicotine, flavors and premium cigars. Also, the new commissioner will have his or her own approach to regulations and handling of the tobacco and vapor industries. His or her impact on the ongoing lawsuit is also unknown as it has continued to be fought in the courts since the Deeming Rule was first introduced in 2016.
For all the latest legislation and FDA news impacting the tobacco industry, click here.