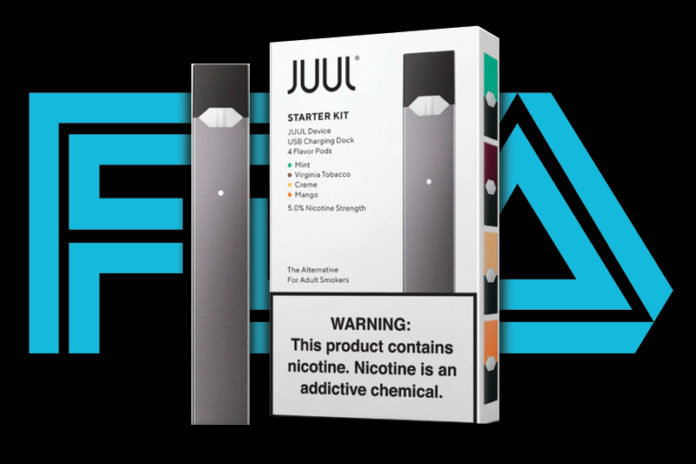 JUUL Labs, the most popular e-cigarette manufacturer in the U.S., was dealt a stunning blow this week as the U.S. Food and Drug Administration (FDA) issued a warning letter on Sept. 9, 2019, taking he company to task over its use of modified risk claims in its marketing and promotion of the e-cigarette device.
According to the FDA, JUUL violated federal regulations because it marketed its device as a less harmful alternative to traditional cigarettes. The problem, however, is that this is a modified risk claim and requires approval from the FDA to use when marketing a covered tobacco product, which includes e-cigarette devices like JUUL.
JUUL has been under government scrutiny since the FDA proclaimed there was a vaping epidemic in the U.S. impacting the country's youth. The FDA named several e-cigarette manufacturers as part of the problem but it has been JUUL, with its growing popularity among teens, that has constantly found itself in the crosshairs of the FDA and legislation against vaping and e-cigarettes. In early July 2019, JUUL Labs CEO Kevin Burns was interviewed for a documentary where he was asked what he would say to a parent whose child was addicted to JUUL. To that question, Burns replied, "First of all, I'd like to tell them that I'm sorry that their child's using the product. It's not intended for them. I hope there was nothing that we did that made it appealing to them. As a parent of a 16-year-old, I'm sorry for them, and I have empathy for them, in terms of what the challenges they're going through." [read more here].
Later that same month, Congress questioned JUUL co-founder James Monsees over the role JUUL had in the vaping epidemic and how the company marketed its product [read more here]. From this, the FDA felt confident in its claims that JUUL violated restrictions on the modified risk claims that JUUL has used in the past to market its products. It referred to a statement made by Burns that was once posted on JUUL's website where he stated that the JUUL's vaping system was designed to "heat nicotine liquid and deliver smokers the satisfaction that they want without the combustion and harm associated with it." FDA also called out JUUL's "Make the Switch" campaign that was designed to convey to consumers that JUUL was a less harmful alternative to traditional cigarettes. The agency also called out JUUL's old practice to entering schools to give presentations to students on how their device was not as harmful to them as cigarettes and how they were "totally safe."