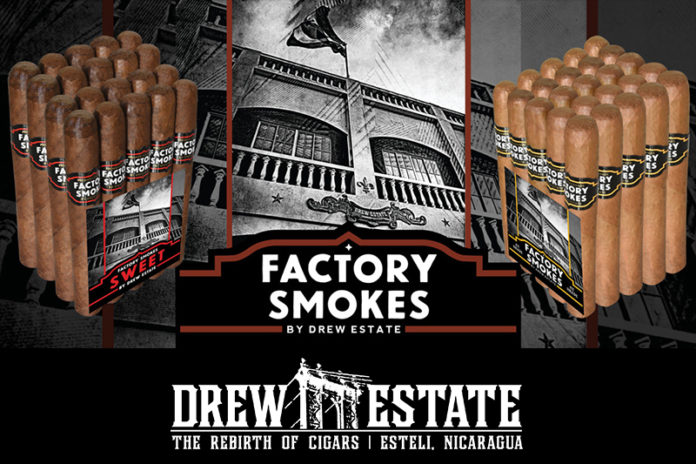 Drew Estate has tackled many different product categories over the years and it just revealed it's taking on yet another–bundles. Factory Smokes by Drew Estate is a collection of four blends, in four different sizes, sold at a very affordable price. While bundles are not typically given that much of a push or attention in today's industry, Drew Estate is adding its own very special spin to bundles and will innovate the product category in a way that will make retailers and cigar enthusiasts look at bundled cigars in a completely new way.
"Our expansion in the bundle business was a decision we did not take lightly," explains Jonathan Drew, President and Founder of Drew Estate. "Bundles aren't glamorous and the efficiency required to produce them effectively is not easily reached, which is why there aren't a ton of entrants innovating in the value priced space. This is long overdue for Drew Estate, and when we reached the production scale required to compete we knew we wanted to do what we do, and disrupt the space with an innovative, deep value line of quality smokes for a broad set of thrifty individuals."
Factory Smokes by Drew Estate will be crafted at La Gran Fabrica Drew Estate alongside the same buncheros and rolleros responsible for the company's highly rated premium cigars. These cigars' less expensive packaging and bulk manufacturing are a gain for retailers and consumers who will get Drew Estate's quality at a valuable bundled priced. These cigars will be easily enjoyed in various leisurely moments, from times spent with friends and family to time out on the golf course or while watching the latest game on television. Smoke it, enjoy it, and when you're done, grab another great cigar from the bundle to enjoy.
Factory Smokes Sweet by Drew Estate details:
Wrapper: Habano
Binder: Indonesian
Filler: Indonesian
Vitolas: Robusto (5 x 54) – MSRP $36 per bundle of 20; Churchill (7 x 50) – MSRP $46 per bundle of 20; Toro (6 x 52) – MSRP $42 per bundle of 20; Belicoso (6 x 54) – MSRP $48 per bundle of 20