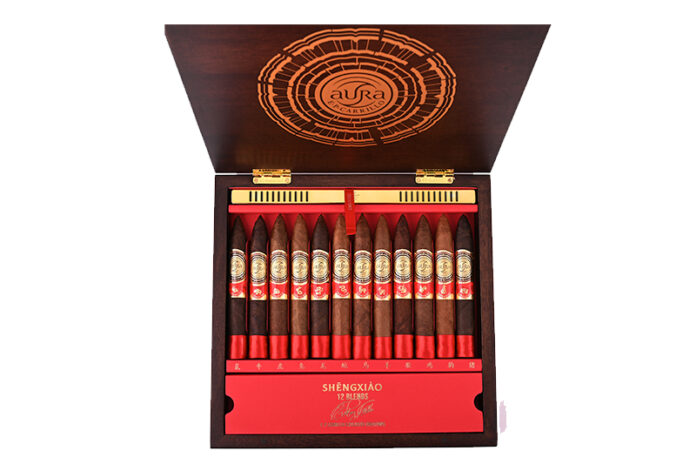 E.P. Carrillo with launch Aura E.P. Carrillo, a new brand series for the Asia market that has the slogan, "Driven by energy." This cigar is being launched in collaboration with Cigar Specialist International, a distributor based in Singapore.
Aura E.P. Carrillo is a super premium cigar presented in 12-count boxes as a 6 1/8 x 52 torpedo-sized cigar. Each cigar in the box has a unique blend comprised of tobaccos that were hand selected by Ernesto Perez-Carrillo. The tobaccos in the blend were aged for a minimum of 5 years.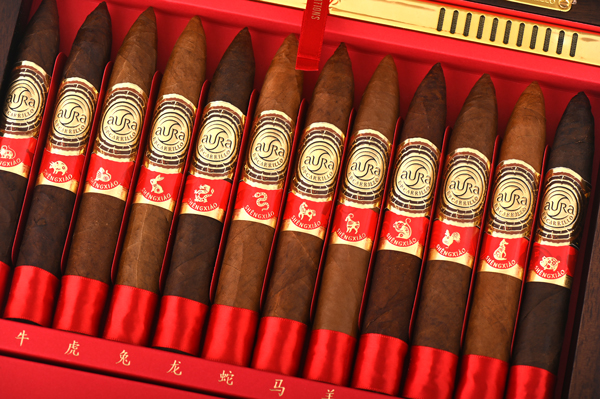 Ernesto Perez-Carrillo drew inspiration from the Asian culture and its philosophies when creating Aura. In a press release, he revealed that creating this cigar blend required both positive energy and balance. This cigar line is "all about the mind, body and energy," he commented in the press release. When someone is born, that's when they receive their first bit of energy. In Asia, this energy is represented by Shengxiao, the Chinese Zodiac, where the year you are born corresponds to one of 12 animals. Perez-Carrillo blended each cigar to represent the personality of one of the 12 animals. It took several years for him to get the blend to match each animal's personality.
"Aura E.P. Carrillo positions the brand in the highly coveted super premium segment in Asia Pacific. We are excited with our collaboration. Ernesto captured the essence of each animal in the Chinese Zodiac (Shengxiao) with blending only he knows how." Jose de Castro, CEO, Cigar Specialist International.
Aura E.P. Carrillo comes packaged in a mahogany box that includes a humidifier, a set of cards detailing each cigar blend and the corresponding animal personality. It is enclosed in a red velour cloth and premium outer box. Only 2,500 boxes of this limited edition cigar is being produced primarily for the Asian market. Each box will have a suggested retail price of $1,000.
For all the latest from E.P. Carrillo, visit carrillocigars.com.