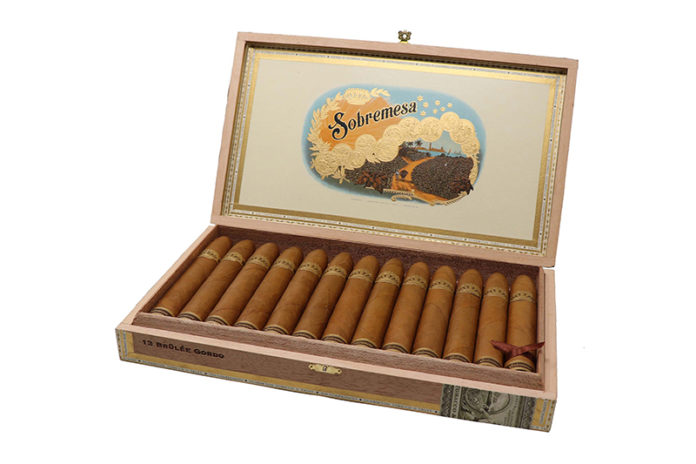 Dunbarton Tobacco & Trust has a new release set to debut at the 2019 International Premium Cigar & Pipe Retailer Association (IPCPR) trade show and convention. Brand owner Steve Saka has set out to recreate the mild shade cigars from when he was young and in doing so has created the Sobremesa Brûlée, a variation of the core Sobremesa liga that's being billed as "your grandfather's Connecticut cigar."
"Sobremesa Brûlée is a recreation of the milder, shade wrapped ligas of my early years," Saka explains. "Somewhere over the last three decades many of the classic shade cigars have become wispy, uninspiring and rather dull to my palate. I wanted to share with others the way I remember these blonde cigars being. Also as ligador and tobacco man, I do not understand the recent trend of making strong Connecticut Shade cigars aka 'not your grandfather's cigar'. To me this seems like an oxymoron and a fundamental lack of appreciation of the enchanting characteristics and nuances of shade grown Connecticut Seed tobaccos. In Brûlée, I embraced this shade capa and dedicated myself to showcasing its mild, sweet and nutty nature."
Sobremesa Brûlée differs from the fore Sobremesa line in that lacks the Pennsylvania Seedleaf ligero in the filler. Also, the Condega Seco has been increased and the wrapper is an Ecuador Connecticut Shade G2BW leaf. The binder is a San Andreas Negro and the fillers are from Nicaragua. According to Saka, Sobremesa Brûlée is a milder, even smoother adaptation of the Sobremesa blend that goes not sacrifice its complex flavors or aromas. It's a cigar that should be smoked slowly where the flavors and aromas can truly be savored and appreciated.
Sobremesa Brûlée will be available in three vitolas: Robusto (5 1/4 x 52), Toro (6 x 52), and Gordo (6 1/4 x 60). Each will come in 13-count boxes and will have an MSRP ranging from $12.45 to $13.95 per cigar. This will be a limited edition cigar with an expected shipping date of July 2019.
For all the latest from Dunbarton Tobacco & Trust, visit dunbartoncigars.com.