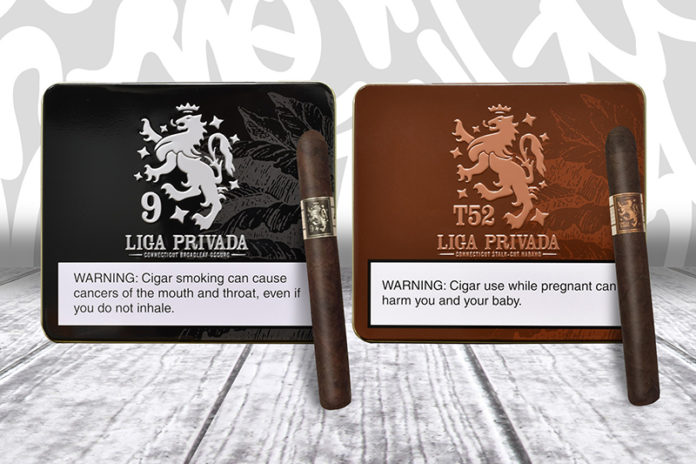 Drew Estate has announced its Liga Privada No. 9 and T52 Coronets have shipped exclusively to Drew Diplomat retailers across the U.S. These products were first introduced at the International Premium Cigar & Pipe Retailers (IPCPR) 2017 trade show. Available in a convenient 4 x 32 size, each 10-count tin has a MSRP of $25 while a 50-count sleeve has a MSRP of $125. The wrapper of these smaller-format cigars use the same leaf used for the core LP No. 9 and T52 cigars.
In a press release, Drew Estate founder and president Jonathan Drew made the following statement:
"Over the past ten years, we have stashed an incredible supply of No.9 and T52 scrap-cut tobaccos during the manufacturing process for larger format vitolas, such as LP toros, robustos, and Feral Flying Pigs. Our goal today is to build upon what we have accomplished with the Papas Fritas, but this time in an even more convenient travel size, 4 × 32.
"If you've lived in Brooklyn, Queens, Staten, NYC, or the Boogie-Down Bronx – then you are familiar with the Water Towers gracing the top of nearly every building. They are a true fixture to the skyline, an optical canvas for urban artists making their mark on the world. Escaping to the building rooftop for a quick smoke under the water tower is in our DNA, away from prying eyes, and with a view that is worth a trapped-up trillion."
The Coronet packaging is consistent with large format Liga Privada and in retail stores it can be found in special Drew Estate Water Tower display units.
For all the latest news from Drew Estate, visit drewestate.com.