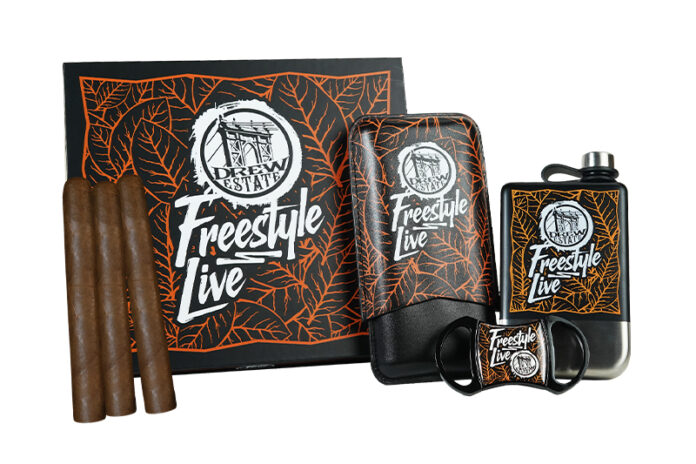 During an upcoming Freestyle Live: Special Edition broadcast airing next month, Drew Estate will unveil an entirely new premium cigar brand. Consumers will have the chance to be among the first to try this new brand ahead of its official launch through Freestyle Live Event Packs that will be available at participating retailers nationwide beginning on Aug. 18, 2022.
10,000 Freestyle Live Event Packs with an MSRP of $39.99 each have been prepared. Every Event Pack contains three unbanded samples of this new premium cigar brand, a Freestyle Live 3-cigar case, a Freestyle Live cutter with a cigar rest and a Freestyle Live flash. Each event pack will also include a Freestyle Live badge with a QR code that purchasers can use to enter a sweepstakes, giving them a chance to win additional prizes. The grand prize is a 2022 black Dodge Charger, valued at $32,000. The second prize is a Gibson Les Paul Dark Limited guitar, valued at $1,600. A total of 25 sweepstakes entrants will win the third-place prize: a pewter ashtray designed by Subculture Studios, valued at $100 each.
Participating retailers will also be eligible to win prizes. The grand prize will be a $5,000 Drew Estate credit and a Drew estate barrel bar. The second-place prize will be a $2,500 Drew Estate credit and a Drew Estate Barrel Bar; the third-place prize is a $1,000 Drew Estate credit and one Mega standing ashtray.
"Dodge Chargers, Gibson Les Pauls, Barrel Bars … oh my," commented Jonathan Drew, founder and president of Drew Estate in a press release. "While all the prizes are definitely dope, the big news is in the new brand release. It's just a different level of mega-excitement when we drop a completely new brand on the Freestyle. It's not a new line extension or something that already exists in the DE [Drew Estate] brand portfolio, my dudes and dudettes … it's something meatier. This brand is going to change the world. Mark my words."
Details of the cigar and other announcements and reveals will be made by Drew Estate during the Sept. 28 broadcast of Freestyle Live: Special Edition. The broadcast will be aired live on Drew Estate's YouTube channel (youtube.com/drewestatecigar) and on its Facebook page (facebook.com/drewestatecigar).
For all the latest news from Drew Estate, visit drewestate.com.