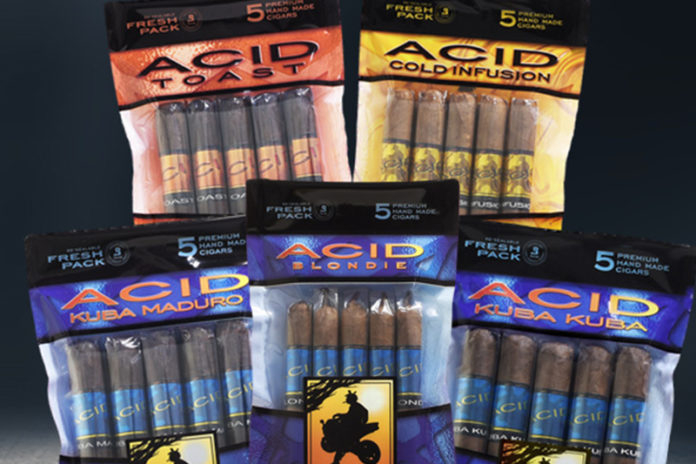 Drew Estate has begun shipping its new humidified 5-packs introduced earlier this year. These new humidified packs include ADID Kuba Kuba, ACID Kuba Maduro, ACID Toast, ACID Cold Infusion, ACID Blondie, Undercrown Maduro and Shade, Tabak Especial Dulce and Negra, and La Vieja Habana Cuban Corojo.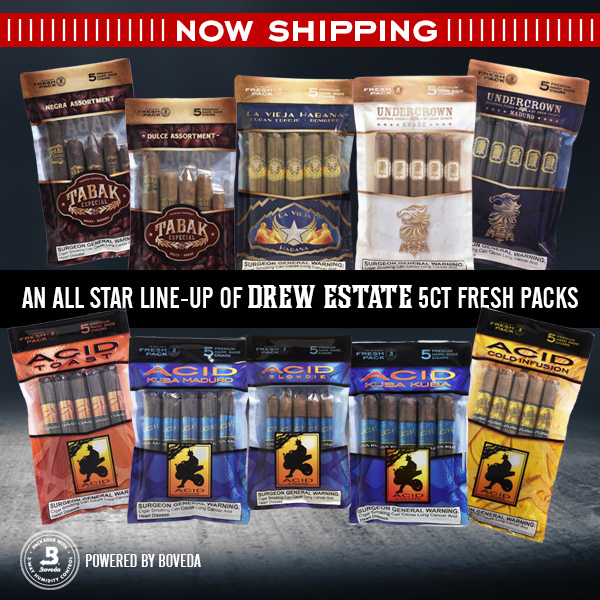 These humidified packs were designed for the consumers who are on-the-go. Each 5-pack is resealable and will feature a Boveda active humidification inside each pack that will allow for these products to be placed anywhere inside the retail store and both inside and outside of the humidor. All 5-packs will ship with a countertop merchandising solution and clip strips to be hung in any retail location are also available upon request. Drew Estate is also offering a "Manhole Cover" merchandising display that will work great with the clip strips and that is available upon request as well.
Jonathan Drew, founder and president of the Drew Estate, added: "Yeah…5-Pack action is in full effect from your buddies at DE. Designed for 'Snag & Go' activities, like back in the days of 'Ring & Run.' As a former premium cigar retailer myself, these 5-Packs are super dope for 'build your own boxes,' as well as chucking something extra for a box purchaser during the holidays. Oh, and the best way to merchandise them is the Manhole Cover displays together with the 4 x 32 tins."
Drew Estate is shipping the following 5-count humidification packs:
ACID Kuba Kuba 5×54 5-Pack MSRP $49.25/pack
ACID Kuba Maduro 5×54 5-Pack MSRP $49.25/pack
ACID Cold Infusion 6.5×44 5-Pack MSRP $42.55/pack
ACID Toast 6×50 5-Pack MSRP $48.40/pack
ACID Blondie 4×38 5-Pack MSRP $27.50/pack
Undercrown Shade Toro 6×52 5-Pack MSRP $44.60 /pack
Undercrown Maduro Toro 6 x 52 5-Pack MSRP $44.60/pack
Tabak Negra Sampler 5-Pack MSRP $38.00/pack
Tabak Dulce Sampler 5-Pack MSRP $38.00/pack
La Vieja Habana Cuban Corojo Bombero 6×54 5-Pack MSRP $22.00/pack
For all the latest news from Drew Estate, visit drewestate.com.