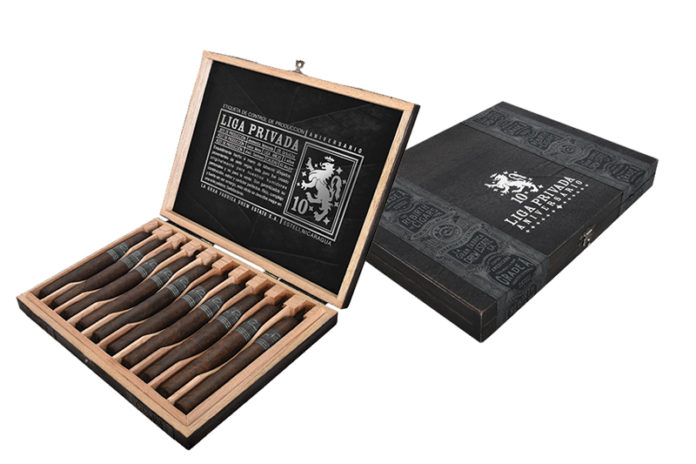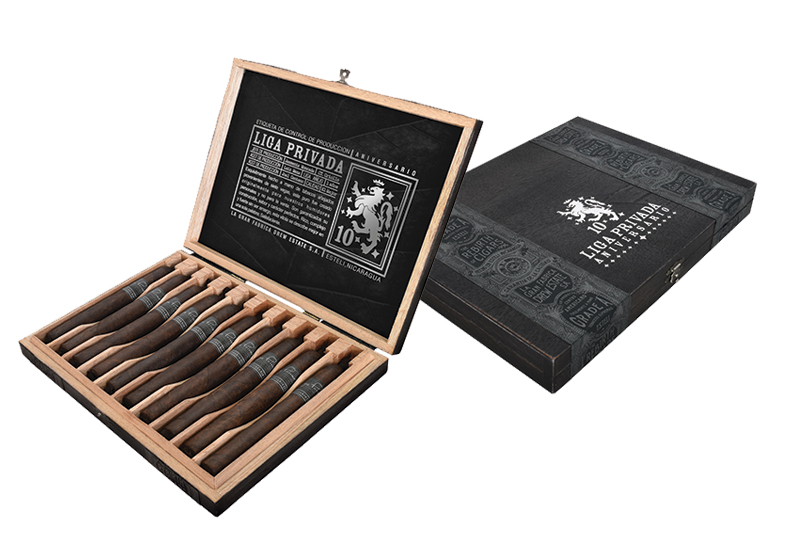 To commemorate the 10th year of the highly-rated Liga Privada brand, Drew Estate is releasing the Liga Privada 10-Year Aniversario.
The 10-Year Aniversario is described as a full throttle beast of peppery spice wrapped in a robust Criollo capa from the heart of the Connecticut River Valley, where the company grows the tobacco used in its Liga Privada brand. This special cigar features a San Andres Otapan Negro Último Corte capote that gives the cigar a razor sharp spice and burn along with well-aged Nicaraguan and Honduran tripa leaf tobacco.
"The hard work began deep in the Valley, hunting for the dense lush leaf required to turn our dream cigar into a reality," explained Jonathan Drew, president and founder of Drew Estate. "This cigar symbolizes the bond of partnership between farmer and manufacturer to grow a Criollo Capa that is worthy of unmatched celebration. Exclusively grown for Drew Estate, I challenged Willy Herrera and the factory team at La Gran Fabrica Drew Estate to create the cigar that could live up to the Broadleaf Bully that we have come to love, to celebrate the 10 years of Liga Privada."
The Liga Privada 10 Year Aniversario comes packaged in 10-count boxes featuring a unique Cola de Pescado head, Pies Tapado foot and will be available in a Toro vitola measuring 152mm x 52 with an MSRP of $179 per box. Only 10,000 cigars–or 1,000 boxes–of the Liga Privada 10-Year Aniversario Toro has been produced. The cigar will be available in a robusto, corona doble, and torpedo vitolas are in the works for future releases.
Willy Herrera, Drew Estate's master blender, added: "It was a deep honor to be entrusted with adding the next chapter to Liga Privada and leading the Factory Blending Team. I am proud to report that the harvests of the Connecticut Criollo by our farmers were successfully fermented at La Gran Fabrica Drew Estate, and the cigars have been aging for this celebration. We have worked out the details in regard to fermentation time, style, and temperature. Much like we had to learn with No. 9 Broadleaf and T52 Habano, we continue to increase the amount of Connecticut Criollo we can ferment. This does not come with insignificant risk as one small mistake can ruin the entire crops we have harvested. Our farm team is already planting the next harvest of Connecticut Criollo for this upcoming growing season, however this cigar will be extremely limited for the next few years as we continue to invest in our ability to manufacture with this exquisite tobacco."
To see everything Drew Estate will release at this year's International Premium Cigar & Pipe Retailers Association (IPCPR), visit drewestate.com/IPCPR and follow the hashtag #DEIPCPR on social media. Visit Drew Estate at Booth #1814 during this year's IPCPR Show.