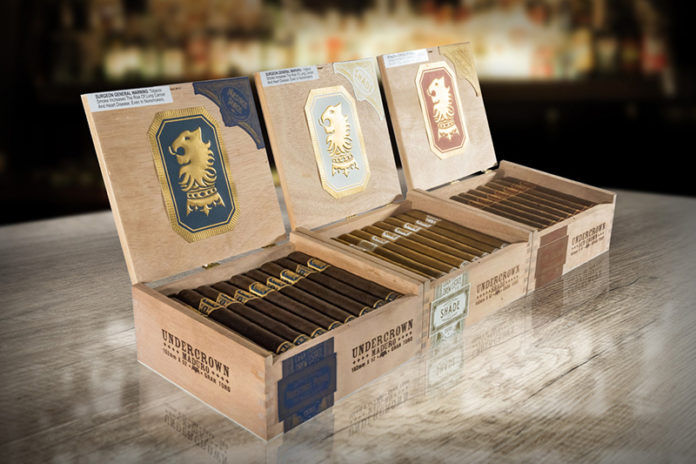 Retailers should be on the lookout–most of Drew Estate's Undercrown lineup is getting new shelf-friendly boxes that will start appearing in the market this February.
Drew Estate's new box design looks nearly identical to the current award-winning box design and will still hold up to 25 cigars each. The major difference in the box designs is the improvement of the new box's shelf-friendly design which is now more compact, enabling premium cigar retailers to stock more boxes and cigars inside their humidors. The new boxes will make their debut within the Undercrown lines, including Maduro, Shade and Sun Grown. The boxes for Flying Pig, Tubo and Corona Pequeña will remain unchanged. All UPC codes for the Undercrown boxes and single cigars will remain unaffected. While Undercrown's boxes may be changing, the blends will remain the same.
"Undercrown's authenticity amplifies the heart and spirit of Drew Estate," says Jonathan Drew, founder and president of Drew Estate. "Since we first launched Undercrown a decade ago, the narrative has been consistent, telling the fiery story of 'who we are' from a behind-the-scenes standpoint. The Undercrown brandmark and ideology bears witness to our love for Estelí and the enthusiastic and gifted people who work so devotedly at La Gran Fabrica Drew Estate. Undercrown is all about their creative ingenuity and their fearless quest for self-expression—so we will never ever change this historic and meaningful blend."
Undercrown was developed when those working in the Drew Estate factory, La Gran Fabrica, were caught smoking too many Liga Privada No. 9 cigars. The factory workers took it upon themselves to create their own signature blend to enjoy and it was comprised of the same rare tobaccos in that Capote and tripe blends that are found in Liga Privada. Undercrown debuted with a Mexican San Andres Negro capacity but since has expanded to include an Otapan Negro Último Corte capa; Shade, which uses an Ecuadorian Connecticut shade-grown capa; and Sun Grown, which utilizes a sun-grown Sumatra capa cultivated in Ecuador.