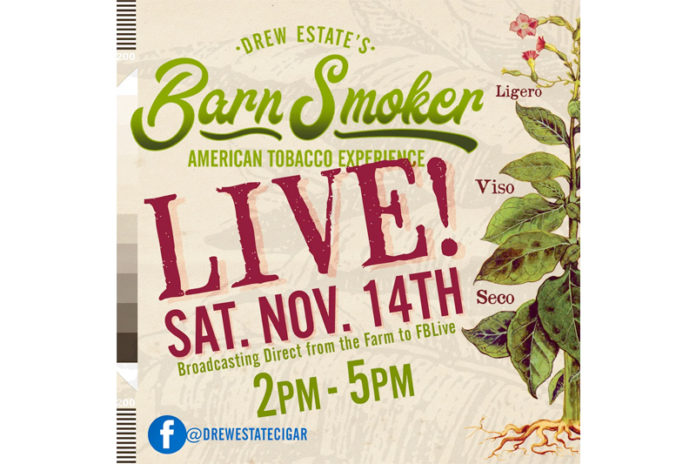 Due to the COVID-19 pandemic, Drew Estate has announced that it will be going virtual for its Barn Smoker event, which is scheduled to go live via Facebook Live on Nov. 14, from 2-5 p.m.
Drew Estate held its first Barn Smoker event in 2014 in Hopkinsville, Kentucky. The event was built around educating cigar consumers on American tobacco farming and how the dark fire-cured tobacco used in the company's Kentucky Fire-Cured cigars is grown, processed and finished. Drew Estate was forced to cancel its five Barn Smoker events that were planned this year in the states of Connecticut, Kentucky, Pennsylvania, Louisiana and Florida. The company refunded all of the Barn Smoker ticket holders and sent each a swag package that they would have received at the in-person event. In lieu of the in-person event, the company decided to hold a virtual Barn Smoker open to all through its Facebook page, facebook.com/drewestatecigar.
"I kinda view life as a great big mosaic of stories. As a tobacco man, I love the deep, raw, emotional and authentic stories of real American tobacco farmers and families," said Jonathan Drew, president and co-founder of Drew Estate. "One of our goals at Barn Smoker is to immerse our DE family into farm life and premium leaf culture. This year, we have a virtual spin on things, but the team is hard at work loading in super duper surprises and cool shit. I have to say that most of all, I'm just lookin' forward to chillin' with you guys. Much love!"
Part of Barn Smoker program is dedicated to supporting Operation: Cigars for Warriors (CFW), a 501(c)(3) charity that ships approximately 1.2 million cigars to deployed troops, in addition to coffee and cigar accessories. Drew Estate has worked with CFW long before it was officially established in 2012. Before 2016, Drew Estate donated more than 150,000 cigars to CFW. While the FDA now prohibits cigars companies from donating cigars to charitable causes, it allows cigar companies to donate money to charities. A portion of each Barn Smoker ticket sold goes to support CFW, and Drew Estate also donates raffle items to raise additional money for the CFW at every Barn Smoker event. To date, Drew Estate has donated approximately $250,000 to the charity. This year, Drew Estate will add another $50,000 to its charitable contributions to CFW during the Nov. 14 virtual Barn Smoker events.