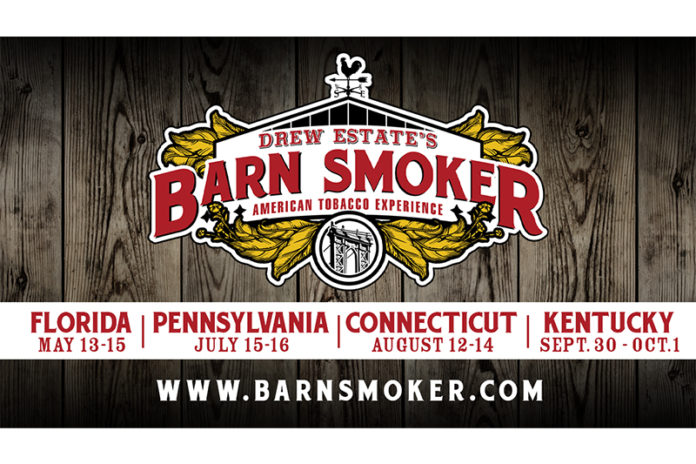 Drew Estate has announced the big 2022 return of its popular Barn Smoker Program. This year's Barn Smoker event will consist of five different events:
Florida Barn Smoker (Clermont, FL): May 13-15
Pennsylvania Barn Smoker (Strasburg, PA): July 15-16
Connecticut Barn Smoker (Ellington, CT ): Aug. 12-14
Kentucky Barn Smoker (Hopkinsville, KY): Sept. 30-Oct. 1
Barn Smoker Presents—Savage Feast (Parker, TX): Oct. 21-22
On the Friday night before each Barn Smoker, Drew Estate will host DE25 Pre-Parties that will give attendees the opportunity to experience the company's latest cigar launches. The DE25 Exclusive Pre-Parties will take the place of the original single-day DE25 event that the company had to postpone last year due to the pandemic.
"These five new DE25 Exclusive Pre-Parties will allow us to share our milestone with more people in a more intimate setting to enjoy spirits and appetizers; savor succulent pork roasted from a heritage pig; dance to live music entertainment and beats spun by DJ Eli; meet Drew Estate's Ambassadors and enjoy their special cigars, as well as experience Drew Estate's newest cigars," the company shared in a press release.
Another new addition to this year's Barn Smoker Program is the debut of "Barn Smoker Presents–Savage Fest," a blockbuster Medieval-style Barn Smoker extravaganza held at the South Fork Ranch in Parker, Texas on Oct. 22. Tickets for this special event will also include entry to a DE25 Exclusive pre-party that will be held on Friday, Oct. 21.
Drew Estate's Barn Smoker program features interactive, fun and informative farm tours, brand activations and exclusive swag. Attendees are immersed in different activations built around some of Drew Estate's iconic brands including Undercrown, Herrera Estelí, Pappy Van Winkle, Joya de Nicaragua, Tabak Especial and ACID. Other brand activations, including special Subculture Studios sessions and a Sticks & Sips-themed Tiki Bar will be prominent features at each event. Many of Drew Estate's brand ambassadors and personalities including company founder and president Jonathan Drew, master blender Willy Herrera, factory spokesman Pedro Gomez and the company's sales force will be in attendance at each Barn Smoker event.