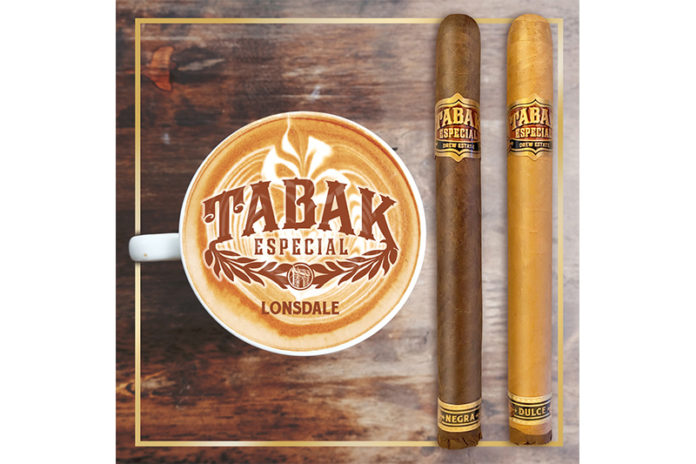 Drew Estate is releasing a new Lonsdale (6 3/4 x 44) size for its Tabak Especial line, which includes the Dulce and Negra series cigars. The release will be showcased during Drew Estate's upcoming Freestyle Live: Special Edition on Facebook on June 11 from 7 to 9 p.m. EST at facebook.com/drewestatecigar. The Lonsdale Tabak Especial cigars will ship to retailers in July.
Perfect for pairing with a morning coffee, the Tabak Especial Dulce Lonsdale is wrapped in a creamy Ecuadorean Connecticut leaf, with a lush Sumatran binder and rich Nicaraguan filler tobaccos. The Tabak Especial Negra Lonsdale is the perfect complement to an after-dinner espresso, wrapped in a dense Maduro wrapper leaf. Both the Dulce and Negra Tabak Especial Lonsdale cigars are packaged in 10-count boxes.
"I remember back when we created the coffee infused space in like 2002, we used to tell dudes to burn one in the morning with their coffee, and they'd laugh at us, until they actually tried it," says Drew Estate's president and co-founder, Jonathan Drew. "Then, they were like 'Wow, these Tabaks are straight fire.'  So, here we are, 18 years later. We wanted to drop a Tabak Especial that's really regal, something majestic and upscale, but it had to have a high wrapper component, and this forgotten Lonsdale size was the perfect selection. This royal Lonsdale's got mad, heavy wrapper game and stupidity level taste, fresh gold elegance dripping all over that burner. Indeed, [I'm] very proud to say that our gold gilded Lonsdale is pure class and satisfaction. On another note, its somewhat surprising to see just how many hard-core, full-bodied, strong cigar smokers really love our coffee infused selections, especially Tabak Especial. It's all love."
More information on Tabak Especial Lonsdale and all of Drew Estate's upcoming national releases is available at drewestate.com/summertakeover, as well as the scheduled Facebook Live show on June 11.