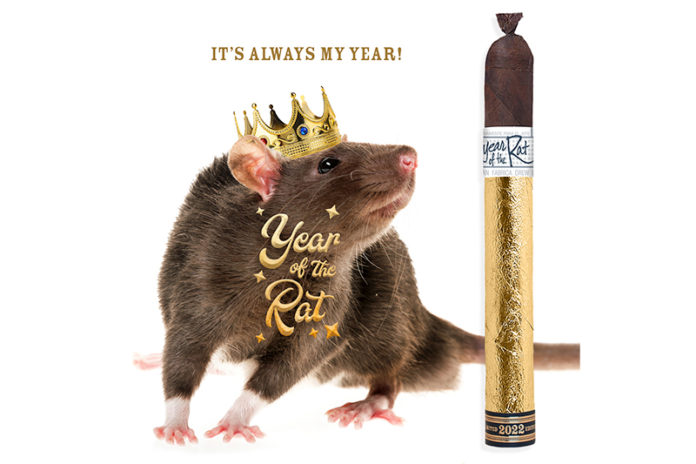 The 2022 release of Drew Estate's Liga Privada Unico Serie Year of the Rat is near. Drew Estate showcased the latest Year of the Rat release during its May 12 live broadcast of Freestyle Live.
"With music sometimes a new song comes out and you're like, 'Yo, hit rewind,' and your homies are pissed 'cause you made 'em play it three times," says Drew Estate founder and president, Jonathan Drew. "It's a testament to a proper beat, the lyrics, the complete-ness … well same thing for Year of the Rat … so today we hittin' the rewind button … like Chuck D, we're bringin' that beat back."
Liga Privada Unico Serie Year of the Rat first appeared in 2016 and honored the 20th Anniversary of the Florida Panthers' only National Hockey League Stanley Cup Finals appearance. It was during the Panthers' finals run when the team's Scott Mellanby killed a rat in the locker room before scoring two goals in the game. This came to be known as Mellanby's "Rat Trick" and soon fans began tossing rubber rats onto the ice whenever the team scored.
Before it was available nationally, Liga Privada Unico Serie Year of the Rat was only available at the Drew Estate Lounge inside of the Panthers's BB&T Center. It was re-released in 2020 as a Drew Diplomat Program event exclusive cigar. Since 2021, distribution of the Year of the Rat cigars has been expanded to all Drew Diplomat program participants.
The 2022 Liga Privada Unico Serie Year of the Rat is presented as a 5 1/2 x 46 Corona Gorda. Its blend consists of a Connecticut Broadleaf cap, a dark and flavorful Brazilian Capote and hearty Nicaraguan and Honduran tripa tobaccos. Similar to other Liga Privada Unico Serie cigars, this one also has a fantail head and is individually wrapped in gold foil and placed in a beautifully embossed blue 10-count Liga Privada Unico box.
The 2022 expression of Year of the Rat will be available exclusively at Drew Diplomat Program retailers beginning on June 15. Each Liga Privada Unico Serie Year of the Rat will retail for $17.12 per cigar, or $171.20 per 10-count box.
For all the latest news from Drew Estate, visit drewestate.com.