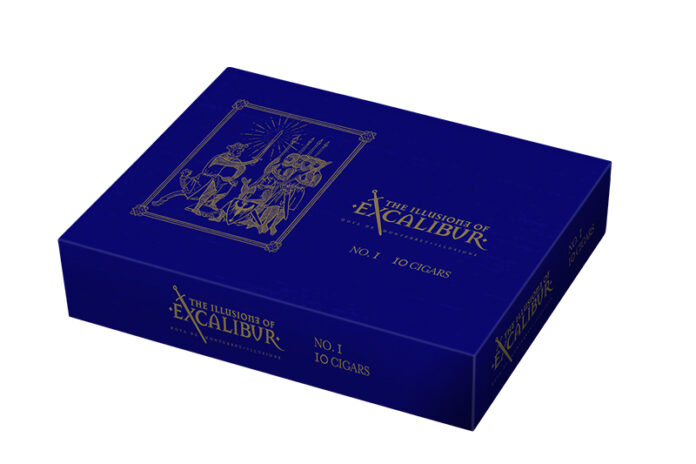 Excalibur, a brand distributed by Scandinavian Tobacco Group's (STG) Forged Cigar Company, will be debuting its first collaboration next month when the Illusion of Excalibur, a limited-edition release blended by Dion Giolito, makes its debut.
The Illusion of Excalibur is the first Excalibur cigar to be made in Nicaragua. This collaboration between Giolito and STG's Justin Andrews is a new cigar that utilizes aged Nicaraguan tobaccos that deliver a rich and layered smoking experience benefitting both Excalibur and Illusione.
"Dion Giolito and Illusione's success in the premium cigar category has been driven by his rigorous standards for tobacco and his ability to create cigars that wow the market," commented Andrews. "So when it came to developing a blend for Excalibur, Dion was our hands-down first choice. I'm very proud of how this project came together. My only regret is that we couldn't make this a full-time launch."
Giolito added: "When GCC [General Cigar Company] asked me to do a collaboration and offered up Excalibur, I immediately jumped at the opportunity. In college, the Excalibur #1 Maduro was my go-to when I could afford them on a college budget. My buddy George and I would enjoy them after class or band practice. They were a real treat back then, and they still are to this day. For my part, I wanted to make a cigar in the spirit of Excalibur with a bold character and packaging that pays homage to the brand's origins. I believe this blend really hits the mark."
The Illusione of Excalibur was handcrafted at the TABSA factory in Nicaragua. It is described as a Nicaraguan puro that has a Nicaraguan Corojo 1999 wrapper from Jalapa, a 2012 Nicaraguan Corojo binder from Jalapa, and a blend of Criollo and Corojo tobaccos from 1998, 1999 and 2006 grown in Estelí. The final cigar is described as being a "smoking experience that is chewy and rich, producing notes of Christmas spices, leather and espresso in a refined, medium-plus profile."
In a nod to the sword of King Arthur that inspired the cigar's name, Illusione of Excalibur will be presented in a royal blue lacquered box with gold detailing.
Illusione by Excalibur will be released in just one vitola–No. 1, measuring 7 1/4 x 54) with an MSRP of $19.99. A total of 4,960 boxes of this cigar will be released beginning on July 4, 2022. Each box will contain 10 cigars.