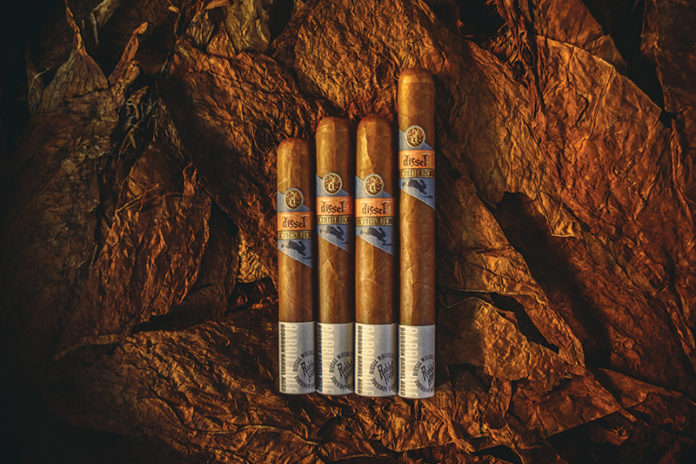 A.J. Fernandez and General Cigar Company's Diesel brand have collaborated to create Whiskey Row, a cigar collection developed in partnership with Rabbit Hole Bourbon. Whiskey Row features binder leaves aged in bourbon barrels in a proprietary process developed by Fernandez to enhance the cigar's profile.
According to Diesel Senior Brand Manager Justin Andrews, "The partnership between Diesel and Rabbit Hole speaks of going against the grain in traditional industries. Rabbit Hole doesn't claim to use 12 year old juice or have a 6th generation master distiller, much like Diesel doesn't claim to be an old Cuban brand or have tobaccos that have been aged for 20 years. Both Rabbit Hole and Diesel are young, energetic brands with a unique go-to-market strategy. We knew the first time both companies sat down, there was a tremendous amount of synergy."
Kaveh Zamanian, founder and whiskey maker at Rabbit Hole Bourbon said, "Together, cigars and great whiskey have created uncountable moments of quiet joy. Aging fine tobacco in bourbon barrels which were used to age Rabbit Hole Bourbon modernizes that great tradition. We're excited that our partnership with Diesel gives us a hand in adding depth to what is already a profoundly enjoyable experience."
The synergy between both brands was brought to life in 2016 when Rabbit Hole Bourbon barrels arrived at Tabalacera A.J. Fernandez in Esteli, Nicaragua. Fernandez placed the Mexican San Andres binder in the bourbon barrels in a special configuration. The tobacco was left to rest inside the barrels, and the amount of air inside was controlled at regular intervals to ensure the bourbon flavors were imparted evenly.
Fernandez says, "A lot of passion went into this process and I am very pleased with the results. Aging the binder leaf in the bourbon barrels added an unexpected layer of flavor and aroma right beneath the wrapper. When you smoke Whiskey Row, you get a unique and complex experience that engages the senses unlike any other cigar I've smoked."