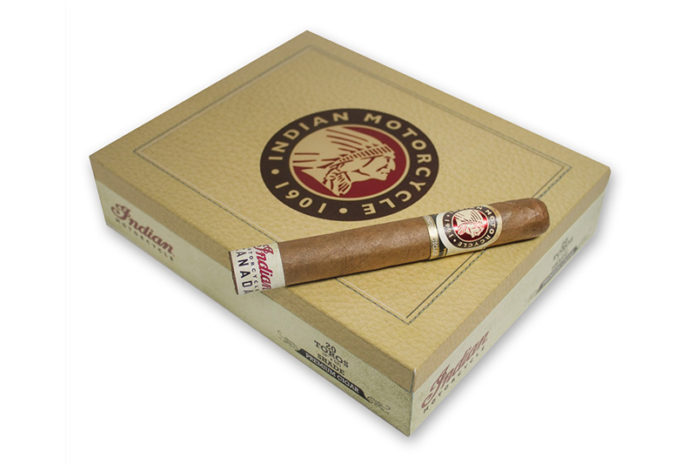 Debonaire House and Indian Motorcycle have a special exclusive Canadian release about to hit the streets. The Indian Motorcycle Cigars Connecticut Shade will be launching in May to Canadian retailers, available through Brigham 1906, the company's distribution partner.
Indian Motorcycle Cigars were reintroduced to the market in 2015. The brand is a licensed product between Debonaire House and Indian Motorcycle/Polaris. The core line of Indian Motorcycle Cigars has since been extended and packaged in 20-count boxes that have a lighter leather top than its counterparts. Each cigar will be adorned with a Canada foot-ring. Canadian retailers can expect the following exclusive sizes of Indian Motorcycle Connecticut that will be made available through Brigham 1906: Robusto (5 x 50) and Toro (6 x 52).
"Firstly, this is a super exciting project with Brigham, a great company filled with great people," commented Philip S. Zanghi III, founder of Debonaire House. "I've known Dan and team for what seems like 20 years or so, once we began distribution in Canada we all felt the fit was perfect right away: Indian 1901 with Brigham 1906; Connecticut Shade was a no-brainer for Canada's favorite motorcycle company! I am excited to visit with and enjoy this great cigar with the fine retailers and consumers of such a fine outfit in Canada when we launch in May."
Canadian retailers interested in carrying the Indian Motorcycle line of premium cigars are encouraged to contact Brigham 1906 at +1(800) 668-0628 or at sales@brigham1906.com.
For all the latest news from Debonaire House, visit debonairehouse.com.