Since 2012, Oettinger Davidoff has recognized its finest American Appointed Merchants with the American edition of its prestigious Golden Band Awards. The Golden Band Awards is Davidoff's opportunity to recognize Appointed Merchants' exceptional achievements and success in holding up the standards rooted by company founder Zino Davidoff. Nominees are selected based on a combination of sales metrics and dedication to Davidoff programs such as the training and education program Davidoff Academy, merchandising and events. The awards honor retailers across several categories, including winners for Best Merchandising, Best Performance for a Single Location, Best Performance for Multiple Locations, the Davidoff Growth Award, the Davidoff Growth Award for Multiple Locations and the Davidoff Appointed Merchant of the Year.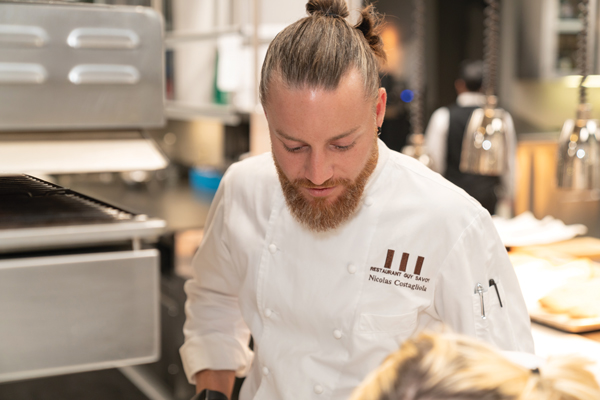 To create a truly extraordinary cigar and culinary experience, Davidoff chose to do something different this year by celebrating its winners with a more intimate evening that was like no other. Rather than announcing the Golden Band Award winners during the dinner, the company revealed this year's winners weeks before the International Premium Cigar & Pipe Retailers Association (IPCPR) trade show and convention, which was held in Las Vegas from June 29 to July 2. Davidoff then invited the winners and their guests—approximately 35 people—to a very special dinner held on the evening of June 30 at Caesars Palace Las Vegas Hotel and Casino's Restaurant Guy Savoy, one of the most celebrated and recognized restaurants in North America.
"Davidoff Cigars' master blenders and renowned culinary luminaries share the same passion and mission of filling people's time beautifully with their exquisite creations," says Lana Fraser, Davidoff North America's director of marketing. "With this shared mission, and with Davidoff's desire to create extraordinary cigar experiences inspired by flavors, holding the Golden Band Awards at Restaurant Guy Savoy was the perfect setting for such a special evening."
Indeed it was. Restaurant Guy Savoy is to the culinary arts what Davidoff is to the art of making premium cigars—both companies spend countless hours guaranteeing that their cigars or the items on their menu offer only the finest gustatory experiences for their consumers. Davidoff's handmade premium cigars offer consumers a full range of excellence because the company pays strict attention to all the steps that go into making cigars—from the tobacco seedlings that are planted in the field to the way it sells its cigars in shops worldwide. This attention to detail has garnered the company numerous awards and high ratings across the globe.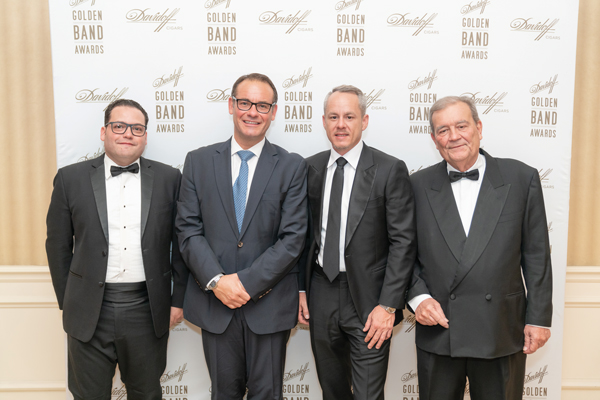 Restaurant Guy Savoy has earned accolades as well. It has received two Michelin stars and is a AAA Five Diamond Award winner. The restaurant offers many of the same menu items that the original Restaurant Guy Savoy in Paris offers. All of the staff members who are selected to work at Restaurant Guy Savoy in Las Vegas undergo extensive training in both Las Vegas and in Paris before they may serve the restaurant's guests. Additionally, Chef Guy Savoy prohibits flowers in his restaurants and does not allow his employees to wear cologne or perfume so that the aromas of the food served at his restaurants remain pure for guests to experience.
The dinner celebrated Davidoff's new campaign, Taste the Elements, which highlights the power of nature that influences Davidoff's Black Pillar cigars, Escurio, Nicaragua and Yamasa. The evening kicked off with guests smoking a Davidoff Nicaragua Robusto along with enjoying Old-Fashioneds made from Macallan 12-year-old scotch, Angostura bitters, simple syrup and orange rinds while speaking with Davidoff executives, such as CEO Beat Hauenstein, chief marketing officer Edward Simon and president of Davidoff Americas Dylan Austin. Other Davidoff luminaries at the dinner included Davidoff Americas' chief financial officer, Doug Laue, legendary cigarmaker and company vice chairman, Hendrik "Henke" Kelner, and the company's vice president of global production, Hamlet Espinal.
The Golden Band Awards dinner featured five courses, each of which was paired with a special wine. The first course consisted of crab salad and Osetra caviar served with Laurent-Perrier Grand Siecle champagne. Turbot roasted on the bone and a traditional dish called Barigoule that consists of baby artichokes served in their natural juices made up the second course, which was served with vintage 2015 Bruno Colin 1er Cru Morgeots. The third course featured Restaurant Guy Savoy's signature artichoke and black truffle soup as well as toasted mushroom brioche with black truffle butter and was served with the 2015 vintage of Domaine de la Vougeraie's 1er Cru Clos de Thorey Monopole.