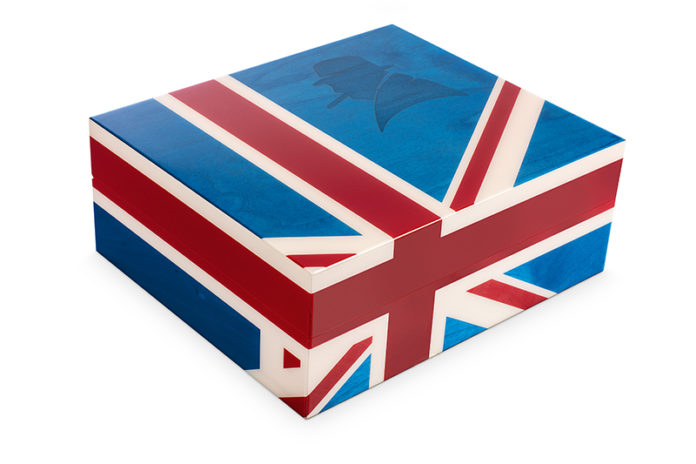 With the relaunch of the Winston Churchill Cigar line in 2015 and the recent announcement of the newest line, the Winston Churchill Late Hour, Davidoff is again paying tribute to the iconic British statesman with the release of new Winston Churchill-branded accessories.
"The aim was to craft a new range of contemporary Davidoff Winston Churchill accessories inspired by a key facet of the man himself–his statesmanship," explained Charles Awad, Senior Vice President and Chief Marketing Officer at Oettinger Davidoff AG. "Sir Winston Churchill's leadership role in British politics for over 55 years, as well as his well-known fondness for cigars and Scotch whisky, were a great source of inspiration for Davidoff's teams of designers and craftsmen. The attractive designs of this new range, as well as Davidoff's unparalleled technical expertise, will make the cigar ritual and the enjoyment of today's discerning aficionado."
Randolph Churchill, Sir Winston's great-grandson, added: "In the evenings, after dinner, when Sir Winston was having a good whisky, he'd light a cigar. He was passionately dedicated to his cigar ritual in great detail, and he mastered his skill to light up and fill his best and darkest days beautifully in exactly the same way."
As part of this new accessory line, Davidoff has unveiled a new series of humidors inspired by Churchill. The Union Jack is described as having an intense design depicting the Union Jack on blue birch wood and reflecting the Winston Churchill icon in a piece of marquetry made of a darker shade of tulip wood. The London features the London city landscape within the Winston Churchill profile and is made of beige tulip wood. The MSRP of the Union Jack humidor is $2,050; the London humidor will sell for $2,050 (Ambassador size) and $1,550 (Primos size).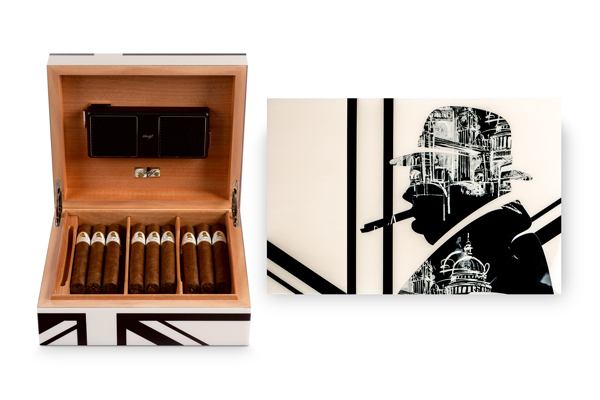 These humidors will be presented in two different formats. The Ambassador will hold between 70 and 90 cigars. The interior of the humidor contains a tray, removable basket and dividers that will allow the cigars to be arranged. It's dimensions are 38.3 x 24 x 14.3 cm. The Primos is smaller and holds between 25 and 35 cigars. It's compact design makes it ideal for those short on space, such as in an office setting. It's dimensions are 27.9 x 23.9 x 10.8 cm. Both humidors will also contain the Davidoff Slim Regulator. They maintain a stable relative humidity level of 70-72 percent. The interior of the humidors are made from a wood known as okoumé taken from Africa's west coast. The humidor's varnish will ensure that no wood flavors are transferred to the cigars during storage. The humidors will be made by a French atelier that is part of the Living Heritage Company, a label known for its high quality and excellence.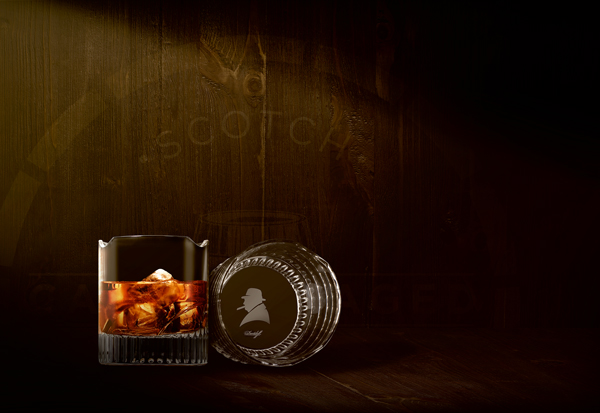 In addition to these humidors, Davidoff is also releasing its first liquor glass, also inspired by Churchill. Each glass is fitted with two notches on the side of the glass that will hold a cigar, a feature that Davidoff boasts as being a first in the cigar world. These will be available as a set of two glasses and will sell for $95 (per set). A porcelain ashtray crafted in Limoges, France, will also have two slightly angled cigar notches to ensure the two cigars can be held without touching one another. Its large bottom will hold a generous amount of ashes. The ashtray as a MSRP of $390.
These new Winston Churchill accessories will be available globally beginning in August 2017.  For all the latest news from Davidoff Cigars, visit davidoff.com.