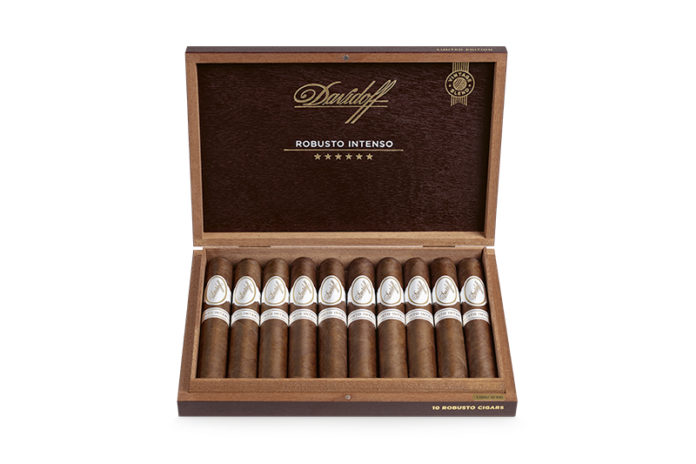 In a continuing effort to fill time beautifully, Davidoff has revealed the upcoming limited release of the the Davidoff Robusto Intenso, a vintage blend that was first released back in 2005.

"In the year 2005, Davidoff's master blenders delivered a pioneering challenge true to our founder Zino Davidoff–to crate a cigar experience that is intense and complex, yet also ehiliarant and smooth," said Edward Simon, chief marketing officer at Oettinger Davidoff AG. "For this task, they had masterfully achieved to blend tobaccos from dive different regions of the Dominican Republic with an Ecuadorian wrapper and created the famed and highly decorated Robusto Intenso. We are honored to give aficionados the pleasure to enjoy this icon of the art of blending again after almost 15 years of waiting. Not only being able to have the complete blend history of our cigars but also the ability to recreate iconic blends from our vintage tobacco stocks is one of our core differences that aficionados worldwide value highly with our brand and company."
The Robusto Intenso's Habano wrapper is grown exclusively for Davidoff in Ecuador in small quantities. The wrapper gives the cigar a spicy yet creamy taste that emerges during the elaborate double fermentation and aging process. By adding the Dominican San Vincente binder leaf that's been aged for over four years, and Dominican filler aged for up to seven years, the Robusto Intenso is a complex yet balanced intense smoke that is sure to delight many cigar enthusiasts.
The Davidoff Robusto Intenso is presented as a Robusto in 10-count boxes. This cigar will also be available exclusively in Global Travel Retail in a natural wood boxes with an icon that highlights the vintage cigar's blend.
Davidoff Robusto Intenso will begin launching at selected Davidoff Appointed Merchants in September 2020.
For all the latest news from Davidoff Cigars, visit davidoff.com.