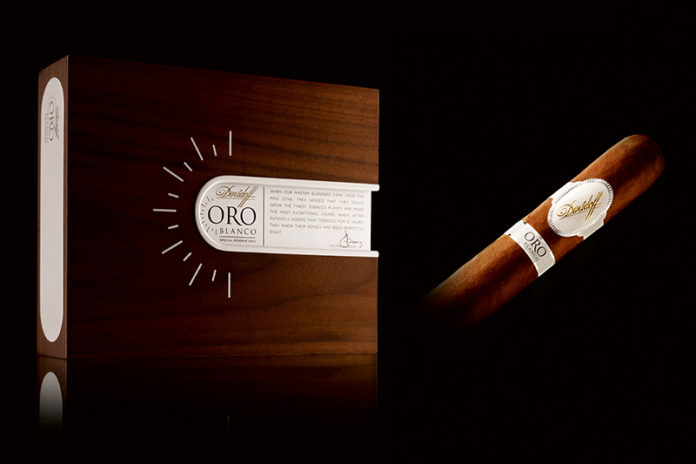 Just in time for the holidays, Davidoff Cigars has a special gift in store for collectors of rare cigars and avid cigar enthusiasts. In an unprecedented move, Davidoff will be releasing five batches of 50 Oro Blanco Special Reserve 2002 cigars. These special and rare cigars will be available at Davidoff Flagship stores for an MSRP valued at approximately $25,000 per batch and can be ordered online at davidoffgeneva.com.
"This is the ultimate indulgence for a passionate cigar collector. The question one may ask is when will there be a moment special enough to enjoy an Oro Blanco? As one of the world's rarest cigars, Oro Blanco Special Reserve 2002 is ideal to celebrate a momentous occasion or to be relished at leisure during a rare or life-changing moment. An Oro Blanco moment is guaranteed to be beautifully and memorably filled with the finest flavors and aromas that Davidoff has ever crafted," said Charles Awad, Senior Vice President of Global Marketing and Innovation at Oettinger Davidoff AG.
Experiencing an Oro Blanco is a once-in-a-lifetime experience. The tobaccos used to craft it will only be found in Oro Blanco. Davidoff stresses the point that no cigar will ever use the same tobacco as this cigar. The Davidoff Oro Blanco Special Reserve 2002 comes in a Toro format. It pairs well with an aged rum or a smooth, fine whiskey and will appeal most to and be a great gift for cigar smokers who are seeking an ultra-rare, exquisite cigar.
For the latest news from Davidoff, visit davidoff.com.
Photos courtesy of Oettinger Davidoff AG