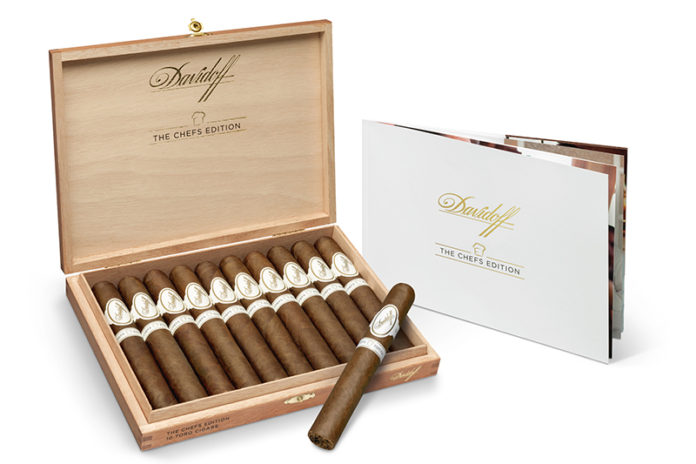 Davidoff Cigars is serving up a limited edition that cigar enthusiasts are sure to eat up. The company has announced the upcoming release of its Limited Edition Chefs Edition. The premium cigar company first unveiled its new Limited Chefs Edition during a dinner held on Feb. 20, 2016 at Minitas Beach, Casa de Campo, in the Dominican Republic. This special cigar line is crafted by six international chefs and will be available in limited quantities beginning in April 2017.
"The Davidoff Chefs Edition offers fine dining and an exceptional cigar for connoisseurs to enjoy after a culinary tour de force," explained Charles Awad, Senior Vice President of Global Marketing and Innovation at Oettinger Davidoff AG. "This unique partnership with some of the world's greatest chefs has inspired Davidoff master blenders to blend this truly memorable cigar."
Swiss chef Peter Knogl from the Cheval Blanc of Grand Hotel Les Trois Rois in Basel/Switzerland added: "When I first met with my colleagues and the Davidoff team to discuss the blend of Davidoff's first Chefs Edition, it was important to me that every connoisseur would have fun with the fine cigar. As a chef, my key aim is to deliver new delights and to make people happy, and that's why I love my job and the Davidoff Chefs Edition project."
Other chefs involved in this special cigar include Renato Wüst of Bad Ragaz Grand Resort in Switzerland, TV Chef Ali Güngörmüs, of Le Canard HH Pageou, Münich in Germany, TV Chef Léa Linster of Restaurant Léa Linster in Luxembourg, Michel Trama of Relais & Chateau, Puymirol in France and Maria Marte of Club Allard, Madrid in Spain.