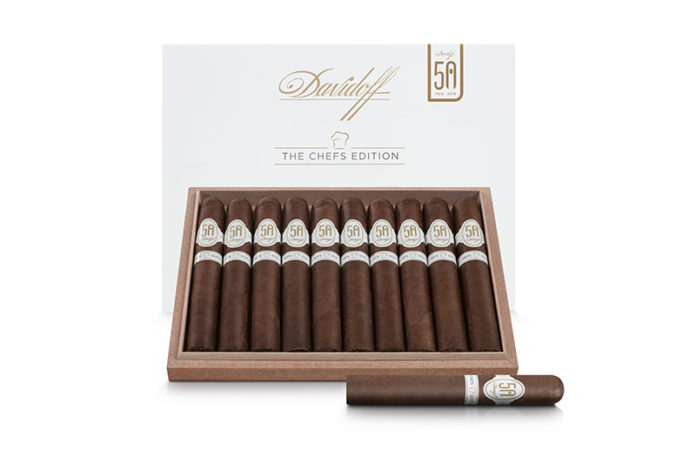 Davidoff Cigars continues to celebrate its 50th anniversary but this time heads into the kitchen for the festive occasion. The Davidoff Chefs Edition 50th Anniversary is the second edition of this special premium cigar made in collaboration with five of the world's top chefs.
The Davidoff Chefs Edition 50th Anniversary cigar comes in a toro size and draws inspiration from the Dominican Republic and countries from the chef's home countries, including Germany, Switzerland, the U.S., Great Britain, and Hong Kong. This cigar has notes of Szechuan pepper, leather, licorice, and oakwood at the start and as the burn continues, the cigar gives way to notes of coffee, cumin and chocolate before finishing with eucalyptus and spice. Davidoff Chefs Edition 50th Anniversary features a Dominican Republic wrapper, a Mexican Negro San Andrés binder, and tiller tobaccos from Nicaragua and the Dominican Republic.

These chefs–Thomas Keller (The French Laundry, Yountville, USA), Alvin Leung (Bo Innovation, Hong Kong), Klaus Erfort (Gästehaus in Saarbrücken, Germany), Heiko Nieder (The Restaurant, Zurich), and Shaun Rankin (Ormer Mayfair, London)–shared a passion with Davidoff for filling people's time with memorable experiences through exquisite creations. Like Davidoff's master blenders, these award-winning chefs scour the globe for the finest ingredients for their creations and combine them in bold, innovative ways to stimulate and delight the taste buds of aficionados around the globe. Once their creations are released into the world, they enjoy seeing how the world reacts to their creations.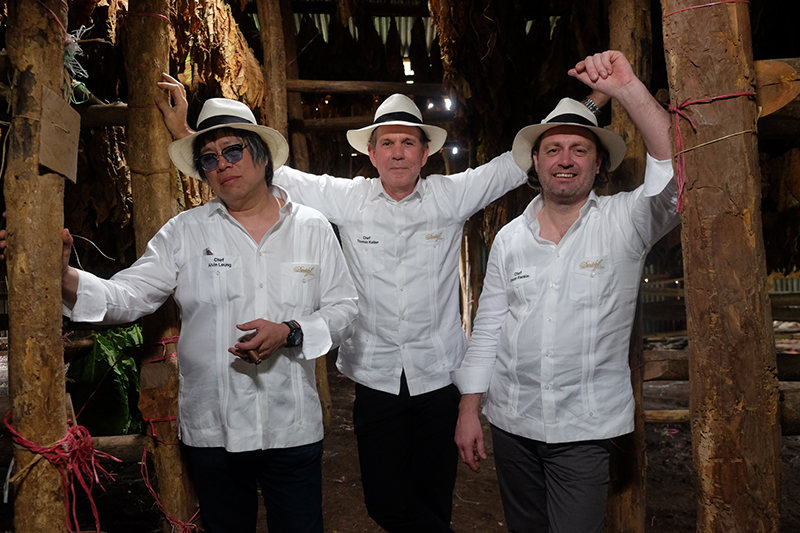 "Discipline and passion for your work certainly are the cornerstones of continuous success," explains Chef Erfort. "But also the feeling of making guests happy. Seeing the smiling faces when they leave the restaurant in the evening is a consistent source of motivation."
Davidoff's Chief Marketing Officer, Edward Simon, revealed more about the way these chefs work with Davidoff's master blenders to create something memorable.
"In bringing together the creative powers of international kitchen pioneers with Davidoff's cigar visionaries in the Dominican Republic, we intended to create an extraordinary cigar experience inspired by flavors from the four corners of the world. These highly acclaimed chefs and master blenders, whose mission is continually to push the boundaries of taste, have truly excelled in creating a blend and experience second to none."
The Davidoff Chefs Edition 50th Anniversary will be limited to just 50,000 cigars (or 5,000 boxes) being available worldwide. This cigar will be available at Davidoff Flagship Stores and other Davidoff Appointed Merchants beginning in Sept. 2018.
For all the latest news from Davidoff Cigars, visit davidoffcigars.com.