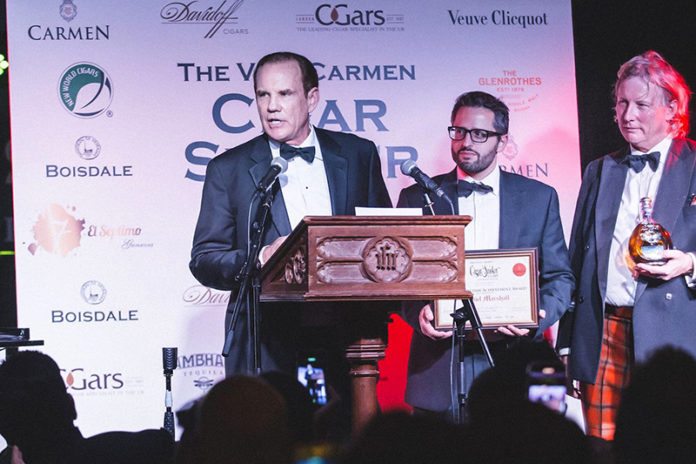 Boisdale of Canary Wharf hosted the seventh annual star-studded Cigar Smoker of The Year Awards dinner. The dinner celebrates the world's finest cig­ars, cigar makers, journalists, cigar lounges and icons. During this year's Cigar Smoker of The Year Awards dinner, Daniel Marshall received the Lifetime Achievement Award.
Previous winners of the Lifetime Achievement Award include: Academy Award winner Jeremy Irons; leg­endary Hol­ly­wood actor and direc­tor, Burt Reynolds; British Conservative member of the House of Lords and once a code-breaker at Bletchley Park during World War II, Baroness Trumpington; Edward Sahakian of Davidoff London; and cel­e­brat­ed British broad­cast­er and jour­nal­ist, Andrew Neil. Historical win­ners of the Cigar Smoker of the Year Award, nom­i­nees and guests also includ­e Simon Le Bon, Arnold Schwarzeneg­ger, Jonathan Ross, Kelsey Grammer, Tamar Has­san, Char­lie Sheen, James Cos­mo and Chris Noth.
London holds a special place in Marshall's heart as he reflected upon his start in the cigar industry during his acceptance speech. "Thirty-eight years ago, a 19-year-old California surfer landed in this amazing beautiful city of London with a dream and a challenge. The dream was to obtain Alfred Dunhill of London's approval of quality and trust for the humidors I was making in California."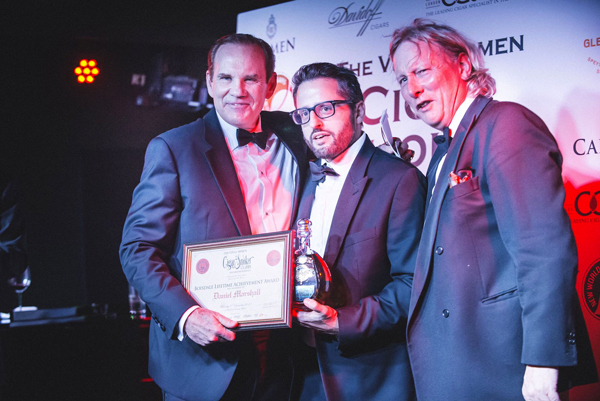 Marshall told a story from his past that have shaped his present and will inform his future. At age 12, he was in an oratorical contest against the most popular boy in school—14 year old actor Sean Penn. Marshall won the contest. "With Sean's massive popularity and with me being an overweight, insecure, least popular kid at school, I was terrified to go onto the playground and possibly meet him or any of his friends for fear of being beat up. I very happy that this never occurred," Marshall told the audience. "Two years ago I met Sean at [French] President [Emmanuel] Macron's environmental summit and told him this story. He remembered the contest and laughed. Hardly the reaction I was so scared of. I learned an important life lesson on this day that most of our fears never come to pass."
His acceptance speech also included an example of the power of cigars to bring people together. "One of my most memorable moments was when Mr. Marlon Brando called me to build two large humidors for him. He told me when he visits his island off the coast of Tahiti, all his scripts get moldy and destroyed by the humidity and he wanted to use our humidors to keep the humidity out."
Marshall expressed his deepest admiration for all nominees and congratulated the winners of the other awards, including Cigar Smoker of the Year, which recognizes a high-profile individual that possesses a passion for the pure enjoyment of cigars This year's honor went to actor, filmmaker and martial artist Dolph Lundgren, who is best known for his roles in Rocky IV, The Expendables, The Punisher and Universal Soldier.
"I truly believe it's all about dreams," Marshall concluded his speech. "Dreams cost nothing. The hard part is keeping them going and never giving up. As Sir Winston Churchill said so famously, 'No matter the challenge, we must never, never, never give up.'"
View a video of the event at https://www.youtube.com/watch?v=p7_o0aSjeXU&feature=youtu.be.