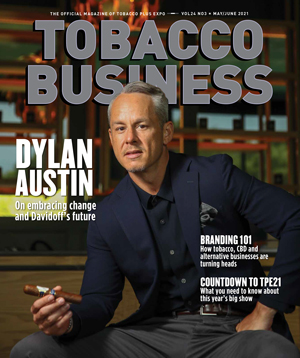 MAY / JUNE 2021
[View This Issue Online]
STARTUP
TECHNOLOGY
IMPROVING SALES
Does your business accept credit cards? US Merchant Services offers credit card processing services that could help your business save money among many other perks.
MARKETING
MAKING THE BRAND
Margaret Caldwell, founder of Caldwell Botanicals, discusses how she crafted her unique brand and suggests moves that other entrepreneurs can take to make their products stand out.
SALES
LEVEL UP YOUR NEXT EVENT
Award-winning tobacconist Paul Copeland shares tips and tricks for making your next event a memorable and exceptional experience.
LEGISLATION
CIGARETTE CORRECTIVE STATEMENTS LITIGATION
The National Association of Tobacco Outlets examines the U.S. Department of Justice's new point-of-sale sign proposal for cigarette corrective statements.
REMOVING BARRIERS FOR ONLINE RETAILERS
Cigar Rights of America details its work to help online tobacco retailers navigate the complex regulatory environment.
FEATURES
TPE21: YOUR QUESTIONS ANSWERED
As TPE21 prepares to take over Las Vegas in May, TMG's trade show director and the Las Vegas Convention Center's chief operating officer tell you what to expect and how you can get the most out of this year's show.
AGENT OF CHANGE
Davidoff of Americas' president Dylan Austin shares the entrepreneurial journey that's taken him to the top of one of the industry's largest premium cigar manufacturers. Find out how he's learned to transform his company and team as well as how you can make the best of changes impacting your business.
FORGING A NEW PATH
This year, Scandinavian Tobacco Group revealed it had launched a new national distribution company. Find out how The Forged Cigar Company will help the company come closer to achieving its goal of becoming a leader in the U.S.'s premium handmade cigar category.
INNOVATIVELY DRIVEN
NIIN, a new nicotine pouch brand, is setting out to turn the nicotine market on its head with the help of tobacco-free, synthetic nicotine.
FINDING SOLUTIONS FOR VAPOR CONSUMERS
Brightfield Group offers a glimpse into what consumers are looking for when it comes to vapor products in 2021.
LUXURY REDEFINED
As S.T. Dupont's new distribution partner, Coles of London reveals its plans to grow the luxury French accessory brand's presence in America.
TOBACCONIST
MAKING THE CONNECTION
Industrial Cigar Co. has become one of Texas' leading tobacconists thanks to the Frakes family and their focus on building a business that brings people together.
THE PROFITABLE BUSINESS OF PIPES
Pipes may be a tried and tested category, but they still offer big profit potential for retailers. Tobacconist University provides insights into pipes and offers tips for how to leverage them for retail.
CIGARS FOR WARRIORS' NEW COLLABORATIONS
Operation: Cigars for Warriors shares details on two new collaborations that will benefit deployed U.S. troops.
ON YOUR SHELF
Find out which premium tobacco, CBD and alternative products to look for at this year's Tobacco Plus Expo trade show.
ON THE COVER:
Dylan Austin. Photography by Dirk Shadd
Never miss an issue of Tobacco Business magazine. Click here to subscribe.
Click here to view past issues of Tobacco Business magazine.