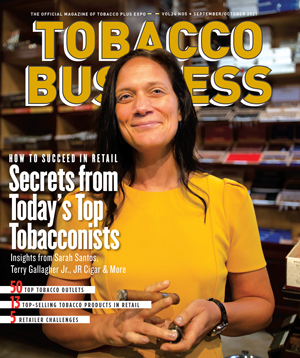 SEPTEMBER / OCTOBER 2021
[View This Issue Online]
STARTUP
MARKETING
How to Grow Your Business with Clubhouse
Tips for growing your audience and customer base with the help of Clubhouse, a new audio-centric social media platform.
SALES
Space Wars
Are you looking to gain more shelf space? A cigar salesman has three questions that can get your products the retail space they need.
LEGISLATION
FDA PMTA Progress Report
An update on the premarket tobacco product application (PMTA) process and where the FDA currently stands in its review of the applications it has received so far.
FEATURES
What's in Store
Sarah Santos discusses her life and work in retail and the evolution of Cigars International from a local tobacconist to a brick-and-mortar and e-commerce powerhouse.
Staying Friendly for Growth
Terry Gallagher Jr. and his family continue to dominate the tobacco outlet channel following a recent investment that will allow the company to expand its footprint across the U.S.
The Long Game
For 50 years, JR Cigar has adapted to the changes experienced in the tobacco industry and consumer preferences, becoming one of the largest and most successful cigar retailers to date.
Not for Fame or Fortune
Tobacconist Abe Froman shares his experiences as a small-business owner and how focusing on other small businesses has led to big growth opportunities for his store.
Big Box Energy
A deep dive into the world of cigar subscription boxes from five tobacconists who are leading the charge of bringing cigars to consumers in an entirely new way.
E-commerce Made Easy
Tobacconist University's latest feature will give tobacconists an easy and more affordable way to compete with e-commerce tobacco retailers.
All Inclusive
Inspired by the events of the past year, a group of entrepreneurs have joined forces to launch a cigar brand designed to bring people together while honoring the history of the City of Atlanta.
On Your Shelf
Scandinavian Tobacco Group jumps into the hemp category with the launch of a new smokable hemp product called Versa. Also, Robert Caldwell gives back to the men and women of the military with a new collaboration with Operation: Cigars for Warriors.
Tobacco Business 2021 Retail Survey
Tobacco Business provides a snapshot of what it's like to be a tobacco retailer today, from what products and brands are moving the most to the current challenges and concerns of today's tobacconist.
ON THE COVER:
Sarah Santos. Photo by Meredith Edlow
Never miss an issue of Tobacco Business magazine. Click here to subscribe.
Click here to view past issues of Tobacco Business magazine.