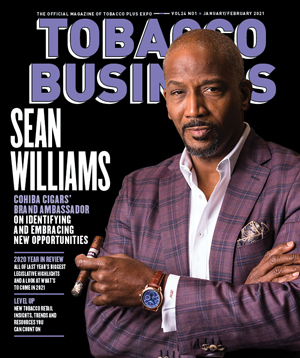 JANUARY / FEBRUARY 2021
[View This Issue Online]
TPE 2021
VIRTUAL LEARNING
Tobacco Media Group is taking TPE Ignite online this year with a special series of virtual educational seminars.
STARTUP
TECHNOLOGY
'POS-ITIVE' RETAIL SOLUTIONS
Learn how to choose the right point-of-sale system for your tobacco retail store.
MARKETING
INSTAGRAM LIKE AN INFLUENCER
Is your tobacco business on Instagram? Here's an easy four-step plan that will have you posting and Instagramming like an influencer in no time.
SALES
SALES FULFILLMENT
In sales, opportunity is always knocking. The way you nurture that opportunity could determine the true value of the final sale.
LEGISLATION
2021's FINANCIAL CRISIS
Looming state budget deficits require retailers to act now.
A YEAR IN REVIEW
Cigar Association of America reviews some of 2020's biggest legal fights as it continues its efforts to ensure cigars can be sold and enjoyed throughout the U.S.
COVER STORY
WHEN OPPORTUNITY KNOCKS
Sean Williams has done it all, from starting and managing his own brand to blending and building the profile of General Cigar Co,'s Cohiba brand. Now he's sharing his fearless approach to business that leaves no opportunity untapped.
PREMIUM CIGARS
THE CROSSROADS OF FUN AND BUSINESS
Crux Cigars' Jeff Haugen discusses his retail roots, the fun side of business and the value he's found in making mistakes along the way.
THE MAN IN THE ARENA
Ernesto Padilla looks back on his 18 years in the cigar industry and gives tips to other small-business owners who are in search of long-term success.
ACCESSORIES
A NEW FLAME
Bugatti Group is changing the way cigar smokers are lighting up, one flick at a time.
TOBACCONIST
THE TOBACCONIST HANDBOOK
Tobacconist University founder Jorge Armenteros talks about the recently released revised edition of his popular book, The Tobacconist Handbook, and why it should be on every tobacco retailer's reading list for the new year.
A CONVENIENT TRANSACTION
Renegade Cigars' Brandon Hayes shares his store's story and reveals how he's built a business around making transactions as easy as possible.
FOR THE CAUSE
Operation: Cigars for Warriors chairman Storm Boen interviews John Curtis, owner of Lubbock, Texas-based Smokers Haven, which is home to the organization's first retail donation center.
2020 RETAIL SURVEY
Tobacco Business tracks the latest trends in tobacco retail, from what retail categories are thriving to the tobacco products that are selling and moving the best.
ON YOUR SHELF
New releases for your store from J.C. Newman Cigar Co., CAO Cigars, Davidoff, Altadis U.S.A., El Artista, Room101 and Les Fines Lames.
ON THE COVER:
Photo by Shuttersexy
Never miss an issue of Tobacco Business magazine. Click here to subscribe.
Click here to view past issues of Tobacco Business magazine.