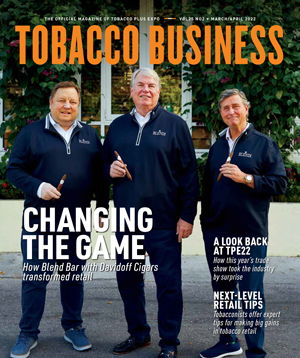 MARCH / APRIL 2022
[View This Issue Online]
FEATURES
On Another Level
Your retail store is a business, but is it a corporation? Learn how the owners of the popular Blend Bar with Davidoff Cigars raised the bar and created a franchise that's expanding across the U.S. and attracting customers new and old to the premium cigar lifestyle.
Procigar Fesitval: A First-Timer's Review
What's it like attending the annual Procigar Festival for the first time? Tobacco Business' art director makes his first trip to the Dominican Republic cigar festival and shares his experience with our readers.
Details of Strength
With its rebrand well underway, Aganorsa Leaf is working hard to get retailers to understand that the company's true value and strength lie in the Nicaraguan tobacco it grows each year.
COLUMNS
The Unexpected Trade Show
Attendees and exhibitors at last month's Tobacco Plus Expo (TPE) trade show thought they knew what to expect when they arrived in Las Vegas. Find out how this year's annual trade show turned out to be an unexpected surprise to many.
Best Practices in Tobacco Retail
What does it take to be successful in tobacco retail today? A panel of successful brick-and-mortar tobacconists share their firsthand experiences with many of the challenges tobacco retailers are dealing with today, from employee retention to finding the right products for their store's customers.
The World's Most Valuable Tobacco Brands
The tobacco industry can attribute its longevity to some strong, iconic brands. See which tobacco brands rank among the world's most recognized—and valuable—business assets.
The Trouble with Misleading Studies
Government agencies and health advocacy groups regularly use studies to make a case for policy and regulations, but what happens when those studies are flawed? The National Association of Tobacco Outlets examines how a recent American Medical Association study missed the mark and led to a bad policy.
A Responsible Industry Selling to Responsible Adults
Your right and ability to smoke and enjoy cigars is under attack. Should cigar advocates take a cue from the spirits industry in its call for fair treatment and less government interference?
The Skinny on Delta-8 THC
There's a lot of hype surrounding delta-8, but despite its growing popularity, tobacco retailers are still mostly in the dark about this alternative product. Get the rundown on this cannabis product and why it's gaining steam among tobacco consumers.
A Winning Retail Strategy
Retailers are only as strong as their partnerships with manufacturers. Learn about the advantages an exclusive group of retailers say they have as Davidoff Appointed Merchants.
Do the Right Thing
Sanj Patel has been a tobacconist for over 30 years. Now he's taking on some of the cigar industry's biggest problems with his own premium cigar blended to make a statement.
Operation: New Customers
Want to contribute to a good cause while also increasing your store's foot traffic? Learn how becoming an official Cigars for Warriors donation center can benefit your store.
On Your Shelf
Cigar companies celebrate the Year of the Tiger with a series of special product releases.
In Memoriam – Carlos Alberto Toraño Sr.
The cigar industry mourns the passing of Carlos Alberto Toraño Sr.
ON THE COVER:
Blend Bar with Davidoff Cigars' Corey Johnston, Mark Holden and Kim Arbuckle. Photo by New Ground Photography.
Never miss an issue of Tobacco Business magazine. Click here to subscribe.
Click here to view past issues of Tobacco Business magazine.