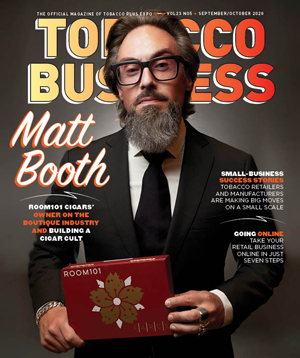 SEPTEMBER /OCTOBER 2020
[View This Issue Online]
LETTER FROM THE EDITOR
TAKE A CHANCE ON YOU
TPE IGNITE
MAXIMIZING THE POTENTIAL OF ORAL NICOTINE POUCHES IN RETAIL
What exactly are oral nicotine products? A panel of manufacturers and retailers explores this emerging new product category and discusses why you should get involved in the category now.
LEGISLATION
CIGAR ASSOCIATION OF AMERICA – SUBSTANTIAL EQUIVALENCE
Nine years later, the substantial equivalence process remains confusing and unclear for many tobacco manufacturers.
STARTUP
MARKETING WITHIN THE DIGITAL DIVIDE
General Cigar Co.'s Chris Tarr discusses what marketers need to know and look for when shifting their marketing plans online.
WEBSITE DESIGN FOR TOBACCO RETAIL STORES AND LOUNGES
Are you online yet? Here are seven tips for getting started on building an online presence for your tobacco retail business.
SERVING THOSE WHO SERVE US
Operation: Cigars for Warriors' success can be attributed to the organization's volunteers, but what are the true benefits of volunteering for a nonprofit?
COVER STORY
THE FIGHTER
After 11 years of working with cigars, Room101's Matt Booth has a simple message for the industry: He and his brand are here to stay. Booth looks back on his experiences as a small-business owner, talks about the art of boutique and shares how he built a cult-like following for his brand.
PREMIUM CIGARS
2020 VISION
General Cigar Co.'s president, Regis Broersma, talks about his company's big moves to become the leader of handmade cigars in the U.S. and his quest to bring the industry together to take on regulations.
AN ELEVATED BUSINESS PLAN
Christopher Moore of Carolina Blue Cigars shares his experiences as a boutique cigar brand owner and how consistently raising the bar has been the ultimate key to his success in the cigar business.
THE POWER OF POSITIVITY
Despite numerous setbacks in his premium cigar career, Debonaire House and Indian Motorcycle's Philip Zanghi III keeps fighting—and winning.
REDEFINING EXCELLENCE
El Septimo Cigars is on a mission to offer the ultimate smoking experience.
PIPES & TOBACCOS
QUINTESSENTIALLY AMERICAN
For 151 years, Missouri Meerschaum Co. has been producing the uniquely American corncob pipe.
TOBACCONIST
KELLY'S PLAYBOOK
Navigating tobacco retail today can be a challenge, but tobacconist Kathleen Kelly has become a master of it over the past 26 years. Now she's revealing her tips and advice to other business owners looking
to win the retail game.
ELECTIONS MATTER. ESPECIALLY THIS ONE.
Every election matters, but the outcome of this year's election could determine the future and fate of the premium cigar industry in the U.S.
ON YOUR SHELF
Six new releases for your store's shelves this fall.
ON THE COVER:
Matt Booth, owner/founder of Room101. Photo by Stolen Images Photography
Never miss an issue of Tobacco Business magazine. Click here to subscribe.
Click here to view past issues of Tobacco Business magazine.