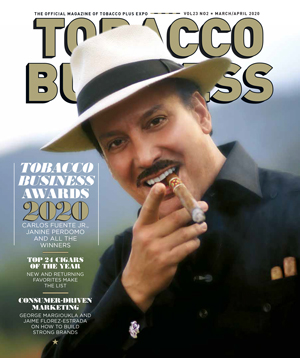 NOVEMBER /DECEMBER 2019
[View This Issue Online]
PUBLISHER'S LETTER
BECOME UNCOMFORTABLE
STARTUP
IN THE FIELD
WHERE THE RUBBER MEETS THE ROAD
The best way to build successful marketing campaigns and to strengthen a business is to place your primary focus on consumers, according to Royal Agio Cigars U.S.A.'s George Margioukla and Jaime Florez-Estrada.
SELLING POINT
REVISITING PIPE TOBACCO
Often overlooked in many of today's premium tobacco shops, pipes and pipe tobaccos can boost a store's profitability and help it
build a stronger loyal customer base.
COVER FEATURE
TOBACCO BUSINESS AWARDS 2020
During the latest Tobacco Plus Expo, Tobacco Business magazine revealed the winners of its coveted Tobacco Business Awards across 12 categories. Each award winner is at the top of the premium tobacco industry and has earned these accolades by building strong businesses that benefit the entire industry.
TPE 2020: THE MOMENTUM BUILDS
From Jan. 29-31, 2020, companies from the premium cigar, tobacco, vapor and alternative industries gathered together to attend the Tobacco Plus Expo (TPE), the only total tobacco and more trade show in the industry. More exhibitors, more educational sessions and more retail attendees equaled a record-setting TPE show.
TOP 24 CIGARS OF THE YEAR
This year, Tobacco Business magazine opened nominations and voting to manufacturers, retailers and consumers for its Tobacco Business Awards. Many cigars received votes as "best of" the various countries that produce cigars, and Tobacco Business tabulated the results of the top vote-getters to list the opinions of both the industry and consumers as to the year's best 24 cigars.
PREMIUM CIGARS
A WELCOME RETURN
After a year's hiatus, Puro Sabor, the annual Nicaraguan cigar festival, returned to give attendees a glimpse of the Nicaraguan cigar industry and Nicaraguan culture.
PRIMARY COLORS
Southern Draw Cigars' Richard Holt is building his business on a commitment to faith as well as striving to offer cigar consumers a vast array of options to enjoy.
FOR THE LOVE OF ART
Many premium cigar lovers might not have heard of Tabacalera El Artista, despite its 64-year history, but Ram Rodriguez is trying to change that through brands such as Big Papi, The Slugger, Buffalo Ten and Cimarron.
NEW YEAR, NEW RELEASES
Oettinger Davidoff recently unveiled new cigars for its Avo and Camacho brands at its latest Davidoff of Geneva – Since 1911 store at the Seminole Hard Rock Hotel and Casino in Hollywood, Florida.
ROAD TO HARD ROCK
Eric Douglas, a partner in the new Davidoff of Geneva – Since 1911 store at the Seminole Hard Rock Hotel and Casino, offers insights into opening the new luxurious retail cigar store and lounge.
HOMECOMING
For 13 years, Procigar, the association of cigar manufacturers in the Dominican Republic, has welcomed guests from around the world to experience the country's culture, savor its cigars and benefit Dominican citizens.
PIPES AND TOBACCOS
AMERICAN HUSTLE
Since he was a teenager, Scott Klein has had a hardworking and entrepreneurial spirit that he has used to become one of America's most talented pipemakers while building a career in real estate.
TOBACCONIST
THE SPIRIT OF INNOVATION
Luz and Christophe Normand have built a successful premium cigar retail business with an online shop and three brick-and-mortar stores through technological innovation and time-honored people skills.
ON THE FRONT LINE, OPERATION: CIGARS FOR WARRIORS
SEE YOU AT C.A.T.S. FEST
Operation: Cigars for Warriors' Storm Boen previews C.A.T.S. Fest, the biggest fundraiser of the year for the 501(c)(3) nonprofit organization that sends premium cigars and other comforts to deployed U.S. soldiers and sailors.
Never miss an issue of Tobacco Business magazine. Click here to subscribe.
Click here to view past issues of Tobacco Business magazine.