NOVEMBER /DECEMBER 2018
[View This Issue Online]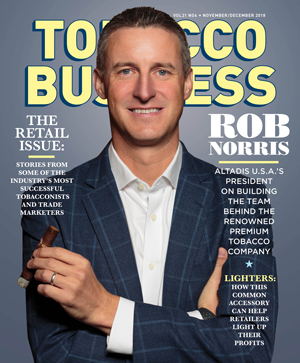 Pub Letter
Let's Hear it for Retailers!
STARTUP
In the Field: Demand and Supply
General Cigar Company's Chris Tarr explores the challenges of trade marketing and how manufacturers can create enough demand among retailers and supply chain partners to keep their products flying off store shelves.
Who's the Boss: Reclaiming Greatness
S.T. Dupont's Alain Crevet explains how the iconic luxury brand reclaimed its heritage.
Case Study: Rite of Passage
La Barba's Tony Bellatto built a brand with staying power based on lessons and ideas passed on to him by his father and family. Here's how focusing on the interaction and connection between individuals can help you do the same.
Selling Point: Back to School
For retailers and professionals working in the tobacco industry, Jorge Armenteros has created a resource that can give them a much-needed competitive advantage: valuable education and a clear path to professionalism.
EVENTS
TPE 2019 Preview
Celebrating its 15th year as a must-attend industry event, the 2019 Tobacco Plus Expo is shaping up to be bigger and better than ever.
PREMIUM CIGARS
Cover Feature: The Power of Teamwork
Altadis U.S.A.'s Rob Norris believes that a company is only as strong as the people it employs.
How to Build an Empire
Al Micallef is a serial entrepreneur with an eye for business. After launching his own premium cigar brand, he's sharing the secrets behind his success and ways you can build a business empire of your own.
Writing the Next Chapter
Oettinger Davidoff's CEO Beat Hauenstein discusses how the company will build on its strong legacy.
PIPES
Genod: Extending the Heritage
Sebastien Beaud continues the legacy of one of the world's oldest pipe companies.
ACCESSORIES
Lighting Up Profits
With more than a billion lighters being sold in the U.S. each year, retailers can earn new profits with this easy add-on purchase. Here's a look at the lighter industry and some of its leading manufacturers.
THE RETAILER
All About Cigars
Boasting the largest humidor in Minnesota, Tobacco Grove prides itself on its vast selection of premium cigars and pipe tobaccos.
The Other Side
Two tobacconists working in different cities, separated by the Atlantic Ocean, open up about the challenges they face as retailers today. Is business all that different for them or do they share more in common than they think? Tobacco Business finds out.
A Matter of Taste
Las Vegas' The Whisky Attic offers a unique and immersive tasting experience.
The Plain Truth
Plain packaging legislation has long been used as a way to control the growth and appeal of tobacco around the world—but at what cost?
VAPOR/ALTERNATIVES
Leaping into Nicotine Salt
E-Alternative Solutions is targeting vapor's next frontier—the nicotine salt-based products that vapers (and the FDA) are buzzing about.
Bo is Back
After hitting a few road bumps during its launch in the U.S. market, MMS Distribution's Bo is back in the nicotine salt category with a revised manufacturing process.
LEGAL
CRA Corner: Getting History on Our Side
In addition to regulatory issues, CRA fights for cigar landmarks and U.S. production.
Regulatory Report: Courting Support
Here's why you need to care who is on the United States Supreme Court.
Legislative Review: The Kids Are All Right
The SAFE Kids Act misses the mark on tobacco control.
NATO News: FDA's Anti-Flavor
Banning flavored tobacco products is not the answer.
SOUND ADVICE
On a Roll in Arizona
Over the last decade, Anthony's Cigar Emporium has grown from two stores
in southern Arizona to running five locations plus a robust website. General manager Tyler Morris shares a few lessons he's learned along the way.
Never miss an issue of Tobacco Business magazine. Click here to subscribe.
Click here to view past issues of Tobacco Business magazine.