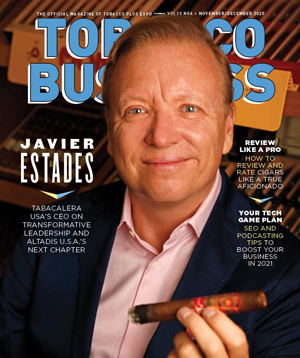 NOVEMBER / DECEMBER 2020
[View This Issue Online]
LETTER FROM THE EDITOR
YOU CAN DO BETTER THAN THAT

TPE 2021
A PREVIEW
Tobacco Media Group provides a look at next year's Tobacco Plus Expo, from the decision to reschedule the show to some of the new exhibitors you'll find in attendance.
STARTUP
TECHNOLOGY
A QUICK-START GUIDE TO SEO
Better understand what search engine optimization is all about and discover three areas to focus on in order to make sure your website pops up first on search engines for potential customers.
MARKETING
THE SOUND OF MARKETING
Does your business have its own podcast? One entrepreneur shares her insights into marketing and selling through podcasts and also gives you some tips on how to get yours started.
SALES
SELLING THE SEASONS
Learn how to shift your sales tactics as the seasons change and determine what services you can begin to offer your customers in the final weeks of 2020.
SOCIAL RESPONSIBILITY
YEAR-END TROOP SUPPORT
Operation: Cigars for Warriors reviews all of the different businesses and individuals who have devoted time and resources to support its charitable mission over the years.
LEGISLATION
FDA MARKETING APPLICATIONS
The FDA's deadline for manufacturers to submit either a substantial equivalence (SE) report or a premarket tobacco product application (PMTA) has come and passed. What should manufacturers and retailers of these deemed products expect now?
COVER STORY
THE NAVIGATOR
For nearly a decade, Javier Estades has helped to transform and build Tabacalera USA's premium cigar business. Now he's counting on using all of the lessons he's learned to lead his company into a new chapter.
PREMIUM CIGARS
AN ENDURING LEGACY
For years, La Aurora's Guillermo León has led his family's cigar business into a new era of growth and innovation. Now he's working hard to bring cigar enthusiasts world-class cigars
and experiences.
SHINING STAR
Firefighter Adetola Wimberly-Bey is setting the industry ablaze with his premium cigar brand, Black Star Line Cigars, with the help of a winning formula consisting of hustle, grind and steady persistence.
LEARNING TO FLY
Blackbird Cigar Co.'s Jonas Santana has only been a brand owner for a short while, but in that time he's learned how to make his company stand out and take flight.
ACCESSORIES
CARRY ON
Innovation has been a driving force behind the meteoric rise of Les Fines Lames, a bespoke cigar cutter. Now its founder, Pierre Jourdan, shares the details of his unconventional entrepreneurial journey and the growing popularity of his product.
TOBACCONIST UNIVERSITY
CERTIFIED CIGAR REVIEWS
Cigar reviews are an important part of the cigar industry, and with Tobacconist University's Certified Cigar Reviews platform, the review process could become easier and more accessible than ever.
PASSION OF THE FOX
Mitchell Fox has built a tobacco retail business that puts values, people and passion first, in addition to providing an experience led by a dedicated and invested staff.
ON YOUR SHELF
We highlight new releases from Alec Bradley Cigar Co., Diesel Cigars, La Aurora Cigars, Plasencia Cigars, El Artista and Gurkha Cigar Group.
ON THE COVER:
Photo by Eliot Schechter
Never miss an issue of Tobacco Business magazine. Click here to subscribe.
Click here to view past issues of Tobacco Business magazine.