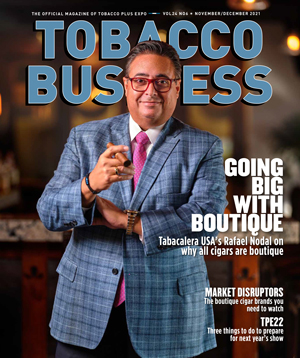 NOVEMBER / DECEMBER 2021
[View This Issue Online]
TPE22
SEE YOU IN VEGAS
With the TPE22 trade show just a few short weeks away, we've got the essential details of what you can expect at the upcoming show plus three things you can do now to prepare for it.
STARTUP
KNOW THY CUSTOMER
How do you breathe new life into an established brand or product? Republic Brands' Paul Marobella gives tips for how you can engage with customers and tell your brand's story.
TECHNOLOGY
VIRTUAL HUMIDOR ASSISTANT
Imagine being able to speak directly to consumers straight from the humidor without physically being there. Thanks to HumidifGroup, that's now a reality with its new Smart Packaging.
LEGISLATION
CONSEQUENCES OF FLAVOR BANS
Do bans on flavored tobacco and vapor products really work? A recent study's findings suggest they may do far more harm than good.
FEATURES
HITTING ALL THE RIGHT NOTES
Since the late 1990s, Rafael Nodal has made boutique cigars his primary business. Now he's applying all that he's learned about the boutique category to Tabacalera USA's iconic cigar portfolio.
MINDING HER BUSINESS
For Desiree Sylver, cigars were a way to pass the time and relax, but the desire to create a cigar for herself turned into a new business venture that has many people doing a double take.
BURNING MAN
Jeremy McDonald had dreams of playing music and even went to seminary school before he began selling cigars. Now he's entering a new chapter in his career as a cigar brand owner.
NEW KIDS ON THE BLOCK
Jeffrey Amendola and Chris Monaco are blending their Italian heritage into the traditional cigar industry. While they may be newcomers to the industry, you better not call them boutique.
MOTIVATIONS
Danny Difabio's family fled Cuba in the 1970s and came to America, where they launched their own tobacco business, Rodriguez Cigars, Key West's sole cigarmakers.
TOBACCONIST
THE NEW RULES OF BOUTIQUE
Consumers are no longer brand loyal—they're seeking out new brands and products. Tobacconist University shares tips for leveraging boutique brands in your store.
COUNTERPOINT: BOUTIQUE CIGARS
What do some of the country's top tobacconists think about boutique cigars? This special retail panel discusses the ins and outs of boutique, including which brands are hitting the mark.
ONE WISH
How do small, boutique tobacco retailers get bigger? Pennsylvania retailer Wooden Indian Tobacco Shop's owner shares how he scaled its business as well as his wish for other retailers.
ON YOUR SHELF
Ferio Tego, the new premium cigar and accessories brand from Michael Herklots and Brendon Scott, makes its debut.
ON THE COVER:
Rafael Nodal. Photo by Slav Gordeyev.
Never miss an issue of Tobacco Business magazine. Click here to subscribe.
Click here to view past issues of Tobacco Business magazine.