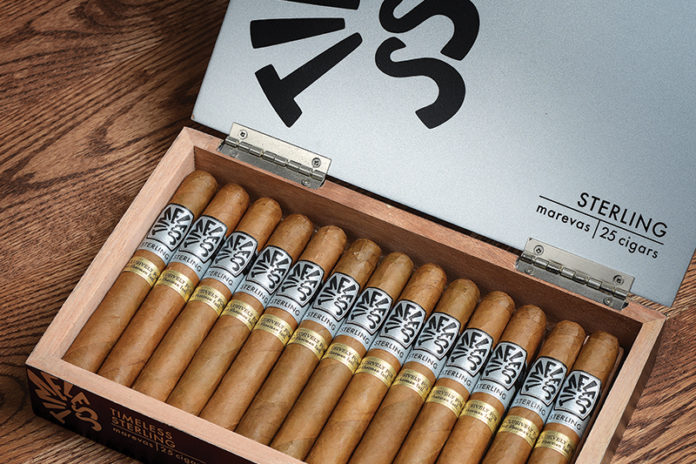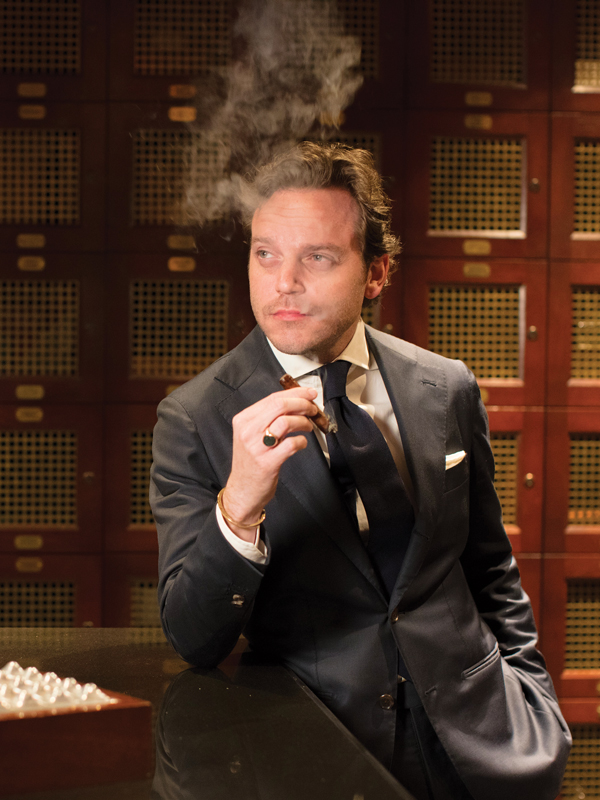 As vice president of Nat Sherman International, Michael Herklots oversees Nat Sherman's non-cigarette related businesses, the wholesale cigar business, the flagship retail store and product manufacturing. Herklots began his career as a tobacconist working at The Humidor in Boston's Prudential Center Mall in 1999 before accepting a position to work at the Davidoff flagship store on Madison Avenue in New York City in 2002. He became the  general manager of the Davidoff Columbus Circle store in 2006 and took over leadership of both stores in 2008. In 2011, he moved to Nat Sherman to manage the company's premium cigar offerings, develop new brands and forge closer bonds with the company's cigar manufacturing partners: Quesada Cigars, Plasencia, Davidoff and Royal Agio.
With 20 years in the premium cigar business—on both the retail and manufacturer sides—Herklots has a lot of responsibilities, and no day is "typical." He has offices at both the company's corporate headquarters in Englewood, New Jersey, and inside the Nat Sherman Townhouse retail location on 42nd Street in New York City. He travels outside the U.S. frequently to visit the company's manufacturers in order to check on production as well as to continue to perfect potential future projects. He also travels extensively throughout the U.S. to visit retailers, conduct events and seminars, or to work with the sales team. It's an exhaustive schedule, but Herklots says he loves the challenge and the opportunity to extend Nat Sherman International's legacy well beyond its nearly 90 years.
"That's the beauty of what I do," Herklots says. "It's certainly never boring! And I'm very fortunate to have a wonderful and supportive family. I love spending as much time with them as possible."
In the weeks following the International Premium Cigar & Pipe Retailer Association's trade show and convention, Tobacco Business magazine caught up with Herklots to discuss Nat Sherman International's past, present and future in the premium cigar world.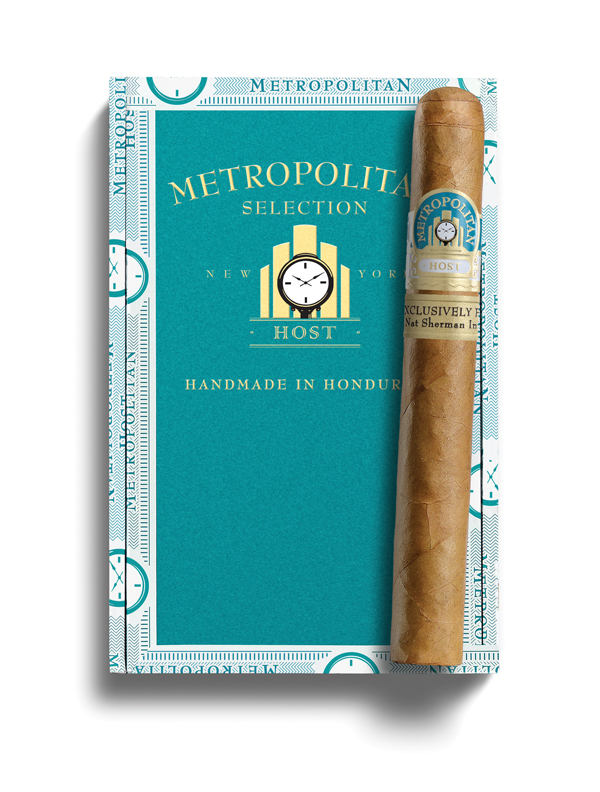 Tobacco Business: How would you describe the Nat Sherman cigar portfolio in its entirety? Is there a signature flavor or aroma that smokers experience as they enjoy a Nat Sherman cigar?
Michael Herklots: The Nat Sherman International premium cigar portfolio is a thoughtfully curated collection that truly has something for everyone. Our portfolio is manufactured in all three of the most important premium cigar manufacturing countries available to the American market—the Dominican Republic, Nicaragua and Honduras. We also offer a fabulous cigarillo made in Belgium by Royal Agio. Some of our blends date back to 1995, yet they have been maintained with incredible attention to consistency in the experience our products give to consumers, year after year. It is really a point of great pride for me.
Our premium cigars all have an underlying sophistication, grace and balance—from our lightest-bodied to our fullest-bodied, nothing comes across as aggressive or "in your face." Our consistency in balance across all our blends puts us in a particularly unique position, and that's only achievable when you have long-standing relationships with tremendous manufacturing partners who are willing to work harder to deliver the results we require.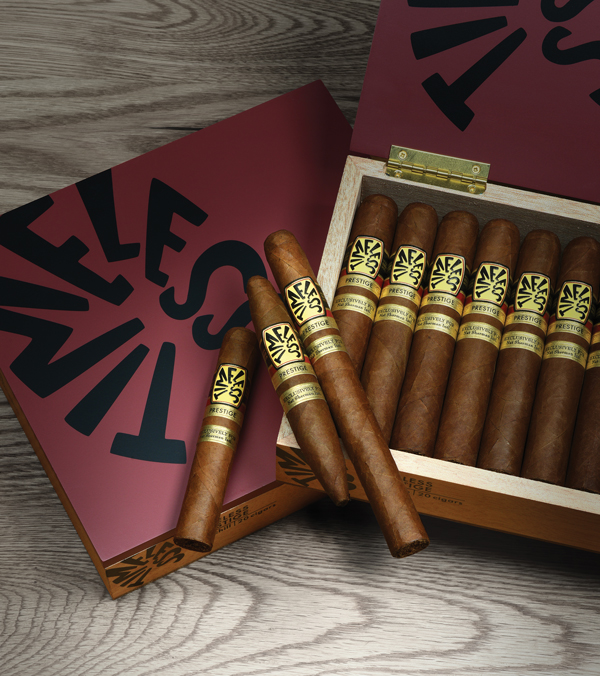 How would you describe the individual brands within the portfolio?
The Nat Sherman International premium cigar portfolio consists of three brands: Metropolitan, Timeless and Epoca. Metropolitan represents a collection of "old-world" style blends, three of which we've offered since 1995: the Connecticut, Maduro and Host. The Habano, a Nicaraguan-puro, was released much later but with an older-world approach in mind. Though the individual blends within Metropolitan are all unique, they all fit within the frame of what would be considered "old-world," which still remain among the most popular premium cigar experiences on the American market.
Our Timeless brand is comprised of four core blend experiences. Timeless Prestige has been our most award-winning blend to date. It is made in the Dominican Republic using six tobaccos from three countries. Timeless Supreme is a delicious, ligero-less, box-pressed Nicaraguan puro. Timeless Sterling is an incredibly elegant, creamy and sophisticated blend. The Timeless Panamericana is full and profoundly complex, combining tobaccos from Costa Rica, Nicaragua and Ecuador.
Finally, the Epoca brand is available in two blends. The original blend is quite medium with a touch of spiciness, and the Reserva is fuller and richer. Both Epoca varieties are made in the Dominican Republic.
How does innovation drive the company and what sort of room is there for brand development within the Nat Sherman cigar portfolio?
Nat Sherman has a history of innovation that dates back to our origins. Our history of innovation has always been inspired by our spirit of accommodation, in being closely connected to our customers and understanding what they want from us—from the introduction of tipped cigars back in the 1930s and 1940s to brown-paper luxury cigarettes in 1949 and countless other developments over the last 90 years. Yet if you look at our current premium cigar portfolio, it's quite disciplined for a company our age. That's because we have never chased trends, but rather we've looked for opportunities to offer an experience that stands out from what is currently offered in tobacconists' humidors. Frankly, I'd argue that our ability to maintain the consistency of our legacy lines over the last 25 years is as innovative today as adding a new offering to our portfolio.
As I look to the future for our company, I don't see our relentlessness in innovation changing. Joel Sherman, Nat's son, once said to me, "There are 88 keys on a piano, but there's a lot of space between the keys. Try playing in the spaces." That has always resonated with me.
Using your crystal ball, what will the premium cigar industry look like in the next five years?
This is an industry rooted in resiliency. The very foundation of the country's most important brands and companies is built on the real-life stories of hardworking men and women who fled dictatorship in Cuba and were forced to start over. There is an inherent survival mode in our industry, as we have always been the underdog.
On the retail side, our industry's retailers continue to open their doors to adult consumers who are looking for high-quality service in offering high-quality products as well as potentially a welcoming place to enjoy them, despite the increasing difficulty presented by new regulation, taxation and smoking bans at the national, state and local levels. Despite all of those challenges, in five years, I believe the premium cigar industry will be stronger than ever.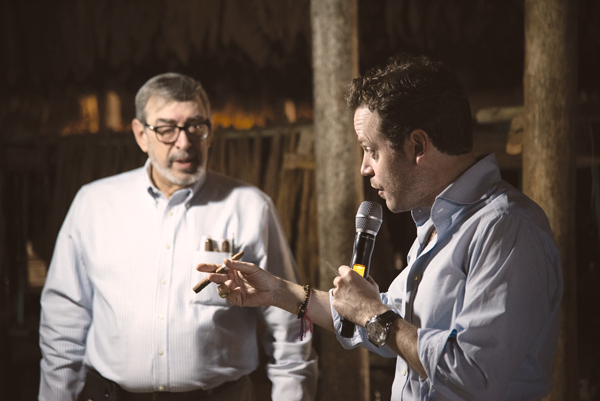 What will Nat Sherman International's place be in the industry in the same time span?
I believe Nat Sherman International will remain, as we have these past 90 years, in a position of advocacy for our industry. Education is the key to advocacy, and education has been a critical part of our growth certainly over the last 10 years. We spend an inordinate amount of time educating and training our staff, as well as offering the same to our retail partners. We've developed countless experiences to educate adult premium cigar consumers about our products and the industry, and when appropriate, we work hard to educate our lawmakers and regulators about what makes the premium cigar industry so special. I don't envision a moment when that stops.
This story first appeared in the September/October 2019 issue of Tobacco Business magazine. Members of the tobacco industry are eligible for a complimentary subscription to our magazine. Click here for details.
– Story by Stephen A. Ross, editor-in-chief of Tobacco Business Magazine.