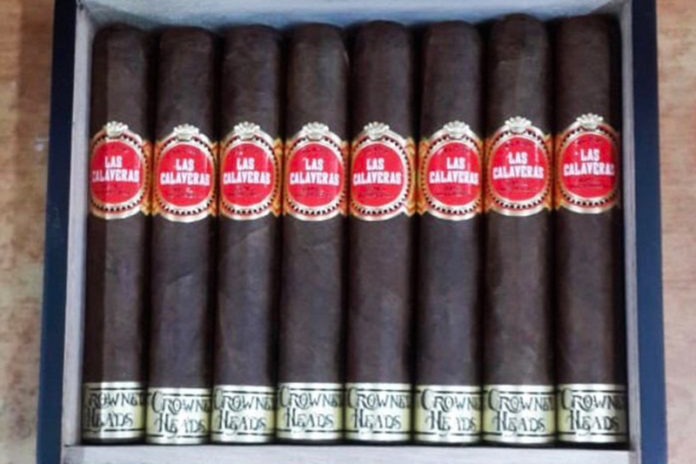 Crowned Heads announces Las Calaveras EL 2019, the sixth installment in the highly anticipated annual release from the company.
Las Calavares first hit the market back in 2014 as a tribute to those who have passed away in the previous year. Intended to celebrate the lives and remember those passed, Las Calaveras attempts to look at death as a celebration rather than something to be mourned. Each year, the band of this cigar includes the initials of four individuals but this year the cigar just has one–CO, the initials of Cano Ozgener, founder of CAO International back in 1968. Ozgener passed away last year [read more here] and Crowned Heads' founders, including Jon Huber, worked with him early in his career.
"When Cano passed on June 9 of last year, the cigar industry lost a true trailblazer and innovator, and I lost a mentor, friend, and father-figure," commented Huber. "He meant so much to us here at Crowned Heads and he touched the lives of far too many to mention. His legacy lives on not only in the cigar business, but in the lives of those whom he came in contact with during his lifetime."
For the first time since 2014, Las Calaveras El 2019 will have a Habano (Oscuro) wrapper. This year's cigar is described as a medium-to-full bodied smoke that has intensity and structure but also balance and complexity. Las Calaveras El 2019 will come in three vitolas, along with a 4-cigar sampler that will include one of each vitola along with a sampler-exclusive Torpedo (6 1/8 x 52). The other vitolas includes LC46 (6 x 46), LC50 (5 x 50), LC54 (5 1/2 x 54). MSRP per cigar ranges from $10.50 and $12.95.
Las Calaveras EL 2019 is manufactured at My Father Cigars, S.A., in Esteli, Nicaragua. Total production is limited to 1,700 (24-count) boxes per vitola, along with 2,500 samplers. Shipping will begin June 2019.
For all the latest news from Crowned Heads, visit crownedheads.com.