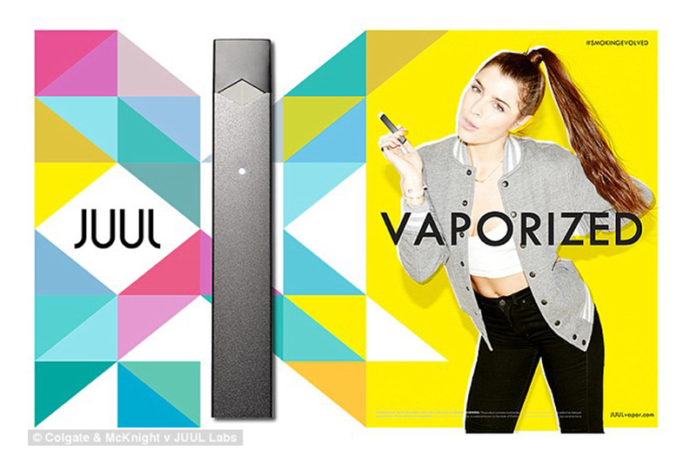 While Juul Labs, Inc. continues to see its share of the e-cigarette market grow in the U.S., criticism and scrutiny from the U.S. Food and Drug Administration (FDA), lawmakers, public health advocates, local school systems and parents are mounting. Months ago, the FDA cracked down on Juul for perceived marketing of its product to minors [read more here]. Now consumers are suing the company on the basis of nicotine addiction. Juul consists of a rechargeable device that looks like a USB flash drive and a pod that uses flavored nicotine salts that provide users with a dose of nicotine. Juul was designed to appeal to adult smokers who were looking to make the switch from traditional cigarettes to e-cigarettes.
Three lawsuits have been filed against the popular vaping device since April 2018. Two of those lawsuits claim that Juul deceptively marketed its product as a safe alternative to traditional tobacco products. This claim, according to the lawsuits, is wrong because Juul delivers a more potent dose of nicotine that combustible cigarettes. In one lawsuit, Bradley Colgate of La Jolla and Kaytlin McKnight say that after purchasing their first Juul device in 2017 they soon became addicted to nicotine salts and now smoke several Juul pods a week. While Juul helped them stop smoking cigarettes, the high dose of nicotine in Juul led to an addiction and increased nicotine consumption.
This is similar to another lawsuit filed by Carl Cooper in San Francisco. He claims he began using Juul to help him stop smoking traditional cigarettes. According to Cooper, using Juul led to an addiction to nicotine and to vaping via the Juul device. He also claimed the increase nicotine use led to other side effects including mood swings. In a lawsuit filed in New York in June 2018, a mother of a 15-year-old alleges that the high level of nicotine used in Juul led to her teenager become addicted and also experienced mood swings and began performing poorly in school. The two of these lawsuits filed in Calinfornia seek monetary damages as well as an end to Juul marketing its products as a safe alternative to traditional cigarettes.