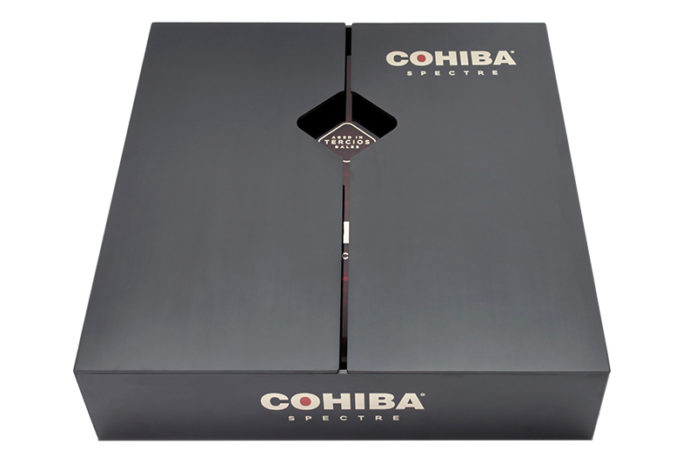 The third release of Cohiba Spectre, a small batch creation that elevates the art and science of cigar making, is here.
"Cohiba Spectre continues our tradition of creating exceptional smoking experiences. Our blending expertise, passion for tobacco, and commitment to craftsmanship and creativity are on full display with Spectre. As with its predecessors, this offering is uniquely representative of our rarest tobacco. Spectre is quite simply, a cigar that can never be replicated," says Sean Williams, brand ambassador of Cohiba.
Cohiba Spectre is handcrafted in Santiago, Dominican Republic at General Cigar Dominicana. This cigar was made by just one roller, Xirolma Céspedes, and was rolled by Ruben Dario Perez Peña. Together, these artisans' have nearly five decades of experience and have been recognized for their exceptional dexterity and meticulous attention to detail. This cigar features an Ecuadoran Habano wrapper that's prized for its complexity and eye-catching appearance. These tobacco leaves underwent a secondary fermentation process that lasted six months, during which the tobacco's allure was deepened.
Cohiba Spectre features four varietals of tobacco, each that pays homage to the growing regions, soils and microclimates from which they were harvested. After undergoing proprietary aging and fermentation, the tobaccos that are part of Cohiba Spectre's blend tells a story of luxurious indulgence. The binder is a wrapper-worthy Connecticut broadleaf that was grown exclusively for Cohiba in the Connecticut River Valley. The blend uses Dominican Piloto Cubano tobacco that was aged in tercios since it was harvested in 2014. This cigar was configured at the center of the bunch, flanked by Nicaraguan Jalapa leaves from 2017. The hand-selected Nicaraguan leaves were aged in Spanish Sherry barrels to impart a rich aroma and a delicate undercurrent of sweetness. The earthy notes, nuances of wood and subtle spice of the blend delivers a memorable smoking experience.
Only 500 boxes of Cohiba Spectre will be released. This cigar is available in just one size, a 6 1/2 x 52 Toro, and presented in a refined, soft-touch matte box that houses 10 cigars each. Each box of Cohiba Spectre will retail for $119.99.
For all the latest news from Cohiba Cigars, visit cohiba.com.