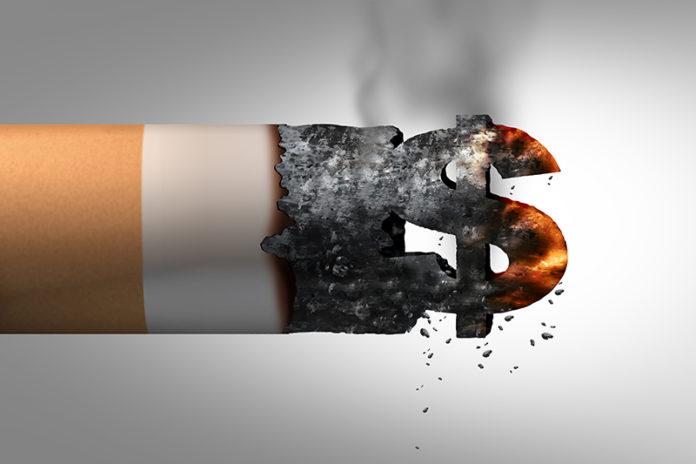 Cigarette manufacturers have raised their list prices by 8 cents per pack, according to a report from the Winston-Salem Journal. This is the first price increase in 2020 from Philip Morris USA, R.J. Reynolds Tobacco Co., and ITG Brands LLC.
List prices are what wholesalers pay manufacturers for their products and any increase in price is usually passed on to consumers. Price increases are nothing new, and are typically implemented semiannually within the industry. Philip Morris USA was the first to raise its prices, followed by Reynolds and ITG. In April 2019, manufacturers raised their prices to 11 cents, up 9 cents from the previous price, 6 cents in June and 8 cents in October.
Price increases are coming as the cigarette industry continues to see a decline in sales. According to Nielsen's latest four-week report, there was a 7.5 percent decline, compared to a 6.2 percent decrease in the report released on Nov. 30, 2019, and a 6.8 percent decrease reported on Nov. 2, 2019. Altria, whose top-selling cigarette brand continues to be Marlboro, suffered a 9 percent decline in the latest report compared with just a year ago, while Reynolds was down 7.5 percent and ITG down 6.5 percent. Philip Morris' market share stood at 52.3 percent, Reynolds remained at 32 percent, and ITG at 7.3 percent.
According to Goldman Sachs analyst Bonnie Herzog, tobacco manufacturers are facing mounting challenges as the U.S. Food and Drug Administration (FDA) continues its efforts to lower nicotine levels in combustible cigarettes. These efforts are still several years away from being completed or having a real impact on volume numbers. Pricing will continue to be a major driving force of revenue and earnings growth, according to analysts.
Some analysts believe the ongoing efforts to limit and restrict vaping and e-cigarettes are also contributing to increasing prices of combustible tobacco products, with companies such as Philip Morris USA forced to make up lost revenue caused by dwindling e-cigarette sales with the help of traditional tobacco products like cigarettes.