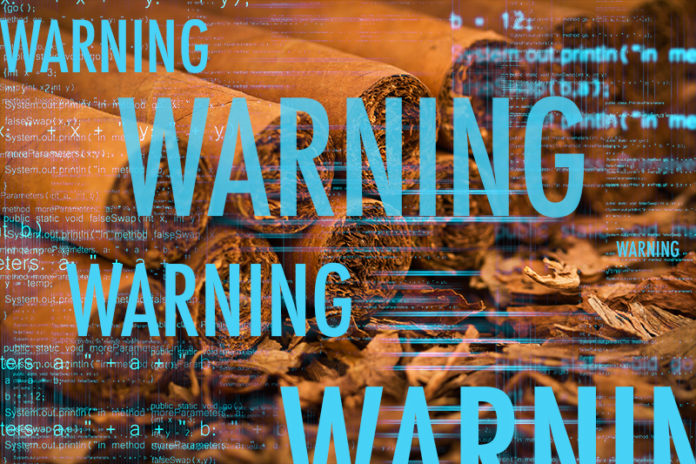 The U.S. Food and Drug Administration (FDA) will require new warning label statements to be included on packaging and advertisements for cigars. Pursuant to the FDA guidance document that was released on May 10, 2017, which outlined extended compliance dates and new label warning statements, the following six warning statements will now be required on a rotating basis on cigar packaging and advertisements:
Warning: This product contains nicotine. Nicotine is an addictive chemical.
Warning: Cigar smoking can cause cancers of the mouth and throat, even if you do not inhale.
Warning: Cigar smoking can cause lung cancer and heart disease.
Warning: Cigars are not a safe alternative to cigarettes.
Warning: Tobacco smoke increases the risk of lung cancer and heart disease, even in nonsmokers.
Warning: Cigar use while pregnant can harm you and your baby.
Surgeon General Warning: Tobacco use increases the risk of infertility, stillbirth and low birth weight.
These newly required warning statements for cigar packages and advertisements need to be randomly displayed and distributed in accordance with a warning plan submitted to and approved by the FDA. A warning plan must have been submitted to the FDA by Aug. 10, 2018, or 12 months before advertising or commercially marketing a cigar product, whichever is later.
Compliance Dates
The FDA requirements and compliance dates for the six cigar warning statements include the following:
Manufacturers must include one of the six warning statements on packages of cigars manufactured on and after Aug. 10, 2018. [Postponed due to court order. Read more here].
Manufacturers can distribute cigars in packages without one of the six warning statements up to Sept. 11, 2018. As of Sept. 11, 2018, manufacturers can no longer distribute cigars in packaging that does not contain one of the six warning statements.
Retailers cannot offer for sale, sell or distribute cigars in packages without one of the six warning statements beginning Aug. 10, 2018, unless a cigar product falls within the FDA's "safe harbor" provision. For a product to fall within the safe harbor exception, a retailer can offer to sell or sell a cigar product on and after Aug. 10, 2018, and not be in violation of the FDA regulations if all of the following three conditions are met:
A. The package for the cigar product contains a health warning, or the package does not contain any health warning but was manufactured prior to Aug. 10, 2018.
B. The cigar product is supplied to the retailer by a manufacturer, importer or distributor who has a required state, local or federal Alcohol and Tobacco Tax and Trade Bureau-issued license or permit.
C. The health warning is not altered by the retailer if there is a health warning statement on the package.
Advertisements for cigars must bear one of the six health warning statements as of Aug. 10, 2018. The requirement applies to manufacturers, importers, distributors and retailers that create their own advertisements for cigars.
Single Premium Cigars
Single premium cigars that are sold out of boxes will be considered to meet the new warning requirements if retailers post a sign at the point of sale listing all six warning labels. The sign must be a minimum of 8.5 inches by 11 inches and be placed on or within 3 inches of each cash register where payment is made. The sign must be unobstructed and easily read by consumers making a purchase.
Cigars in Small Packages
The FDA has indicated that cigars will be allowed to be sold in small packages that do not have one of the six new warning statements printed directly on the package provided that one of the six warning statements appears on the carton, the outer container or the wrapper in which small cigars are packaged; or the small cigar product has a tag with one of the six cigar health warning statements printed on both sides and the tag is firmly and permanently affixed to the cigar package.