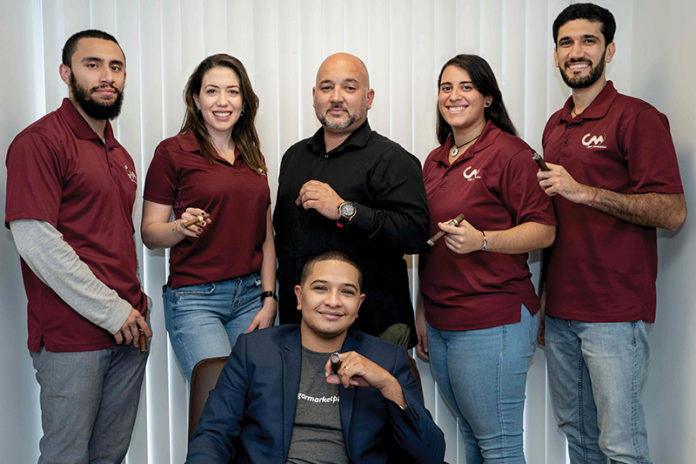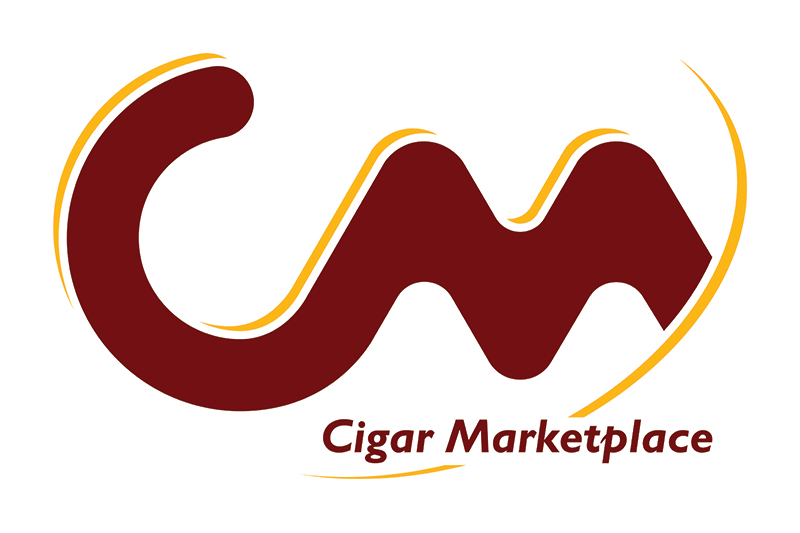 Many businesses are born from the attempt of an entrepreneur trying to address a problem within the market. In 2018, Starky Arias saw that wholesale cigar sales were done in a outdated way and had yet to truly embrace the digital age. When it comes to tobacco products such as premium cigars, retailers often want to experience the products in person, but much of the sales process still requires the use of technology to place an order and also to promote all of the products a manufacturer has to offer. That's where Cigar Marketplace comes in.
Cigar Marketplace enables retailers to order directly from the suppliers they want, when they want, without having to wait for a sales representative to visit them in-store. Much like other online e-commerce platforms, Cigar Marketplace offers 24/7 access to both suppliers and retailers, makes product comparisons easier, and provides streamlined marketing and free shipping to all of its customers.
"Our main goal is to bring innovation to our industry," says Arias. "For the first time ever, manufacturers are able to have an online wholesale presence, better digital marketing for wholesale business and data analytics, all at a fraction of the cost. Cigar Marketplace provides the platform [for manufacturers] to sell online directly to their customers in remote locations where manpower alone could never reach. We also develop a great online portfolio and product presentation for each customer. Basically, with Cigar Marketplace, in addition to the benefits of technology, manufacturers are now able to conveniently sell around the clock nationwide."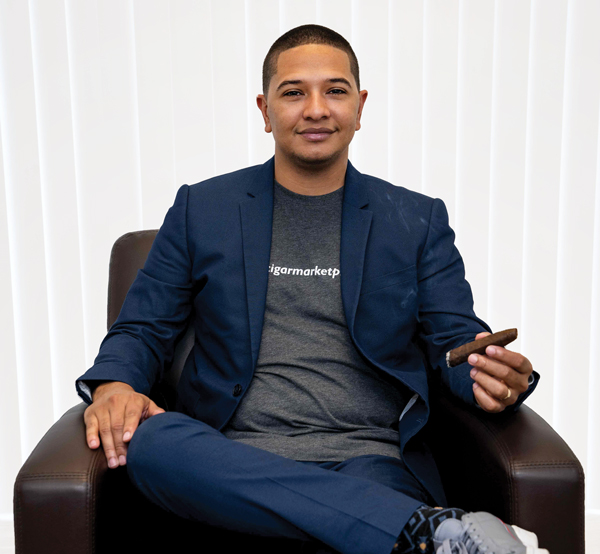 Identifying a Need
Arias, who spent years as a graphic and package designer for many cigar brands before serving as the marketing director of A.J. Fernandez Cigar Co., constantly thought about how he could innovate and improve the way the industry worked. Seeing the impact that stricter regulations began having on cigar companies and retailers across the U.S., Arias realized that the way suppliers and retailers went about selling and buying products needed to be revamped. Tobacco retailers, who are accustomed to the Amazon approach to consumerism that offers an online marketplace and quick shipping options, needed something similar for cigar products and accessories. Cigar Marketplace serves as an online broker and one-stop shopping experience that allows retailers to order directly from premium cigar and accessory makers.
"Cigar Marketplace is strictly a B2B online platform; our marketing and sales efforts are completely targeted to the wholesale market," Arias explains.
Cigar Marketplace offers a competitive monthly subscription that includes multiple benefits such as free shipping with no minimum purchase amount required, weekly exclusive deals and a referral rewards program, among other features. Coming soon will be exclusive brand collaborations that are only available to members of the subscription service. Retailers can save up to 5 percent of their yearly cost of inventory in shipping because with Cigar Marketplace these costs aren't necessary. The service's extensive catalog also gives retailers a wide selection of brands to choose from to stock their stores' shelves.
Cigar Marketplace may offer benefits to retailers, but it is also designed to make it easier for manufacturers to do business. Suppliers will save time and money on marketing by having access to Cigar Marketplace's retailer customer base. Cigar Marketplace also cuts down on the hassle of administrative costs and offers lower processing costs, along with top-notch customer service and a suite of software that helps to create customizable and scalable online catalogs. In October 2019, Cigar Marketplace added a fulfillment service, giving manufacturers even more of a reason to sign up for the service.
Even though Cigar Marketplace brings much of the sales and marketing aspects of the wholesale business online, there are still actual people working behind the scenes to make the service the best it can be for its users. Members of the company's in-house customer service and phone sales team are in constant contact with its customers. Manufacturers and suppliers are constantly visiting the Cigar Marketplace offices to educate the sales team on their individual brands and companies, and the company is providing its employees with information to pass on to its customers. Arias and his team are all working toward the same goal: for Cigar Marketplace to become the standard industry solution to conducting wholesale business.

Managing Responsibility
Since launching Cigar Marketplace, Arias says that every day is a new challenge and that he ends each day having learned something new. So far, he says, the most challenging part of launching this new company has been managing his time and newfound responsibilities.
"Management in general is a big responsibility," Arias says. "I believe that in order to have a great team and success in any company, you need to make sure there's equal treatment for everyone, including yourself."
Arias explains that he still has plenty of plans and growth opportunities for Cigar Marketplace that have yet to be revealed. Even so, the young digital service has an impressive roster of supplier partners, including Drew Estate, Rocky Patel Premium Cigars, A.J. Fernandez Cigar Co., Oliva Cigar Co., United Cigar, Room 101, PDR, Caldwell Cigar Co. and Villiger Cigars, among others. The biggest challenge Cigar Marketplace faces is increasing awareness among suppliers and retailers about the service and its many benefits. That's why Arias and Cigar Marketplace have appeared at many cigar events in the past year and will be among the many new exhibitors at the 2020 Tobacco Plus Expo (TPE). If you are a retailer or manufacturer attending TPE 2020 in Las Vegas this January, stop by the Cigar Marketplace booth to learn how the company is helping the cigar industry simplify the way it does business.
This story first appeared in the January/February 2020 issue of Tobacco Business magazine. Members of the tobacco industry are eligible for a complimentary subscription to our magazine. Click here for details.
– Story by Antoine Reid, senior editor and digital content director for Tobacco Business Magazine. You can follow him on Instagram @editor.reid.