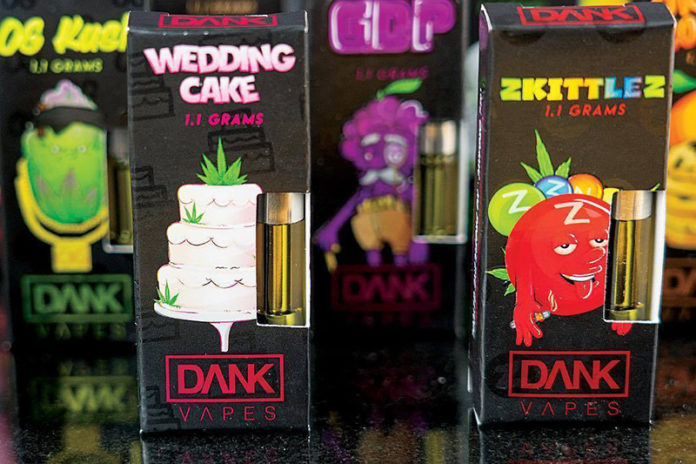 The Centers for Disease Control and Prevention (CDC) has released an updated report on the outbreak of vaping-related lung injuries (EVALI), including naming some brands that could have direct ties to the outbreak of illnesses that gripped the nation over the summer. As of Nov. 20, 2019, there were 2,290 reported cases of EVALI in the U.S. Of those cases, 47 have resulted in death.
In an updated report released on Dec. 6, 2019, the CDC reported that overall, 152 different THC-containing THC-containing products brands were reported by patients who were diagnosed with having EVALI. Of those, Dank Vapes was the most commonly reported product brand used by patients nationwide, though there were regional differences. The problem with Dank Vapes however, is the mystery behind Dank Vapes itself. The CDC described Dank Vapes as "a class of largely counterfeit THC-containing products of unknown origin …" And that Dank Vapes was found to be common among patients in the Northeast and South. As the CDC pointed out, Dank Vapes is a mysterious entity rather than a distinct business.
Dank Vapes is a brand name and its boxes are oftentimes printed in China and then shipped to individuals across the U.S. These individuals have gone on to manufacture THC vaping products that are not tested or made in proper facilities. Some Dank Vapes-branded products have been traced back to individuals who have been mixing and producing THC-containing cartridges that are sometimes filled in people's garages and re-sold on the black market. Dank Vapes does not appear to have a website and has multiple social media accounts, adding to the mystery. Though it's been regularly reported, Dank Vapes was not the only THC-containing product reported by patients diagnosed with EVALI.
"THC-containing products continue to be the most commonly reported e-cigarettes, or vaping, products used by EVALI patients, and it appears that vitamin E acetate is associated with EVALI. However, many substances and product sources are being investigated, and there might be more than one cause. Therefore, while the investigation continues, persons should consider refraining from the use of all e-cigarette, or vaping, products," wrote the CDC in its report.
In addition to THC, the CDC reports that vitamin E acetate has also been found to have played a role in the vaping-related illnesses. As the investigation into the vaping-related illnesses continues, the CDC recommends consumers stop using THC-containing e-cigarettes and vaping products and that they stop obtaining these products from informal sources including friends, family or in-person or online dealers.
You can check out the CDC report on EVALI and the vaping-related illness investigation here.