A Happy Turn for Hemp-Derived CBD
Enter game-changer No. 2: To understand the second development, you first need to know that CBD comes in two forms: cannabis-derived CBD and hemp-derived CBD. Many people use the terms hemp and cannabis interchangeably. Yet, while both are part of the same species, they differ notably in that hemp—at least hemp as it's defined by federal law—contains less than 0.3 percent THC. Despite this, both substances had been classified by the federal government as controlled substances. However, the 2018 Farm Bill, passed into law on December 17, 2018, changed that.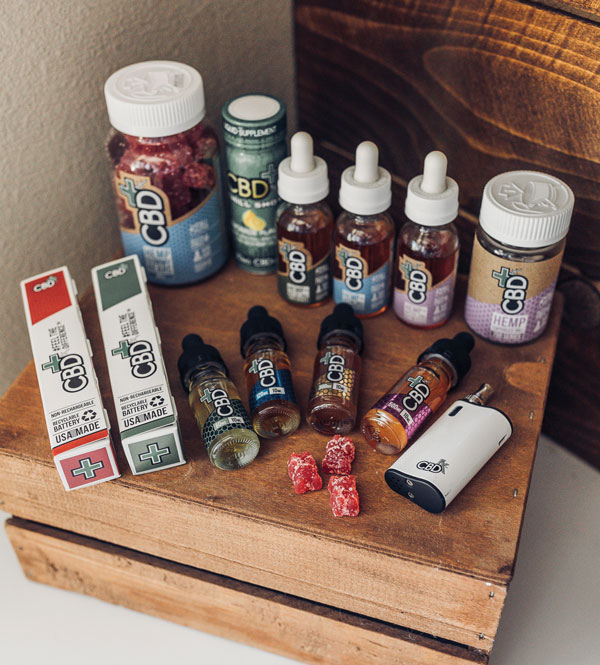 The 2018 Farm Bill contained a provision that removed hemp-derived CBD from the Controlled Substances Act, freeing manufacturers to distribute their hemp-derived CBD products nationally—and retailers nationwide to sell them. The ramifications are huge, says Christian Graversen, brand manager at CBDfx, which markets a wide range of hemp-derived CBD products. "My guesstimate is that the [CBD] industry is at about $750 million now, and after the Farm Bill passes we expect to see an industry closer to $5 billion," says Graversen. "Everyone is waiting for the Farm Bill that will let the big-box retailers bring it on board, chains like Rite Aid, Walgreens and CVS."
Gomez is even more optimistic about the category's potential. "We're forecasting the market for hemp-derived CBD to hit $22 billion by 2022," she says. "These products will be able to scale so much more quickly after the Farm Bill passes."
While the national chains will represent new competition for the local and regional stores selling CBD, smoke shops are well-positioned to benefit from the Farm Bill and subsequent growth of CBD, says Graversen. "I think you will see a few big brands go with the big-box stores, but there will always be boutique-style products at the high end," he says, noting that smoke shops have an edge when it comes to helping to educate consumers about premium products in a category like CBD. "When customers see a product that's 50 percent cheaper and they don't have any information, they'll go for the cheaper product, and they may not have a good experience," he says. "If that happens, education at the store level will be crucial."
Ready, Steady… Wait
What can retailers do in order to protect themselves—and their customers—from substandard CBD products? Christian Cypher, senior vice president of global specialty products and managing director of specialty crops at Pyxus International, offers these pointers:
Retailers should strive to obtain as much information as possible about the quality of the products they are selling and the brand, including whether the products were produced in clean-room environments and FDA-registered facilities and whether they follow good manufacturing practices. High production standards lead to consistent and quality products.
Retailers should also look for—and require—transparency in product manufacturing and quality testing. They should check how easily, if at all, a manufacturer makes it to obtain quality and testing certifications from product release and independent laboratories.
In addition, retailers should partner with companies who are willing to work with retailers to educate their team members and consumers
As the CBD market matures over time, such precautions may become less necessary. But for now, as Graversen puts it, "There will always be a gray market, but I think store owners who are in it for the long term should want to buy CBD products from a company that is 100 percent compliant."
This story first appeared in the January/February 2019 issue of Tobacco Business magazine. Members of the tobacco industry are eligible for a complimentary subscription to our magazine. Click here for details.
– Story Jennifer Gelfand, editor-in-chief of Tobacco Business Magazine.