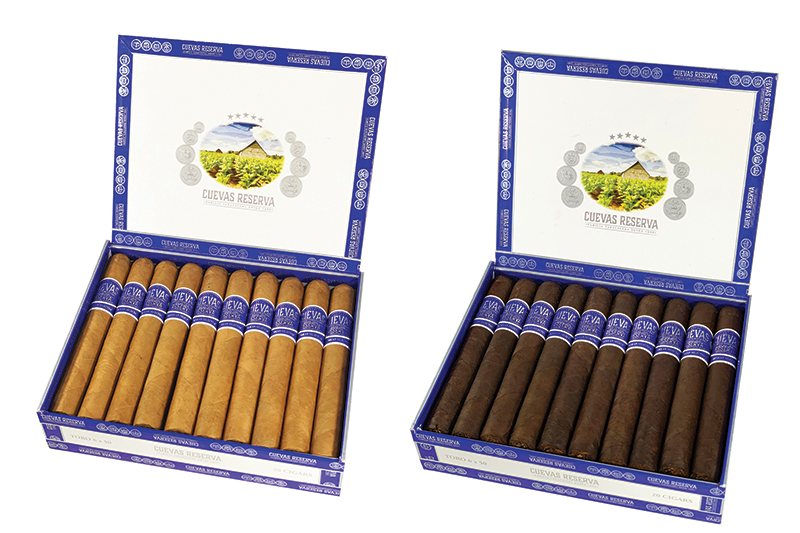 Casa Cuevas Cigars has announced its plans to release the Casa Cuevas Natural and Cuevas Reserva Maduro at the 2019 International Premium Cigar & Pipe Retailers Association (IPCPR) trade show and convention in Las Vegas.
Luis Cuevas Sr., the patriarch of the four generation tobacco family, first introduced the Cuevas Reserva brand in the early 2000s in a limited capacity. This brand was his opportunity to introduce his own brand in the market or concentrate his efforts on his newly launched factory where private label cigars were being blended and rolled for other companies. He decided to focus on the factory and it wasn't until his son, Luis Jr., convinced him to create Casa Cuevas Cigars in 2016 that the Cuevas Reserva brand was brought back in a full-scale capacity.
The Cuevas Reserva Maduro features a Mexican San Andres wrapper, a Dominican, Piloto Cubano binder, and Dominican and Nicaraguan (Ometepe) fillers. It's a personal favorite of Luis Cuevas Sr. and provides cigar enthusiasts with a full-flavor smoking experience in a perfectly balanced medium to full bodied cigar.
The Cuevas Reserva Natural features a Havana binder with a mix of fillers from the Dominican Republic, Nicaragua, and the U.S.A., all wrapped in an Ecuadorean Connecticut wrapper. This cigar is described as a smooth smoke with nuanced earthy flavors.
"The Cuevas Reserva for my father was supposed to be the Cuevas signature brand back well over a decade ago," explains Luis Cuevas Jr., president of Casa Cuevas Cigars. "As with all things in life, plans always change. I am proud to have worked closely with my father and my son Alec Cuevas, who is now part of the family business recreating this blend. I am ecstatic that this brand has come full circle, as we can now present it as a family project to the consumer."
Cuevas Reserva will come packaged in vintage Cuban-style 20-count boxes. Both blends will be available initially in three violas: Toro (6 x 50), Torpedo (6 1/4 x 52), Robusto (5 x 52). Cuevas Reserva Natural's MSRP ranges from $9.90 and $10.40 per stick; Cuevas Reserva Maduro MSRP ranges from $10.50 to $10.90 per stick.
For all the latest news from Casa Cuevas Cigars, visit casacuevascigars.com.