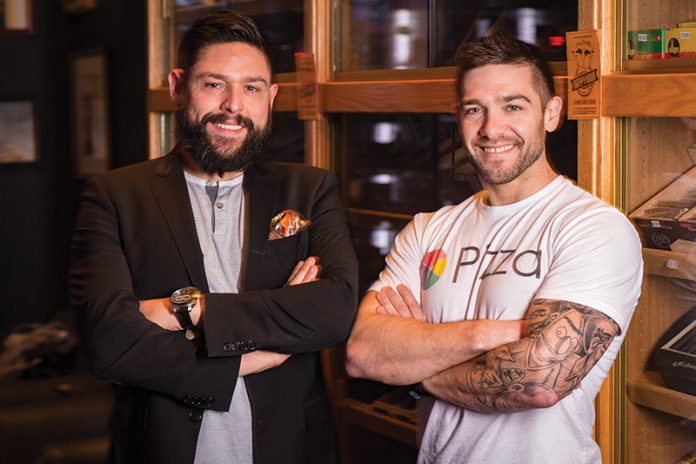 If you're a cigar smoker today, you know that the opportunities to smoke—in situations where you would normally socialize with friends—are few and far between. You also might agree that those are the best times to enjoy a cigar. The laws enacted, both nationally and locally, have served to isolate smokers by making it increasingly difficult to eat, drink and smoke in the same space.
As the old adage proclaims, sometimes the solution is right in front of you, and that was the case for brothers Michael and Andrew Cappelli, who had no experience in the cigar business until a few years ago. "Andrew and I had different careers; he was in the hospitality industry and I was in the construction industry," recounts Michael Cappelli. "I ended up moving across the street from a bodega-ish cigar shop. I thought it was a really cool place. My grandfather smoked cigars, my father smoked cigars, and I occasionally did."
Cappelli began frequenting the spot, enjoying the chance to socialize. "I could 'BYOB' my alcohol and have a cigar," he says. "The store had some character, but it was more like a convenience store with some cigars and cigar products. It wasn't much of an enthusiast's type of cigar destination place."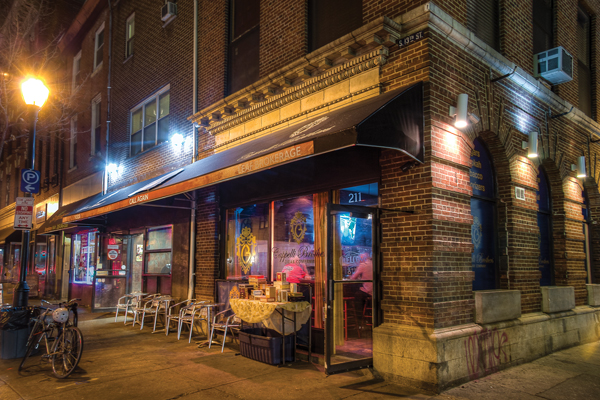 They renamed the store "Cappelli Brothers Cigar Company" and renovated the interior, getting customized humidors from Newsham's Woodshop, another Pennsylvania-based company, which provided an attractive display space for cigars while leaving enough interior space for a full wet bar and 18 bar stools. The BYOB cigar bar area is on the street level, and there's a smoking lounge downstairs—Cappelli's Cellar.
The bring-your-own-bottle (BYOB) feature is an important one here, because in Philadelphia the rules that go along with a liquor license are very strict—and those rules definitely don't allow smoking. On the other hand, BYOB venues are a staple of Philadelphia's nightlife, and one growing in popularity.
Here's how the BYOB works: "You bring the bottle, you bring us your beers, [and] you'll never know you weren't at a bar," he explains. "We do freshly squeezed fruit for cocktails, muddled herbs and bitters. All of our recipes are one-liquor cocktails, so if you bring in a bottle of vodka we'll send you to the vodka page showing recipes we've developed. It's $5 for a cocktail, a $15 corking fee on wines and liquors, and $2 per beer. We'll save you about 30 percent on beer, and for high-end liquor the savings are exponential."
Building Connections
"We're becoming a legit cigar shop here," says Cappelli. "We're one of two places in the city of Philadelphia, which is the fifth largest city in the country, [where you can legally] sit your butt on a bar stool and smoke a cigar. And we're proud to be able to say that— Cappelli Brothers and Ashton. We're in great company."
The Ashton name is legendary in Philly, both as a cigar brand and as a high-end cigar bar. However, Cappelli clarifies that he and his brother are following a different path. "We look up to those guys; they're a Philadelphia cigar company. We're proud and humbled by the opportunity, and we're very friendly with them. We sell their cigars, but we don't try to be them. We want to create our own business through our own reputation. And we're willing to work very hard to do it."
Profiting From Pizza
As envisioned by Michael Cappelli from the beginning, the growing business took over the pizzeria next door. "To get around the smoking and eating laws in Pennsylvania, we deliver the food to the person. So the pizza place will sell you the food and, since [it delivers], [the staff] will deliver it here. You can sit down at the bar and eat here. The state really can't say where an individual [can have] their food delivered. It's pretty cool."
What's next for the Cappelli Brothers? "We're looking to grow the company," says Cappelli. "We have 80 percent of our business plan complete. If we finish that, you will see this company all over the city. We will replicate this model in about six locations."
But Cappelli is also watching the horizon and is ready to change his tune if the government continues to restrict cigar use and burden the cigar industry with taxes and regulations. "If the FDA continues to pressure the cigar industry and a tax for cigars gets passed in Pennsylvania like it did for vape, I will instantly shut this place down and turn it into a taco stand. I'm dead serious."
This story first appeared in the March/April 2017 issue of Tobacco Business magazine. Members of the tobacco industry are eligible for a complimentary subscription to our magazine. Click here for details.