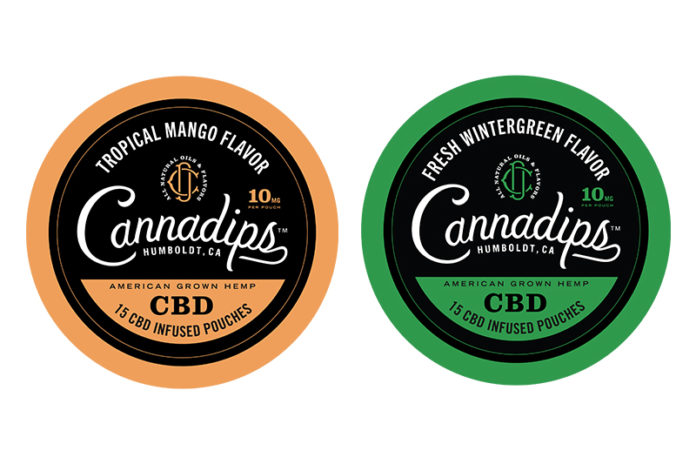 Cannadips CBD, the Original Hemp CBD Dip Pouch announces the debut of Wintergreen and Mango flavors to its core CBD micro-dose collection. The tins will be debuted at "The Cannadips Hoop House Experience" at the 2020 Tobacco Plus Expo (Booth #6162) in Las Vegas, Nevada, January 29 – 30. The experience includes an authentic Hoop House, multiple performances by Deejay Theory a pioneer at the forefront of the global "Tropical Bass" movement.
The Cannadips CBD micro-dose core collection will now include Tangy Citrus, Natural Mint, American Spice, Fresh Wintergreen, and Tropical Mango flavors available at $14.99 suggested MSRP with 150mg of farm bill compliant hemp CBD, available nationwide. The Fresh Wintergreen and Tropical Mango flavors will be shipping to distributors and retailers beginning in Q2 2020, as well as available online at www.cannadipscbd.com.
Cannadips started in the recreational California Cannabis industry in 2016 to solve a discreet and effective dosing method for Cannabis. Cannadips CBD, distributed by Kretek International and now powered by Lexaria Bioscience, is available across the United States and Europe with American Grown Hemp CBD in every tin.
From Arcata, California Case Mandel, Co-Founder and CEO of Cannadips, "As regulators continue to snuff out flavored tobacco products from retail stores, Cannadips CBD is ready to offer adult consumers a better alternative, for a justifiable higher price than the category expectation. Our product is fueling growth at chains and family-owned brick and mortar shops across the country. Our flavors will always be best in class for oral smokeless products and our technology is now backed by the world-class technology of Lexaria Biosciences."