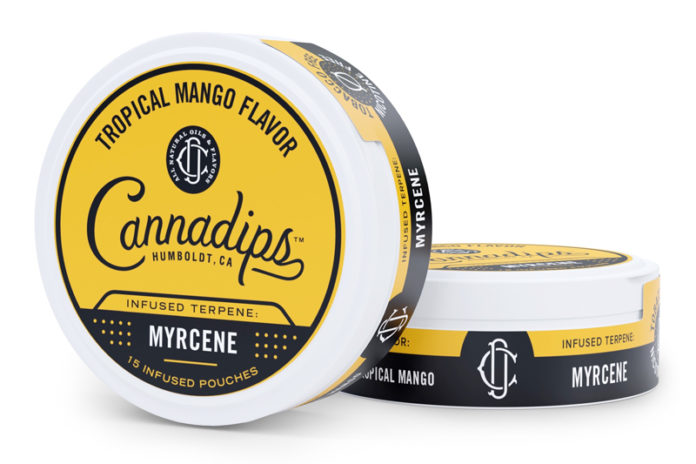 Boldt Runners Corp., the exclusive licensee of Cannadips CBD, a dip alternative, announced today that it will be launching a new lineup of Cannadips products nationwide this fall. The new line, called Cannadips Terpenes, consists of terpene infused pouches that are THC and CBD free as well as tobacco and nicotine free. Cannadips Terpenes will be available through select retailers nationwide and will provide an exciting addition to the Cannadips lineup of innovative dip alternatives for consumers who don't want to consume cannabinoids.
Terpenes are organic compounds found in cannabis and hemp as well as many other plants. Terpenes provide flavor and aromatics, and some studies have suggested they have a key role to play in delivering additional benefits. The Cannadips Terpenes line is available in Cannadips' signature, core flavors and are enhanced with individual terpenes (Myrcene, Caryophyllene, Pinene, and Limonene), each married to a single flavor profile and without CBD. This combination provides a unique and exciting experience that is both familiar to Cannadips and specific to the Cannadips Terpenes line.
Tropical Mango will be infused with the terpene myrcene. Myrcene, naturally found in mangos and known as the "couch-lock" terpene, is sometimes used in combination with other ingredients to enhance a feeling of relaxation and restfulness. Natural Mint will be infused with the terpene caryophyllene. Caryophyllene, found in black pepper and known for being spicy, is commonly used as an ingredient in combination with others to deliver anti-inflammatory benefits. Fresh Wintergreen will be infused with pinene. Pinene, found in pine needles as well as rosemary, is believed by some to deliver feelings of invigoration and freshness. The last new Cannadips product is Tangy Citrus which will be infused with limonene. Limonene, found in all citrus, is used as an ingredient by many with the intent of enhancing energizing feelings.