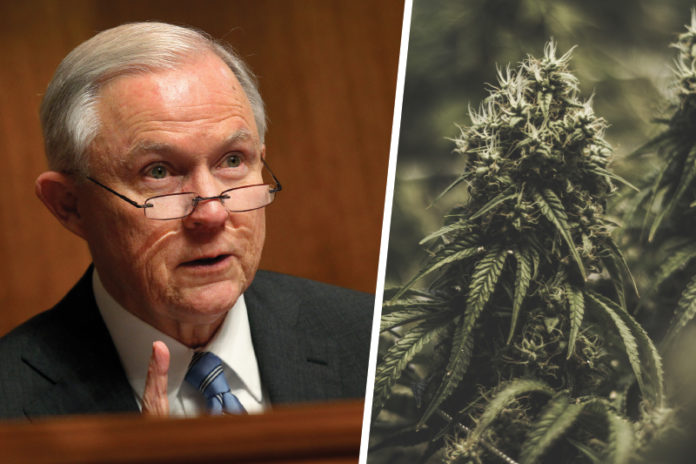 In January, U.S. Attorney General Jeff Sessions announced that the Department of Justice is rescinding the Cole Memorandum, causing a ripple of panic to spread across the cannabis community. From casual users to those who've leaped into the business of growing, distributing, and selling cannabis and cannabis-related products, many immediately envisioned the nascent industry being upended by the potential for federal prosecutors to start enforcing laws against the possession and use of cannabis.
At a time when more and more states are legalizing cannabis to varying degrees—and in the process becoming more and more dependent on the tax revenues it brings—the prospect of federal prosecution was widely criticized on multiple levels. As cannabis advocate Zoe Patchell told Whyy.org, "We believe rescinding the Cole Memo is irresponsible and an expensive position for the Department of Justice that not only contradicts the majority of American voters' [beliefs], but is [also] inconsistent with the current administration's pro-business platform."
So just how real of a threat does Sessions' announcement pose? Assessing the situation first demands an understanding of the Cole Memorandum, a memo that did not legalize or condone any aspect of marijuana, but rather instructed federal prosecutors and law enforcement officials on where to focus with regard to cannabis operations in states that have legalized the herb. "It wasn't a direction: 'Thou shalt not, or thou shalt,'" points out Stanley Jutkowitz, senior counsel in the Washington, D.C., office of law firm Seyfarth Shaw LLP. "It basically laid out a series of arguments where it said, 'We don't think it is a good use of prosecutorial resources to go after businesses that are complying with local laws, especially if they are complying with the [top concerns
it outlined].'"
The recently rescinded Cole Memo had instructed U.S. attorneys to pursue the following priorities in prosecuting marijuana use in such states:
Preventing the distribution of marijuana to minors
Preventing revenue from the sale of marijuana from going to criminal enterprises, gangs and cartels
Preventing the diversion of marijuana from states where it is legal under state law in some form to other states
Preventing state-authorized marijuana activity from being used as a cover or pretext for the trafficking of other illegal drugs or other illegal activity
Preventing violence and the use of firearms in the cultivation and distribution of marijuana
Preventing drugged driving and the exacerbation of other adverse public health consequences associated with marijuana use
Preventing the growing of marijuana on public lands and the attendant public safety and environmental dangers posed by marijuana production on public lands
Preventing marijuana possession or use on federal property
Given the nature of the memo, many viewed Attorney General Sessions' decision to rescind it as a sign that the Department of Justice was laying the groundwork for federal prosecution of marijuana as an illegal substance. Rescinding the Cole Memorandum in effect gives U.S. attorneys general greater discretion as to what cases they prosecute—meaning that, in theory, state attorneys general could choose to prosecute those buying, selling, growing or using marijuana, even in states where all of the above activities have been legalized by local legislators.
Jutkowitz, however, urges those in the industry not to panic. "I don't think it will mean much in the way of stopping what is taking place in the industry," he says. "I don't see this as a prelude to the federal government coming in and starting all sorts of enforcement action in the same way that they are on immigration with the recent raids on 7-Eleven stores."
Ultimately, advocates like Patchell came into alignment around that sentiment. "The new memo issued in January simply removes the eight areas of concern and reminds prosecutors [of] something they've already had, which is the ability to prosecute any cannabis case that violates federal law at their discretion," wrote Patchell, who expressed disappointment in the decision but didn't feel the memo would affect policy change in Delaware.
Jutkowitz, as well as many other observers and experts, feels that the legalization wave sweeping the nation has simply gone too far for the federal government to reign it back in this way. "We have a situation where marijuana is somewhere between a $6 billion and $10 billion industry and provides all kinds of tax revenue and thousands of jobs," he says. "I don't think that the federal government is really in a position or wants to be in a position—well, maybe Jeff Sessions does—but I don't think the government as a whole has the appetite to start any kind of mass arrests to stop the growth of industry."
There is, however, the possibility that states still in flux over the marijuana legality debates might be influenced against legalization as a result of the decision—which may very well be Sessions' true intent, given that his decision was announced the same day that recreational use of marijuana officially became legal in California. "I do think his announcement was a reaction to marijuana becoming legal in California," says Jutkowitz. "He has denied that, but the timing was very coincidental."
Another possible impact is on the financial side. Initially, many in the cannabis industry struggled to find financial institutions willing to work with them to finance capital investments or even provide basic banking services, but many banks, particularly regional and independent banks, have started to work with companies in the industry. That progress could be impeded by Sessions' action.
"Banks that otherwise would have backed businesses may decide to hold off and wait until things settle," says Jutkowitz. "And it could put a damper on investment or [mergers and acquisitions] activity, but by and large I don't see any serious concern in the industry—or any serious reason for concern."
This story first appeared in the March/April 2018 issue of Tobacco Business magazine. Members of the tobacco industry are eligible for a complimentary subscription to our magazine. Click here for details.
– Story by Jennifer Gelfand, editor in chief of Tobacco Business Magazine