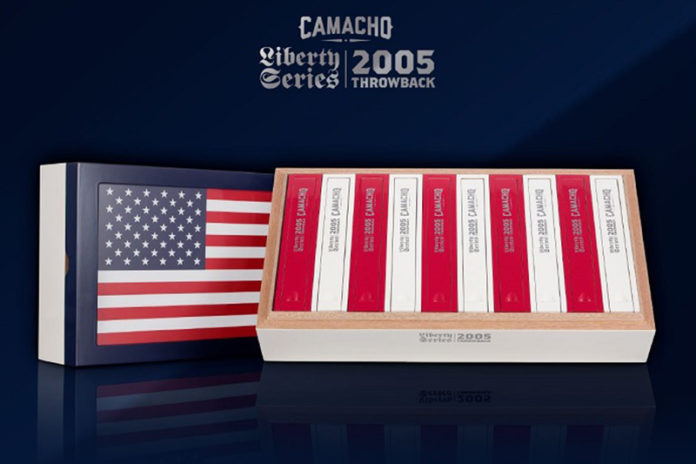 Camacho Cigars' Liberty Series has been around for nearly 16 years and has become a highly anticipated annual release among cigar enthusiasts. Typically launched around the July 4th holiday, the Liberty Series cigars celebrate and honor the birth and history of the United States and for this year's release Camacho is revisiting one of it's most popular limited edition blends–the Liberty 2005.
The Camacho Liberty 2005 is returning in its original 11/18 Figurado format. Known for being a robust and complex smoke, the Camacho Liberty 2005 features a thick and oily Honduran Maduro wrapper and hand-selected top priming leaves of Camacho's Original Corojo tobacco. These cigars yield a rich, dark and hearty smoke that boast notes of earth, chocolate and leather with hints of spice that increase in intensity throughout the smoking experience.
"The building of each Liberty cigar begins over a year before the tobacco makes its way to the rolling table, the cigars are then constructed and left to rest for a minimum of 6 months, scheduled to emerge just in time to celebrate the 4th of July holiday," commented Scott Kolesaire, director of marketing at Davidoff of Geneva USA. "This year's release, a throwback of the Liberty 2005 blend, lets us proudly celebrate America's independence with a cigar perfectly crafted for such an honor."
The packaging for this cigar is inspired by the original packaging with 20 alternating red and white coffins covered with a lid of a framed American flag. Due to the tobaccos used in this cigar being so rare, only 30,000 cigars–or 1,500 boxes–will be available for the U.S. market. This cigar will launch in the U.S. on June 11, 2018 and in the EU in the fall of 2018.
For all the latest news from Camacho, visit camachocigars.com.