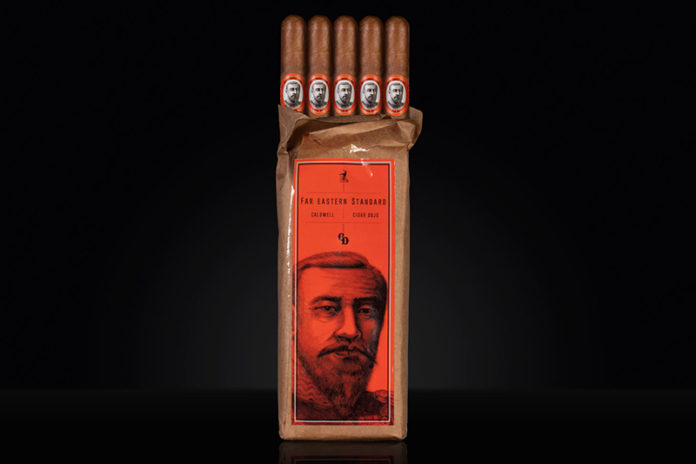 Caldwell Cigar Company is teaming up with Cigar Dojo for a special collaboration–Far Eastern Standard. This new cigar, presented in a lancero size, pays homage to the original Eastern Standard release from Caldwell.
The story behind Caldwell's Eastern Standard goes back to a period of time between 1867 and 1912 when Japan was ruled by Emperor Meiji (aka Miji the Great). During this time, the country made great progress in transforming the country from an isolated and pre-industrial state into a world power. The rapid modernization is a metaphor for how Robert Caldwell and Caldwell Cigar Company evolved and ascended within the cigar industry in 2014. Much of its notoriety and success came from its Eastern Standard cigar, which has a band that features the likeness of a bearded fisherman named Has Nielsen Lahkso. Similar to how Robert Caldwell and his company helped define the boutique cigar category, Cigar Dojo also helped revolutionize the cigar industry's social media space with the launch of its popular app in 2012.
This year, Caldwell Cigar Company and Cigar Dojo teamed up to create the Far Eastern Standard, a 7 x 40 lancero. The cigar band for this special release features the hand-drawn likeness of Emperor Meiji. The cigar features a Nicaraguan Habano wrapper, Indonesian binder, Piloto Dominicano and Nicaraguan Habano filler tobaccos. The cigar will be produced at Tabacalera William Ventura in the Dominican Republic and will have a limited production run of 3,000 cigars. Far Eastern Standard will come in 10-count bundles that will retail for $89.95 per bundle and $9 per cigar. The cigar will be released on Nov. 8, 2019 at noon eastern time and will be sold on Smoke Inn's online store at smokeinn.com.
"I was very excited to take part in this collaboration with Dojo," said Robert Caldwell, owner of Caldwell Cigar Co. "We wanted to put together a product that would really be top-notch. This cigar is a cigar that I have been smoking almost every day since we first blended it. It really is my perfect cigar. It's medium-bodied, rich, creamy, smooth and balanced."