The Expat is a cigar that was originally blended by the Serinos for a close family friend's foreign destination wedding. After getting a considerable amount of praise and a positive response to the cigar, the Serinos decided to make it a regular production product. Expat is available in what the Serinos refer to as The Passport size, measuring 5 7/8 x 50, and has notes of cacao, cinnamon, raisin and coffee. Serino's latest release, Bygone, is another collaboration cigar. Made with Dave Imber of CigarClub.com, Bygone's blend incorporates Peruvian tobacco for the first time since the 2021 release of Elenor Rose. Bygone is described as a traditional Cuban-style blend that is manufactured at the La Corona Factory in Estelí, Nicaragua.
With each cigar release, the Serinos strive to create a well-rounded blend that's complex and balanced. The cigars must have a strong set of flavors and also should have an overall clean finish. Beyond these elements, each cigar must be able to stand up to a very simple but important question: Will the cigar leave a lasting impression?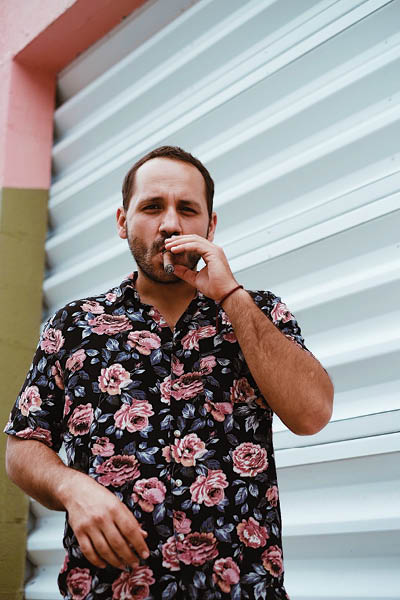 Creating Humidor Appeal
As many retailers could attest to, it's easy to create a premium cigar product with the right connections. The real challenge to take that product to market and make it into a successful brand requires a special skill set, one Carson Serino in particular is well versed in. While attending Florida State University, Carson studied entrepreneurship and marketing and reveals that long before he officially joined Serino Cigar Co., he was attracted to branding and the art of the cigar industry.
In addition to helping to create the company's various cigar blends, Carson also spearheaded Serino's overall look and branding. When looking at the industry overall, Carson felt the cigar industry was "stuck in a time capsule," and while some of the branding and art was beautiful, others felt very dated and antiquated. This was something he wanted to take on with Serino Cigar Co. and its products. He wanted a more modernized look that would appeal to cigar enthusiasts faced with a choice of what to buy in a humidor.
"One of my favorite brands when I was growing up and working in the retail store was Tatuaje. When Tatuaje first came out, I thought it was really elegant—just a little cursive script on their band. It looked very modern, but it looked very classic at the same time. I always thought that was a route we'd want to go [in]. I've definitely leaned more into the modern side than the classic," Carson explains.
To make Serino cigars even more memorable, Carson uses color in the band and packaging to help the cigars stand out in humidors. For example, a blue band was chosen for the Serino Royale line because Carson and his father felt it would make the cigar line very inviting and also elegant. At the time the Serino Royale was released, few manufacturers were using deep blues in their brands, so it was an easy visual way to set Serino Cigars apart from other brands. Serino Cigar Co. sets out to make all of its products visually appealing and uses design elements, like color, to capture the essence of the brand. Carson also understands the importance of making each cigar photo ready due to the growing role social media has in building awareness for a company and its products.
"I absolutely love our Wayfarer bands. It's the first one that I got to do with the company. It's black on this really flashy gold foil. If you have bad lighting, it just looks worse. I mean, it still looks pretty but you've got to get the lighting right. It's not reflective as to how pretty the band is. I see it all the time on social media; the lighting will be off, but people still post it.
"One of our other ones, Elenor Rose, is more flat. It has an Ecuadorian rosado wrapper, which just means it has a rose-tinted wrapper. It's where its name came from. This [band] doesn't have too much foiling on it, so you'll always get a nice, crisp picture, which was something I had to learn. Not only do you have to make a pretty band; think about all the little reflection points afterwards of how it's going to be presented on social media, blogs and websites."
While branding plays a big role in helping lure consumers to a product, it's the cigar's overall consistency and quality that will create a returning, loyal customer. To keep customers connected to the brand and engaged, Serino Cigar Co. stays active on social media, especially Instagram and Facebook. Being responsive is key, Carson explains, and he monitors the company's social media accounts for feedback and questions, as well as to address any problems customers may have with any of its products.
"I feel like people between 25 to 45 are more engaged on social media. Through branding and better social media usage you can connect with somebody who's learning or wanting to learn more about cigars," says Carson.
He also keeps people in the know by sending out a regular email newsletter that updates customers on new releases and any other relevant updates.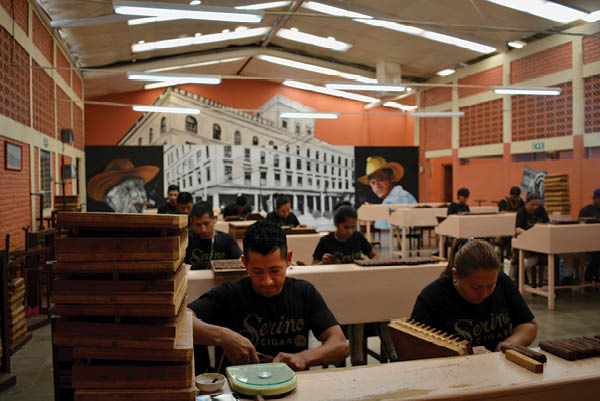 The Consistency Game
Serino Cigar Co. is the result of years of experience and a compounding passion for premium cigars. Where some jump into the premium cigar industry without a plan, that was not the case with the Serino family. Since Serino Cigar Co. made its debut at the 2016 International Premium Cigar and Pipe Retailers Association trade show, Anthony and Carson Serino knew the key to success was consistently putting out a high-quality, premium product. For those brands that are not heritage or already established, being inconsistent can do a lot of damage, Carson warns. Consistency is also the deciding factor in whether a newer brand has long-term success or not.
The importance of consistency in a business and in life is one of the things Carson has learned from working alongside his father over the years. "He's [Anthony Serino] always up, always going after it. And that's not just in business; it's in life. If you have a personal, fitness or relationship goal or a skill you're trying to acquire, just be consistent."
Another thing Carson has learned from his father is the virtue of patience. In business, you must be patient with yourself and also with the process of growing a business. Passion, often talked about in business but not necessarily to the level that it should be, is another area of concentration for Carson.
"If you're not passionate about it, you're not going to be genuinely curious about what you're doing," he says. "I think just following your intuition and being genuinely curious will set the wheels in motion, and that will create more momentum for yourself. It's always good to spend some time reflecting on the questions, 'Do I really love this? Am I passionate about it? Can I wake up every day and be curious about it and try to be a little bit better at it each day?' I think that's what you should aim to do if you have a new venture. I would temper expectations, be consistent and show up every day trying to get a little bit better."
Improving on what already exists and making it even better is what Carson and others at Serino Cigar Co. are currently focusing on. Though there are new releases in the works, Carson and his father are also focused on promoting and building awareness around the cigars they've already blended and that are readily available for retailers to bring in. There's something for every cigar smoker in the Serinos' portfolio, with blends ranging in strengths, shapes and flavor profiles. One thing you can count on is that if it comes from Serino Cigar Co., it's going to be a consistent product and blended with passion. For additional information on Serino Cigar Co., call Tony Serino at 954-801-4654.
This story first appeared in the September/October 2022 issue of Tobacco Business magazine. Members of the tobacco industry are eligible for a complimentary subscription to our magazine. Click here for details.
– Photography courtesy of Serino Cigar Co. Story by Antoine Reid, senior editor and digital director for Tobacco Business Magazine. You can follow him on Instagram @editor.reid.