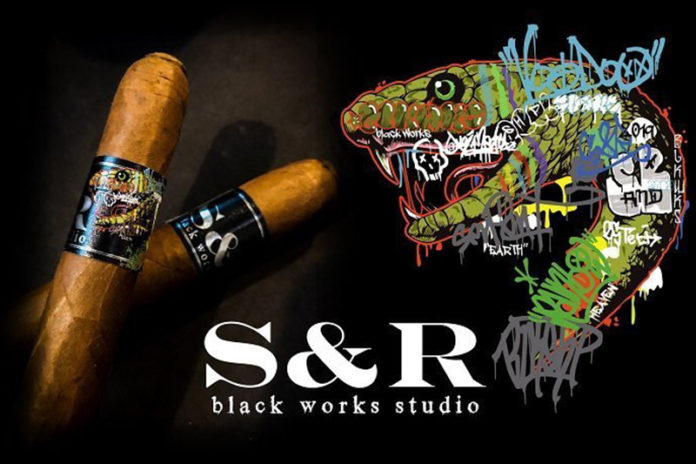 Black Works Studio (BLK WKS) has announced the upcoming release of S&R. This is a limited edition cigar that's handcrafted in Black Works Studio's Nicaraguan factory, Fabrica Oveja Negra.
S&R features a Sumatra wrapper with a pigtail cap, Nicaraguan Habano binder, and filler tobaccos from Nicaragua and the Dominican Republic. It will be available as a Lancero (6 3/4 x 42), Corona Gorda (5 1/2 x 46), and a Culebra (6 3/4 x 42). The Lancero and Corona Gorda will come packaged in 20-count boxes while the Culebra will come in a 1-count coffin. Culebra's will only be available from the following retailers: BNB Cigars, Boling Springs Cigars, Cousin's Cigar, East End Cigar Co., King's Leaf Cigar Lounge, Marker Cellars Family Winery, Maxamar Ultimate Cigars, Omerta Cigar Co., Skallywag Cigars, Smoker's Abbey TX, Underground Cigar Shop and Willy's Cigars. MSRP will be set at $9.50 per cigar while each Culebra will retail for $35.
"We are very excited for the second release of S&R. This cigar represents the broad spectrum of cigars produced under the Black Works Studio line. It's medium bodied with tons of complexity and the perfect amount of white pepper spice to let you know this is a BLK WKS cigar. The Nicaragua and Dominican blend is wrapped in a beautiful cafe colored Sumatra wrapper and topped with the S&R's signature pig tail. This year, playing on the serpent theme we made a very limited number of Lancero Culebras, so keep your eye out for those," said James Brown, creator of BLK WKS and partner at Fabrica Oveja Negra.
S&R will be available in limited quantities at select BLK WKS retailers beginning on April 15, 2019.
For all the latest news from Black Works Studio, visit blacklabeltrading.com.