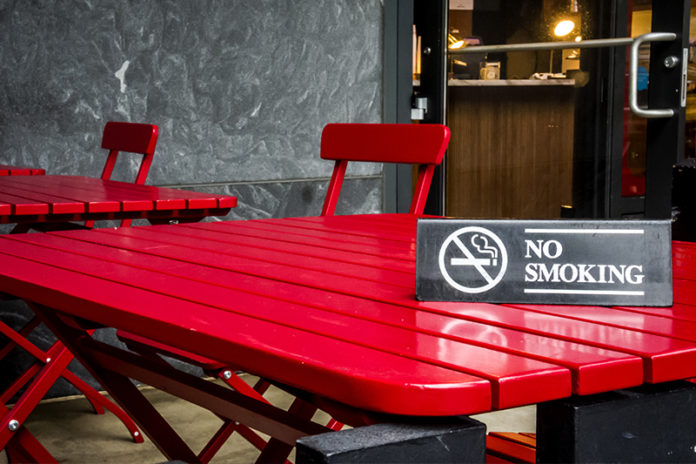 On April 15, 2019, Atlanta's city council introduced new legislation that would prohibit smoking in many public places, including restaurants, bars and even the airport.
The new proposed legislation aims to make all restaurants and bars in the city of Atlanta, Georgia, smoke-free. It goes so far as to eliminate the popular smoking lounges within Hartsfield-Jackson International Airport as well. The bill redefines smoking to include e-cigarettes and vaping so that these products are also included in the ban. The proposed ordinance bans smoking in any enclosed public area including hotels, motels, stores, offices, public transit, restrooms and parking structures. Smoking would also not be permitted within five feet of these venue's entrances, windows and ventilation systems. Smoking would be prohibited in enclosed places of employment as well. The smoking ban would not be extended to cigar bars or hookah lounges, as long as they meet a pre-established threshold of tobacco sales which is currently set at 30 percent of gross revenue from tobacco sales.
"Legislation like this saves lives," explained Matt Westmoreland, an Atlanta city council member. "If people wish to smoke in public, we simply ask that they step outside."
This is not the first time the city of Atlanta has introduced a smoking pan. In 2012, the city passed a ban on smoking in outdoor parks. This new legislation builds on that and expands it to include vaping, which has been the focus of many state and local governments in the past year and an initiative that the U.S. Food and Drug Administration (FDA) has taken on. This new ordinance would not apply to private homes or vehicles, unless either are used for childcare or healthcare services.
In anticipation of the city's tougher stance on smoking, Atlanta's airport is reportedly working on a plan to convert its smoking lounges located on various concourses into restaurants and stores. Previously, the airport had plans to turn the smoking rooms into cigar lounges, but those plans are now scrapped after facing public pushback.
It should be noted that most of Atlanta's restaurants and bars are already smoke-free. If passed, the new smoking ordinance could take effect as soon as Sept. 1, 2019.