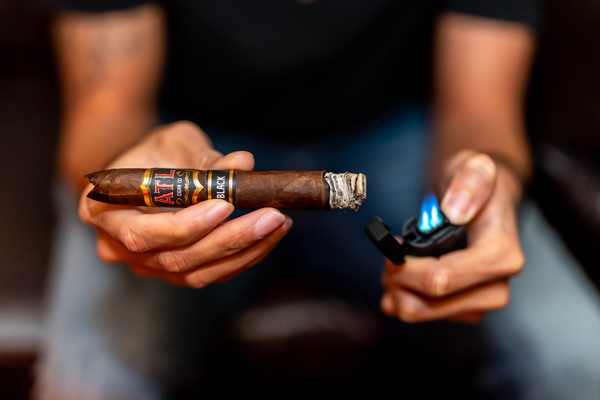 Janelle's challenges come in the form of conflicting expectations she faces as a female cigar smoker and business owner. "As a woman, everyone wants to see me on social media blowing smoke, but those who know me know that I care a lot more about getting every last detail right, from our website to our merchandise to the presentation of every box we ship. I think the industry is still learning how to appreciate women beyond their ability to smoke cigars and look pretty."
Gross acknowledges that his partners have had a different experience than he has personally but views their struggles as an issue that has to be worked on as a group and company. "Maybe we are still enjoying a honeymoon period as a new brand, but the way I see it, we are fortunate to do what we enjoy and share a handmade product with people we love. That being said, I'm not surprised that Leroy and Janelle see this issue a little differently than I do. It's one thing to say that 'starting a business is a challenge,' but it's yet another thing to say that 'the industry creates roadblocks for people like me.' That's a different category, and yes, it's a real issue that we've been working through as a team."
As they worked on their brand, the first conversations addressed how inclusive and accessible ATL Cigar Company and its products would be. It was important for all the partners that the relational approach they take in their personal lives also occurred naturally in the company's branding. It didn't matter where the company's customers would come from–if someone wanted to be part of the ATL Cigar Company journey, they needed to know and feel welcomed within the ATL Cigar Company family. This mentality shaped every aspect of the marketing and branding strategy, from the images used on social media to the verbiage used on the website. In addition to being inclusive, the partners at ATL Cigar Company wanted the brand to be bold and classic, much like Atlanta.
Much of Atlanta's sports teams and monuments use red, gold and black, so that is the same color palette that was chosen for ATL Cigar Company. The Lamars and Gross wanted to also capture how the city refused to be seen as weak as well as its ability to embrace the opportunity to relax, one of the many paradoxes that defines life in Atlanta.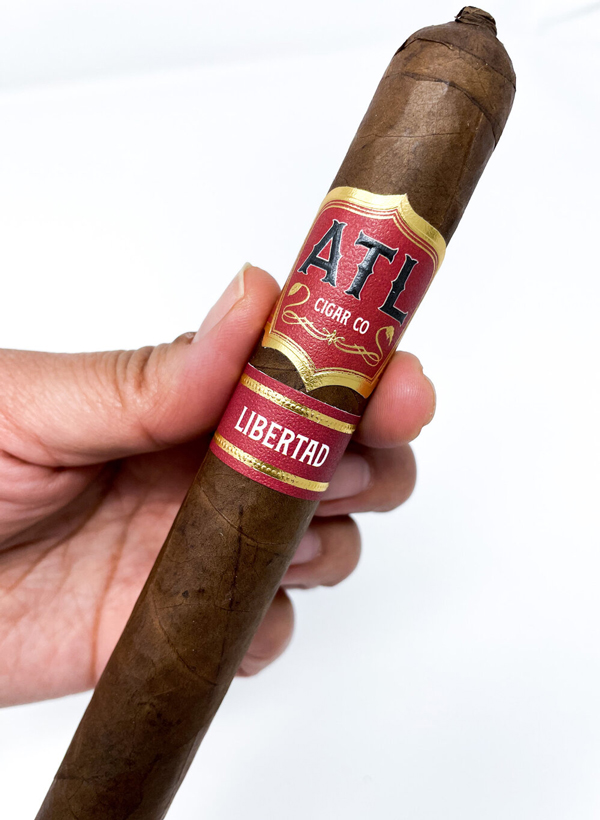 The Brands
The team wanted their brand to have some swagger as well, but it needed to be to a level that was approachable and still encouraged the level of relaxation most cigar smokers sought and expected from the lifestyle. From there, some historical elements were added to their brand's look and feel to help connect it more to the community and city.
"We were proud of the outcome, but we're even prouder that our city has embraced our brand as their own and that they feel we are effectively representing 'the A,'" says Janelle.
When it came time to create the actual blends for the company, ATL Cigar Company worked closely with three different manufacturing partners. It was important to work with factories and manufacturers that were responsive throughout the process and also flexible and willing to help the Lamars and Gross craft the blends that matched their branding. Gross, who serves as the company's head of product, took the lead at this phase, using his knowledge of tobacco, soil and regional characteristics to set expectations with various manufacturers and evaluate proposed blends. Each conversation with a manufacturer was followed by testing, waiting and retesting. Throughout this process, the Lamars and Gross were never afraid of saying "no" or going in a different direction, regardless of who they were speaking to or working with. They had agreed that the company would only go live with a blend that all three of them agreed on and couldn't live without.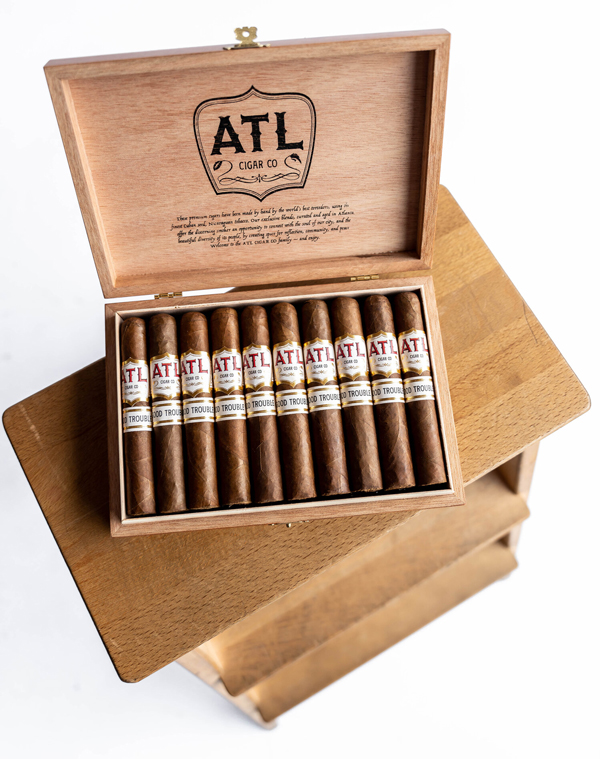 Good Trouble is a blend named after former U.S. Representative John Lewis and was produced at Tabacalera Hernandez in Estelí, Nicaragua. The blend's flavor and medium strength caught each partner's attention, and though the blend features tobaccos from six different regions, it is still accessible to many due to its lack of ligero. This blend gave ATL Cigar Company a cigar that would appeal to those cigar enthusiasts that preferred mild to medium-bodied cigars. The company's Libertad line is produced at Aganorsa's TABSA, also located in Estelí, Nicaragua. Gross considers Aganorsa Leaf to be his all-time favorite producer and was ecstatic when Paul Palmer and Terence Reilly agreed to produce a cigar line for ATL Cigar Company. The Libertad features Aganorsa's well-known Corojo wrapper and a mix of Criollo and Corojo from Aganorsa's farms, giving this cigar a world-class flavor and quality.
For its Black line, ATL Cigar Company worked with Martinez Cigars, which is based in New York. Initially, there was a fear that a cigar made in America would be too expensive for ATL Cigar Company's market, but Martinez Cigars was able to deliver a full-bodied cigar that the Lamars and Gross describe as "an absolute home run." Black's blend packs a punch with its Mexican San Andrés wrapper that lacks the bitterness that a lot of other full-bodied cigars have. This is attributed to a combination of an uncommon ligero binder and Estelí-grown Gran Reserva filler that has been aged a minimum of five years.
Another key ingredient to bringing these blends to life wasn't a tobacco but a musical source of inspiration. "I have to admit that Outkast was very, very important to our blending process," admits Leroy. "Every time we whittled our options for blends down to the final one, I had to get alone with Outkast, usually in the back of whatever factory or warehouse we were visiting, and smoke the cigar to their music. If Outkast said the cigar was right, then it was right. But if Outkast said it was wrong…. For me, it was like asking the ATL spirit world for its approval."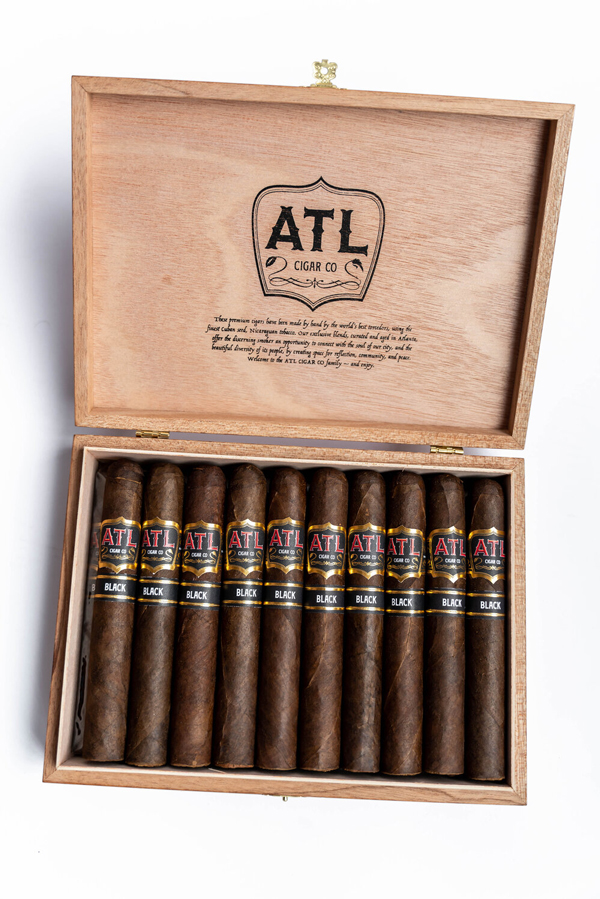 The Mission
The blends have an obvious important role to play in ATL Cigar Company, but the products provide a way for the company to fulfill its overall mission of bringing people from all walks of life together. While some may feel it is slightly cliché, the team behind ATL Cigar Company views inclusivity as inspiring. Every person has his or her own journey, and when their paths cross and intertwine with others, learning, adaptation and evolution take place. These three byproducts of building a community help create better people by allowing for more understanding, grace and encouragement. This, moreso than a good cigar, is what ATL Cigar Company's team senses that people in Atlanta and beyond are craving and in need of but don't always know how to acquire for themselves.
"When we go to cigar shops, we get a sense that people in our city and our country want to come together but don't know how to go about it," says Leroy. "Well, we'd like to offer you a great cigar, an hour and a half with a stranger and our experience in doing it ourselves. If we start there, we might find ways as a city to do the work together and to get into some good trouble together on a larger scale."
Where some companies choose to market and promote their brands and products as being exclusive or made specifically for a certain type of consumer, ATL Cigar Company is working hard to promote itself as being for everyone. It is working hard to serve as many markets, retailers and consumers as possible, and diversifying its brands and customer base is critical. ATL Cigar Company may have been born in Atlanta, but it's aiming to reach out and connect with cigar enthusiasts around the world.
This story first appeared in the July/August 2021 issue of Tobacco Business magazine. Members of the tobacco industry are eligible for a complimentary subscription to our magazine. Click here for details.
– Story by Antoine Reid, senior editor and digital director for Tobacco Business Magazine. You can follow him on Instagram @editor.reid.