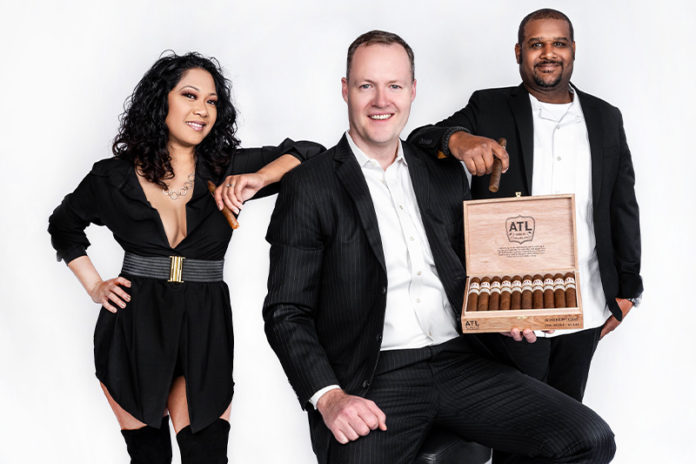 Entrepreneurs are inspired to start businesses for many different reasons. Sometimes the motivation is driven by the idea of big profits and gains, and other times it's driven by a desire for independence. A business can be started with the invention of a product that fills a need, and other times from a product that's going to enhance life or make it better. Then there are businesses like ATL Cigar Company that are inspired by real life events and a passion for a product that can bring people together during times of division.
ATL Cigar Company was founded to bring people together around a shared premium cigar experience. The company was founded by husband and wife Leroy and Janelle Lamar and Peter Gross, and the trio began building their company in 2020, when much of the world was forced to slow down in response to the COVID-19 pandemic. The Lamars and Gross wanted to build a brand that reflected their community: It had to feature unique blends and make a connection between the cigar world and the cigar culture found within the diverse city of Atlanta, Georgia.
The Lamars and Gross had experience working together before founding ATL Cigar Company. The three started their own hotdog stand nearly 15 years ago while living in southwest Atlanta. Their neighborhood, like much of Atlanta, was seeing an influx of diversity in those moving into it, including new neighbors of different economic backgrounds, ages and ethnicities. The hotdog stand was more than just a business; it became a place where the neighborhood would connect and cross paths.
The hotdog stand also taught the trio a valuable lesson: It only took one shared interest, product or even idea to spark a conversation, and those conversations ultimately led to connections, and those connections eventually served as the foundation of meaningful friendships. The hotdog stand didn't attract just one type of customer. Young and old, churchgoers, professionals, trap-house queens and ex-cons came to the hotdog stand and would interact with one another. With the division and loss of connection experienced by many in 2020, the Lamars and Gross wanted to bring the community together once again—but this time with the help of a good premium cigar.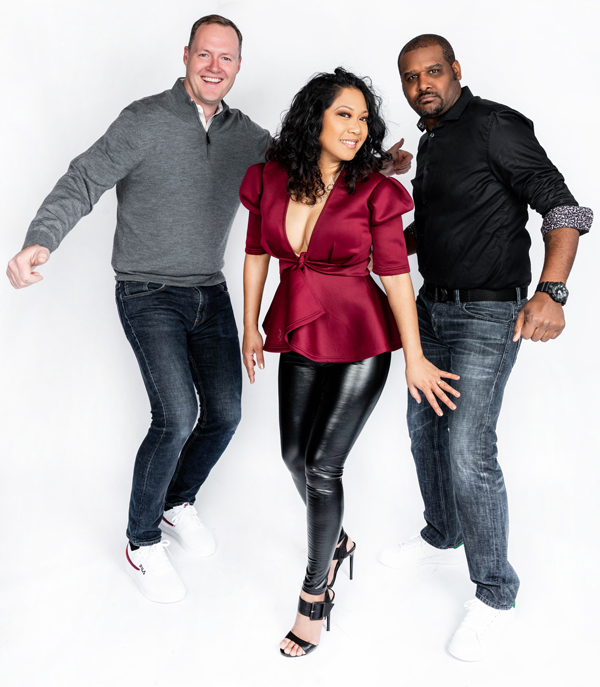 The Connection
Leroy Lamar's first experience with cigars came during his father's card games, during which one of his friends would often smoke a Swisher Sweet. As he grew older, Leroy would occasionally smoke a Swisher Sweet with his friend, and it wasn't until he traveled to Jamaica that he had his first premium cigar, a Royal Jamaica. He remembers how this cigar was mild and smooth and refers to it as a "great beginning cigar." The taste wasn't what appealed most to Leroy; it was the rhythm of the smoking experience that he enjoyed the most and that pulled him deeper into the world of premium cigars. When he turned 18, Peter Gross' birthday present to himself was a Swisher Sweet and a subscription to Cigar Aficionado magazine. Half a year later, Gross had graduated to smoking Romeo y Julieta and Cuba Libre cigars. His love of cigars has only grown stronger in the 23 years since that first cigar experience.
The Lamars have been married over 20 years, and over the years, cigars have been part of how the couple have chosen to celebrate the end of each week. Through the years, the two entrepreneurs found a way to merge their passion for cigars with other business ventures. Gross' family has roots in Atlanta that go back 100 years, but it wasn't until he moved across the street from the Lamars that he began to consider Atlanta his home.
As Leroy and Gross began smoking together, soon Leroy's wife, Janelle, also joined in the festivities and developed her own love for cigars as she found the right cigar and beverage pairings. The friendship between the Lamars and Gross spans 15 years and has been strengthened over the years by a shared love, passion and respect for cigars. The trio would all smoke Cuban cigars together while having long debates on theology and philosophy. Although the three came from different backgrounds and experiences, cigars were the common denominator that brought them all together.
"Our connection to each other grew not in spite of but because of the differences we each brought to the table," Leroy explains. "Our friendship led to a few cigar pilgrimages, and then we started rolling our own products a couple of years ago. That's when the idea for ATL Cigar Company really began to come together."
The Lamars and Gross wanted to find a way to share with the city of Atlanta what they shared with one another regularly: a love for the leaf and for their community. "We felt the greatest cigar city in America deserved its own great brand of cigars," says Janelle Lamar. "We saw ATL Cigar Company as a love letter to the city, an opportunity to extend Atlanta the recognition we feel it deserves in the cigar world."
The Lamars and Gross put a considerable amount of time and resources into building a cigar brand and business. The three entrepreneurs spent a decade learning about cigars and the industry before they decided to actually start their own brand. By the time they made the decision to move forward with their own cigar business, all three business partners felt confident that they could produce unique, premium blends that would not only appeal to them but would also make the city of Atlanta proud and willing to support them. Community was at the heart of their desires to create a brand of their own.
"We are a diverse company with different backgrounds, ethnicities, beliefs and all the rest," says Janelle. "In that way, we're just like our city and our country. Our differences as partners, though, make us stronger as a company. What one partner can't see, another partner sees perfectly clearly. What I have experienced, as a Filipina woman, I share with Leroy and Peter, who are neither my gender nor my race, so that they can see me and appreciate me in a deeper way, and they do the same so that I can see and appreciate them. Our diversity is our foundation as a company—not because we look past our differences or act like we're all the same but because we celebrate, support and seek to understand each other in our differences. In this day and age, that feels like magic, like a superpower. So we decided to put that strength at the heart of our brand."
Atlanta—its spirit, diversity and community—greatly shaped the cigar brand the Lamars and Gross set out to create. The city of Atlanta is home to a strong cigar culture and has over 120 cigar shops and lounges. Cigars and Atlanta are becoming symbiotic, and the city has become a destination for cigar enthusiasts around the world. When the trio set out to create a cigar for Atlanta, they knew they had to create a product that was able to keep the attention of cigar smokers around the world, much like the city of Atlanta, and that it also needed to live up to its name.
"Atlanta is an incredible city with a legacy of progress, commerce and culture," says Leroy. "We're the city of Dr. King and John Lewis, of great universities, the capital of the South—and in the last 20 years we have become a global destination for music and film. Many have said that Atlanta is having a moment. For those of us who are native to the city, it looks a lot more like destiny. Atlanta was burned to the ground in the Civil War and rose from the ashes—hence the phoenix in our city's logo, which we added to our cigar band. Atlanta's swagger came out of her pain, out of her refusal to be kept down. Atlanta has marched and invested and educated herself to a place of greatness, and we wanted to capture that journey in ATL Cigar Company."
When looking back at 2020, Leroy also acknowledges that, in a sense, had last year not unfolded in the way that it did, he and his partners may not have launched ATL Cigar company.
"While unnerving in many regards, 2020 also provided a stillness during the early quarantine stages," he says. "This stillness gave us space to formalize and finalize many of our business decisions. I also believe that 2020 helped us locate our place in the cigar industry. America was suffering from the pandemic along with a host of other ills. Our political and racial troubles led many to believe we were on the verge of another civil war. Whether these feelings were entirely justified or not, America was in a very dark place. I believe our commitment to kinship, to the beloved community—along with our ability to live it out together daily—offered hope to Janelle, Peter and me that we could find a way out of the darkness, and we felt compelled to share that hope beyond the three of us."
The Challenges
As work began on ATL Cigar Company, the Lamars and Gross were thrilled with how many people in the industry were willing to help them. "COVID was what really took ATL Cigar Company from idea to reality," says Gross. "With the world on lockdown, we were able to meet everyone we needed to meet over a month last year in Miami. That season helped to put the finishing touch on the concepts, branding and the blends we'd been working on. From there, we went live with production."
The trio learned the most from those who they also saw as mentors, including Aganorsa Leaf's Terence Reilly, who worked with ATL Cigar Company's Libertad line; Dave Rivera and Jesus Martinez at Martinez Cigars in New York; and "Cigar Mike" Bennett and Rob Loud in Atlanta, who are both mentors and friends. Other Black-owned brands and companies such as Emperors Cut and Atlanta Cigar Week also embraced ATL Cigar Company and supported its products. ATL Cigar Company is a business built on relationships, and its success so far has been the result of the connections made and support received by the cigar industry.
Just as each partner at ATL Cigar Company comes from a different background, each has had a different experience as a brand owner. As a Black business owner within the cigar industry, Leroy has encountered some challenges when it comes to being taken seriously or with opening certain doors. "I'm the majority owner of our business, but Peter and I have an unspoken understanding that he needs to take some meetings and I need to take others. I'm not sure every company has to take those things into consideration."