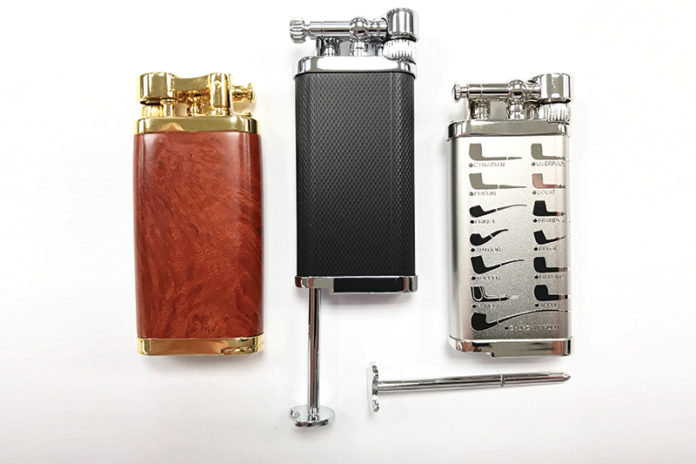 Arango Cigar Co. has been named the exclusive U.S. importer and distributor for the complete line of IM Corona Brand pipe and cigar lighters.
Japanese manufacturer Fukashiro Corporation owns the brand and is best known for the "Old Boy" pipe lighter. Old Boy is one of the world's most popular pipe lighters. In addition, IM Corona lighters are available in several other styles. "Laurel" and "Pipe Master" are the company's other two pipe lighter series. These dress lighters, as well as Old Boy, have "pipe" (soft) flames. They are designed ergonomically to easily direct the flame where it belongs, avoiding burnt fingers. The "Double Corona" style incorporates two gas ports for a soft but "fatter" flame, efficiently lighting large-ring cigars. "Flambeau" is unique among the lighters, using an electronic (piezo) ignition system and a flame that reflects modern thinking …a blue, pinpoint micro-blowtorch that is hot enough to light larger ring cigars, and precise enough to straighten up uneven burns.
All IM Corona Brand lighters are refillable with butane, and all but the Flambeau are flint/thumbwheel models. The pipe lighters include a concealed integral pipe tamper. Recent across-the-board improvements to the standard all-solid-brass, precision-machined body and parts include: Jeweler's grade finishes that are five times more durable; carbon filters that sweep the liquid butane clean; longer lasting silicon that replaces rubber for the tank seals; and, recessed filler valve caps.