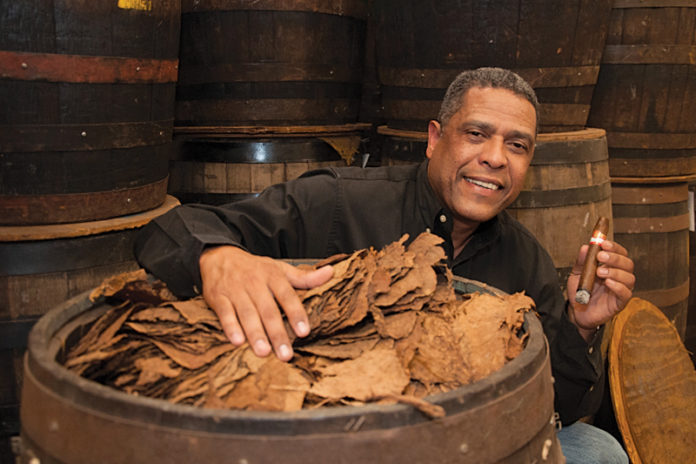 Manuel Inoa, La Aurora's master blender, has made making memorable cigars his career for the past 35 years. The 59-year-old Dominican studied industrial engineering in school, and one of the first jobs he secured was with General Cigar Co. in Santiago, Dominican Republic. Hired to improve processes and procedures at the General Cigar Co. factory located in Santiago's first free trade zone, Inoa didn't possess a family heritage in tobacco. One of the perks of his job, however, was that he got to smoke cigars with the legendary Benji Menendez, who recognized a keen interest in tobacco and cigars within his younger smoking companion. Menendez began teaching Inoa, and as his career at General Cigar Co. advanced, Inoa found himself becoming more interested in the intricacies of fermenting, aging and blending tobaccos into cigars than monitoring workflow charts and performance spreadsheets.
"I didn't have much exposure to tobacco or cigars before I started working at General Cigar Co.," Inoa recalls. "I wasn't born into a tobacco family. I am one of the only blenders who doesn't have a family tradition behind him when it comes to making cigars or growing tobacco. When I started working in the factory to improve quality and efficiencies, I became related to tobacco and fell in love. It was love at first sight. When I saw tobacco and people enjoying it, I forgot all about industrial engineering. I loved the passion behind it."
After 10 years at General Cigar Co., Inoa accepted an offer from La Aurora to manage its cigar factory, also located in Santiago. Eduardo Leon Jimenes established the original Dominican cigar company, La Aurora, in 1903, and when Inoa joined the company, Guillermo Leon, the fourth generation of the family to run La Aurora, had just assumed its daily operations. Like he did at General Cigar Co., Inoa was soon smoking cigars with Leon and extending his education. Also like at General Cigar Co., Inoa was originally hired to manage production at La Aurora's factory, but his role expanded into sampling tobaccos and creating new blends. Today, he serves three key roles for La Aurora—production manager and master blender, as well as company ambassador, in which capacity he travels the world conducting events at retail stores that educate interested consumers about cigars in general as well as the cigars he creates for La Aurora, Miami Cigar & Co., Tabacalera Falto and others.
During the 2019 International Premium Cigar & Pipe Retailers Association trade show and convention, which was held in late June and early July, Inoa took a quick break from the La Aurora and Miami Cigar & Co. booth to provide Tobacco Business magazine and its readers with a little insight about both himself and his passion for creating memorable cigars and unforgettable moments.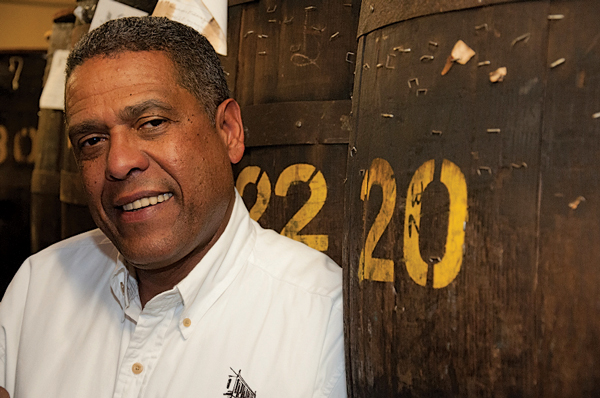 Tobacco Business: After 35 years in the cigar industry in total and having spent the past 25 years at La Aurora, what are your job responsibilities now?
Manuel Inoa: My official title now is master blender. I am in charge of developing products—both our own and private labels. I still have the production manager duties, but I am more focused on blending and obtaining good tobacco from different places. I visit the fields during the growing season and obtain the best tobaccos that are available.
La Aurora also understands that people need to know about cigars—what we do behind the scenes to make the cigars they love. This is why I travel to so many places now. I travel at least 200 days a year doing events and teaching people—telling them how to best enjoy the flavors that their cigars present. Cigars are for enjoyment, and the only way to enjoy them is to learn how to get the flavors out of them.
Not having a background in tobacco before starting to work in a cigar factory, what have been the most difficult processes to master in your education as a cigarmaker? Learning the process of fermentation to get the tobacco's best flavors and knowing what they will offer four years before using them in a cigar has been a hard process. When fermenting, you have to find out things about the tobacco, and sometimes it's very risky and you can lose it. You can see a very nice crop, but you don't know how it tastes, but if you ferment it correctly, you can see what you have, and then you have an idea of what you can do with it during the aging process. That reveals the flavor and gets you to begin thinking of how it can work in a blend.
Blending is very challenging too because your ingredients—the tobaccos that make up the cigar—change every year, but the cigar must taste the same year after year. I am always smoking tobaccos to see what flavors they present and how they will go together, not only for a new cigar I might be working on but also for cigars that we have been producing for years. The weather changes the tobacco all the time, and every year you have a new crop. The challenge is to keep the same flavor and strength profile for the cigar so that it tastes the same today as it did five years ago. The climate is the enemy, but it is also a good friend when you have a good crop.
You also have to worry about flavor, construction and appearance. The tobaccos have to marry together perfectly. That is the hardest part of blending. You can have very nice tobacco, but when you blend it with other nice tobaccos something changes, and the blend produces flavors that you don't want. This is the reason why you try to maintain different blend samples and test them all the time. I have to think of the smokers and what they will experience when they smoke one of our cigars.